UHKF 50/50 draw winner 'dancing, jumping around' after winning nearly $60K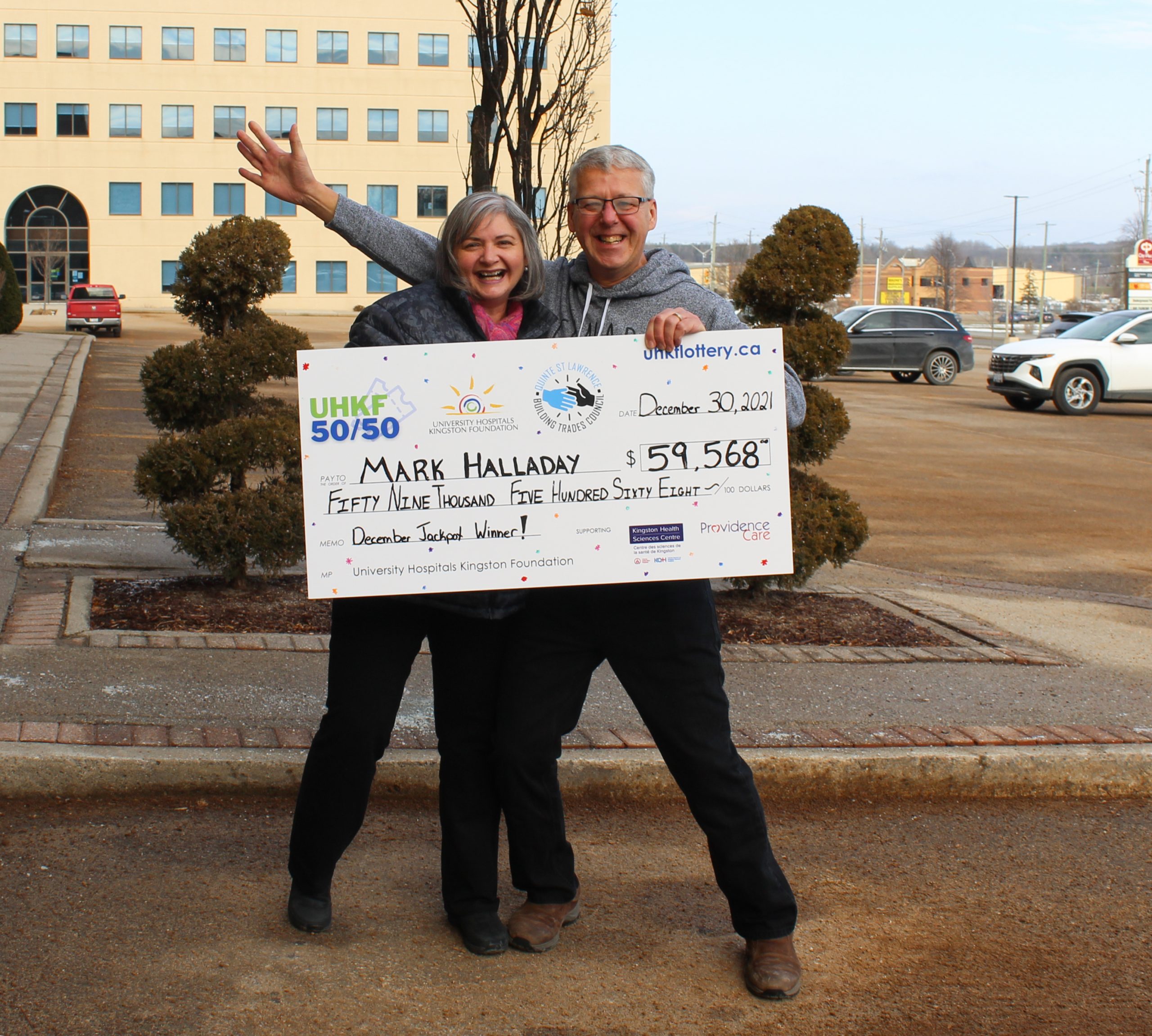 A Kingston man is starting the year in high spirits after winning $59,568—the largest prize yet—from the monthly 50/50 draw by the University Hospital Kingston Foundation (UHKF).
Mark Halladay, 58, said that he was at work at the Kingston Health Sciences Centre (KHSC) office when his newly installed doorbell camera at home sent him a notification on his phone. He checked his phone and saw someone with a large cheque come up to the door.
"You get a live feed on the camera—I saw my wife's face, I thought something was wrong. Our world is small: the fact that somebody showed up with a really big cardboard (cheque), I knew we had won, even though I didn't see the writing on the cheque," Halladay said.
Representatives from the UHKF then came to his workplace and presented him with the cheque. "I was out of my mind, whooping it out," Halladay recalled, of his reaction. "I was jumping around and dancing, I was pretty excited."
Not one to buy lottery tickets often, Halladay said that in the 35 years he'd been married, the most they've ever won was $100. However, he usually buys the monthly 50/50 raffle tickets for the UHKF "almost every month", purchasing about $40 worth of tickets each time.
Last December, he said he splurged by buying 400 tickets for $75. "It's for the hospital, you're only doing it for a donation, you never think you're going to win."
Asked what he intends to do with his winnings, Halladay said that he plans on doing two things: finish paying down their mortgage and put aside money for renovations.
"My wife and I are planning on retiring in the next three years. It took away my biggest stressor: my mortgage. It took my stress away."
"It took away my biggest stressor: my mortgage. It took my stress away."

Mark Halladay
Halladay wanted to promote the foundation's initiative to raise money to help support the hospital. "Support them and buy tickets…the money is staying in Kingston, helping the hospital locally. It's keeping the benefits within the community, it's benefitting the hospital," he expressed.
According to their website, "UHKF 50/50 is an online lottery fundraiser in support of Kingston Health Sciences Centre (KHSC) and Providence Care. The UHKF 50/50 lottery fundraiser takes place monthly and gives the community a chance to win early bird prizes and the grand prize jackpot."
Since the fundraiser began in June 2021, more than $200,000 has been won through the UHKF 50/50. Funds from the fundraiser supports much-needed equipment, programs, education, healthcare facilities, and research at KHSC and Providence Care, benefitting patients and their families, the website further stated.
In December 2021, the Quinte-St. Lawrence Building Trades Council officially joined the UHKF lottery fundraiser as the presenting sponsor, with a $50,000 donation. Their support means an additional $500 early bird draw every month.
"We are thrilled to partner with Quinte-St. Lawrence Building Trades Council," said Lori Faggiani, Director of Healthcare Engagement and Sustainability at UHKF. "This partnership will allow for more early bird draws which we are excited to roll out in January. When you win, our hospitals win, therefore, we all win."
The next draw will be on Thursday, Jan. 27, 2022. To purchase tickets and for more information, visit https://www.uhkf.ca/Home