Six questions with Zachary Typhair, Green Party candidate for Kingston and the Islands
Editorial note: As Ontarians head to the polls for the Thursday, Jun. 2, 2022 provincial election, we want to be your one-stop home base for everything you need to know in the Kingston area ridings. As part of this coverage, we've created profiles for each candidate (pending candidate availability) in Kingston and the Islands, Hastings-Lennox and Addington, and Lanark-Frontenac-Kingston. For these profiles, each candidate was asked the same list of questions, the responses to which we've compiled into an easy-to-read Q&A format, with additional links for more information. To view all the profiles and additional election coverage, visit Kingstonist's Provincial Election 2022 page.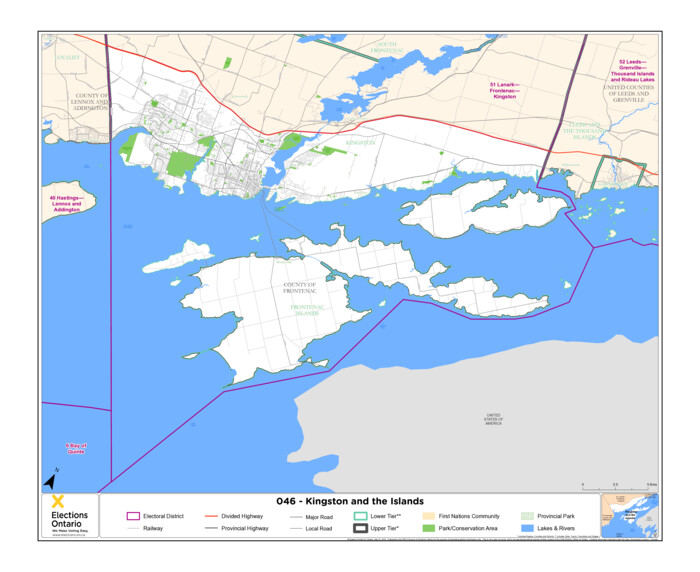 Zachary Typhair is the Green Party of Ontario candidate for Kingston and the Islands. The 2022 provincial campaign marks Typhair's first time seeking elected office, though he is no stranger to the political process. The 21-year-old has volunteered on campaigns at all levels from municipal to federal and has shown a willingness to get involved and make a difference. Typhair has also put himself forward for a number of executive positions within the local Green Party riding association; from 2018 to 2020 he served as Vice President. As the "first Gen-Z candidate" in Kingston, Typhair hopes to provide a voice for youth in the riding and throughout the province.
What made you decide to run in this provincial election?
Well, it was people being left behind, especially my generation. We've seen the climate affordability and health care crisis only get worse. So when I was sitting there during the pandemic, and [watching] many of my coworkers pick up two to three jobs and still fall behind, it made me want to get involved with politics. Because I believe that if we [head] down the current road… more and more people are going to be left behind. So it all goes back to getting people ahead, and that's why I've called for a basic income wage and a cap on CEOs and executives who [shouldn't be making] 20 times more than their lowest-earning employees.
What is the single most common thing constituents bring up when you're going door-to-door?
Affordability. That's why I'm so proud to be part of a party that's going to not only ensure that affordable housing is here, but we're going to retrofit [all] housing by 2035, which would create hundreds of thousands of jobs. That will pay good money, and that's why we need a living wage and a basic income to ensure that nobody gets left behind.
What do you feel is one of the most overlooked issues in your riding?
I would say students [and] tuition. The cost of tuition is really high, and it's only going to go up. That's why… to my knowledge, we're the only party that is saying that we're going to eliminate interest on student loans. No students or anybody should be denied access to education because of income.
Is there one particular issue you would like to champion if elected to represent Kingston and the Islands?
The affordability crisis. That's why I'm proud to be part of the [only] party… calling for a cap on Executive and CEO [salaries]. [They] can't make 20 times more than the lowest-earning employee. I think that's one place Ontario needs to go. Because that is capitalism to a T. If you want capitalism, you need [to] at least believe that if you get your company richer, you also are going to get richer. That's the theory behind capitalism. Some people do not want to move beyond capitalism, [but] that is what we need. We need to have a cap and [a] living wage so that nobody, ever again, has to go through the affordability crisis.
In your opinion, what is the biggest issue with the current makeup of the provincial government?
Well, they're bulldozing over our Greenbelt. They're spending $10 billion that is going to bulldoze over 2,000 acres of the Greenbelt [and] 400 acres of farmland. Not only is it bad for the environment, but it's also directly impacted Ontario's food security.
If you could share one message with voters in Kingston and the Islands, what would it be?
In Kingston and the Islands, you do not have to [vote strategically]. We're currently polling at 12 per cent, according to iPolitics, and it's time to vote with your heart. You have four wonderful candidates here in Kingston and the Islands, and no matter who wins you will be represented courageously. So voting strategically is just voting for a plan that you do not support.
This is why I've given out my personal phone number, which is 613-876-8011, because I want to hear your issues. The best way to do that is by breaking the political barriers that politicians have set up. You will not talk to my office; you're going to talk to me, because if elected, I will represent you, not my party first. And that's what the Green Party is all about: the people in our riding come first, not our parties, and that's why we don't whip votes.
For more information on Zachary Typhair and the Green Party of Ontario, visit their website.