Six questions with Gary Bennett, Progressive Conservative Candidate for Kingston and the Islands
Editorial note: As Ontarians head to the polls for the Thursday, Jun. 2, 2022 provincial election, we want to be your one-stop home base for everything you need to know in the Kingston area ridings. As part of this coverage, we've created profiles for each candidate (pending candidate availability) in Kingston and the Islands, Hastings-Lennox and Addington, and Lanark-Frontenac-Kingston. For these profiles, each candidate was asked the same list of questions, the responses to which we've compiled into an easy-to-read Q&A format, with additional links for more information. To view all the profiles and additional election coverage, visit Kingstonist's Provincial Election 2022 page.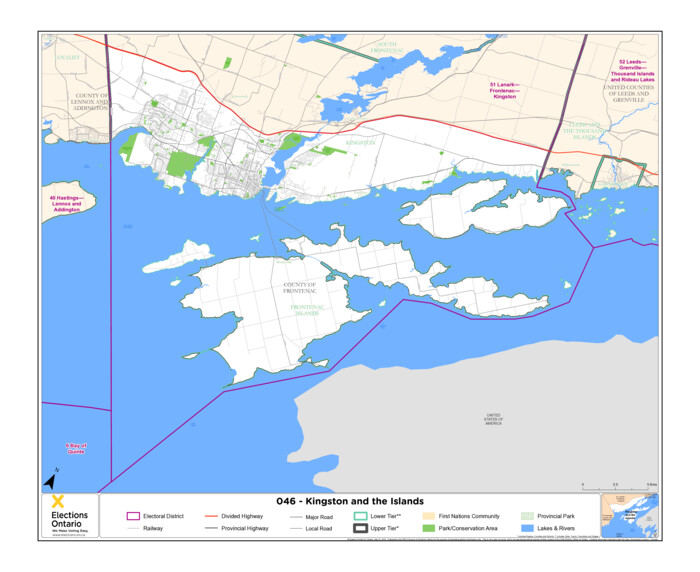 Gary Bennett is no stranger to Kingston's political scene, having served as a city councillor in the late 80s and early 90s, before being elected Mayor of Kingston for the first time in 1994. Bennett served as mayor until 2000, leading Kingston at crucial times such as the city's amalgamation and the 1998 ice storm. Bennett lost his bid for re-election in 2000, but continued to serve his community as a member of local boards, such as Town Homes Kingston, as well as the University Hospitals Kingston Foundation.
In 2017, Bennett re-entered the local political sphere as the Progressive Conservative candidate for Kingston and the Islands in the 2018 Ontario provincial election; he finished in third place with 26.08 per cent of the vote. This year, Bennett is once again the PC's candidate in Kingston and the Islands, as he looks to turn the riding blue for the first time since 1985.
What made you decide to run in this provincial election?
I want to make sure that Kingston and the Islands is represented in government [at] Queen's Park. It's always important that you elect someone who has a seat at the government table… I believe that the Progressive Conservative government under Doug Ford [is] going to have a second mandate. Most people I spoke with agreed that this isn't the time to change government. To me, it represented an opportunity to ensure that Kingston and the Islands, first of all, had a good candidate for the Progressive Conservatives. I've served over a decade on Kingston City Council, and I've always viewed politics [as] public service. So it's something I've always believed in. And, you know, I was certainly encouraged by a lot of friends and family to put my name forward again… Elections are all about choices. I want to make sure that the residents and voters of Kingston and the Islands have some real choices.
In your opinion, what is the most important issue being discussed in this election?
I'm finding that when I go to the door, people seem to be talking about issues of affordability — which includes, obviously, affordability of housing, but just affordability in general. Hopefully, entering a post-COVID period, I think people are concerned about the future and what the new normal is going to look like. The issues of affordability are going to be top [of] mind [for] people when I speak to them, and [we've] had some good conversations at the door. I think generally people are supportive of the idea that our government is the one that isn't raising taxes… we're providing tax credits or reducing the cost of gas at the pump. So they like to know that… we're trying to make life more affordable for people. Health care and education are always part of the conversation, but affordability has kind of percolated to the top, and I think a lot of it is just general anxiety, and what people [look] for is economic hope… I've had some great conversations. I've done 1,000 doors, so I think that's a pretty good statistical tool.
What would you say is the most overlooked issue in the riding?
In Kingston and the Islands, voters have always been very astute at ensuring that… they send someone to Queen's Park who has a voice in government… People are just starting now to think about wanting to ensure that they elect someone who can represent them in government… rather than electing someone in opposition. So I think it's a more general approach; I don't think there's a dominant issue. I mean, our party is offering a variety of policy positions that the other [parties] aren't talking about. One of the big ones that I raised with people is the safety of travelling along the 401 corridor between Belleville and Brockville, and I tell them we're the only party that's planning on widening the 401 to improve driver safety. Every day, you pick up the paper and read about an accident along the Brockville-Belleville 401 corridor… So I think investing in highway infrastructure in this area is something we haven't talked about, but people are pleased generally when I raise that issue and indicate that it's something that our party is supporting, and we'll get it done.
Is there one particular issue you would like to champion if elected to represent Kingston and the Islands?
I think the most important issue is — and it's kind of buried in our policy document — but the Progressive Conservative Party of Ontario believes that we need to begin to decentralize government and Crown corporations. In other words, we need to begin moving a lot of those agencies out of some of the most expensive real estate in Ontario, and [into] the regional communities… We've already started that process by moving the WSIB (Workplace Safety and Insurance Board) office out of Toronto into London. The last time that was really done was when there was a Progressive Conservative Member of Provincial Parliament in Kingston, Keith Norton. When [Norton] was elected in the 1980s, he brought the Ministry of Health jobs to Kingston, and those jobs, to this day, as you know, are still here. So for over 40 years, our local economy has benefited from having those public sector jobs. What I'm telling people is Kingston needs more public sector jobs, not fewer. And it's our government that's… essentially opening the door to those kinds of opportunities… We can only get our fair share of those opportunities if you [have] someone who has a voice in government. That to me is significant because when you look at Kingston, our economy is so dependent on the public sector. That opportunity to grow the public sector economy even more is good news for Kingston of the islands, and you need someone who can go to Queen's Park and bring those jobs back here. Keith Norton did it when he was the Progressive Conservative candidate, and I'll work hard to do the same thing.
In your opinion, what's the biggest issue with the current makeup of the provincial government?
I think the real issue for us is revitalizing the economy to make sure as we migrate into a post-COVID period that we have a plan for keeping the economy open and growing, because it's the value that the economy produces in taxes that we use to support our health care system and our educational system. So governments have two choices: they can either raise taxes to pay for health care and education, or they can grow the economy and grow the revenue base of the province [so] they have more revenue to be able to invest in health care and education. For me, it's keeping your eye on the importance of the economy and making sure you have a plan in place for growing Ontario's economy, and you can only do that if you complement the business community… The Progressive Conservative government seems to have the confidence of the business community, and the NDP are telling the business community that they don't pay their fair share in taxes. That's not a very positive message to send to a business community that you want to see investing in Ontario's economy and employing more people. I think recognizing that the economy needs to be a priority, [and] a healthy economy moving forward is essential… You can have a healthy environment and a healthy economy at the same time, and that's sort of our plan.
If you could share one message with voters in Kingston and the Islands, what would it be?
Make sure you vote. You know, I think the real issue is [it's] important to recognize the men and women before us [who] fought and gave their lives so as Ontarians [and] Canadians we have the right to vote. And we should never forget the sacrifices that came before us so that we have an opportunity to vote. The one message I send to the community and my fellow candidates is [that] elections are just a moment in time when we're divided…. Once the election is over and the lawn signs come down, it's important that we all get back together and become part of a single community. [It's] politics that divide us, but it can also be politics that brings us together.
For more information on Gary Bennett and the Progressive Conservative Party, visit his campaign website.