Women's-only kickboxing-inspired workout facility now open in Kingston
There is a new women's-only kickboxing-inspired circuit-based workout location in Kingston's west end. Specially designed for maximum fitness and health results in 30 minute increments, 30 Minute Hit is a great option for busy women who can only find small spaces of time in their schedules to work out.
The training at 30 Minute Hit gives a full body workout, utilizing boxing, kickboxing, and core strengthening, based on self defense moves. All women (13+) of any fitness level are welcome, and there is always a supportive trainer on the floor to motivate and demonstrate when necessary.
Read more about the circuit here: https://www.30minutehit.com/about/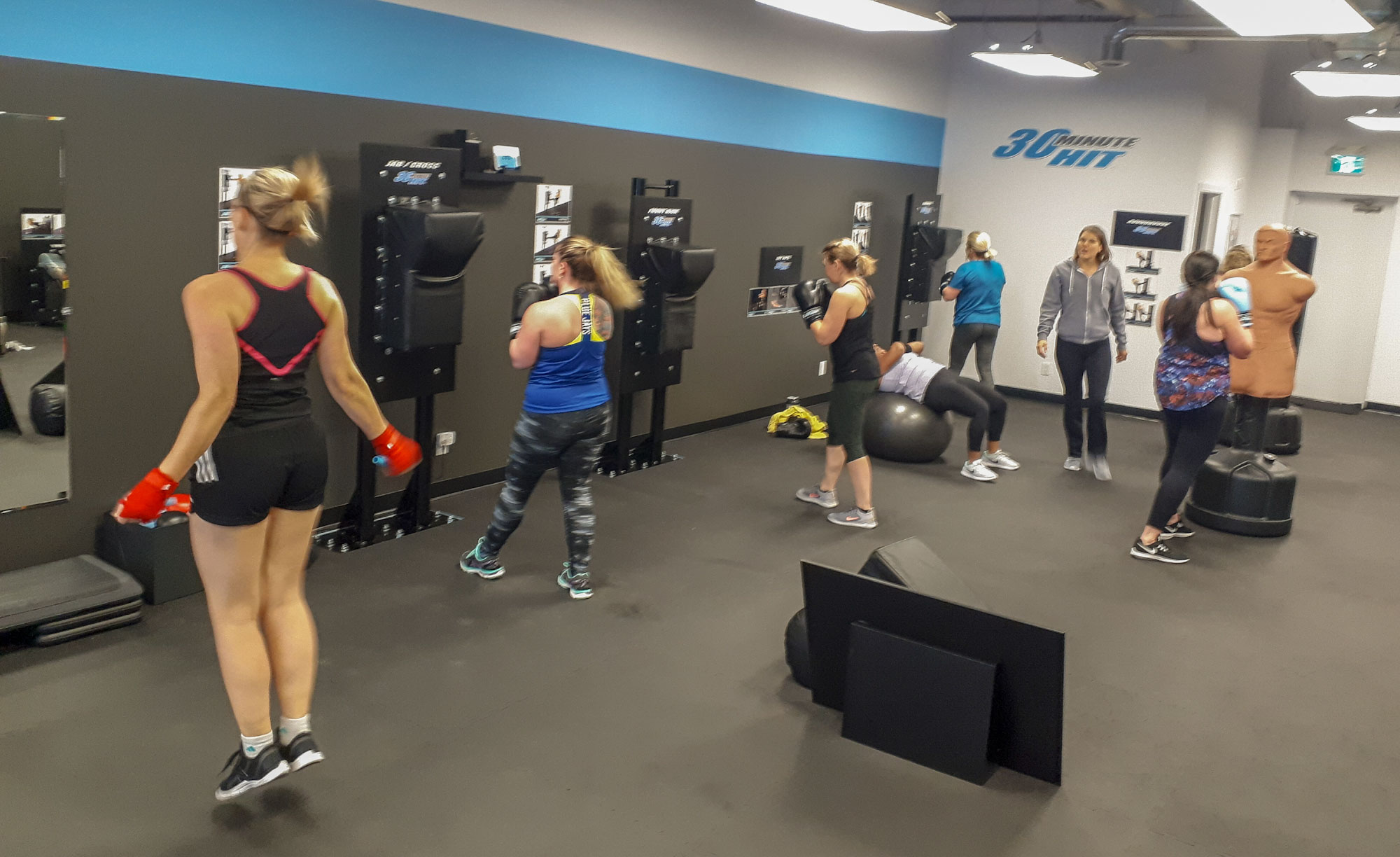 30 Minute Hit is located at 849 Norwest Road. Owned and operated by Karen Fedyk, customer turned franchise owner, the franchise is open select hours:
Monday, Wednesday and Friday mornings: 8:30 a.m. to 12:30 p.m.
Monday through Thursday evenings: 4 p.m. to 8 p.m.
Saturday mornings: 8 a.m. to 12 p.m.
"I'm excited to bring 30 Minute Hit to the women of Kingston. I was a dental hygienist for 17 years in North Vancouver, where I discovered 30 Minute Hit in 2012.  I was hooked. I don't like gyms, and I don't really like to work out, but this was different. This was awesome!" — Karen Fedyk
Fedyk's story of what brought her to Kingston involves wanting to share what she's experienced through 30 Minute Hit, and wanting to feel closer to home, she explained.
"Originally from Thunder Bay, I found myself longing for a change from Vancouver and wanting to be closer to friends and family," Fedyk continued. "I was getting tired of working long hours for someone else in a sedentary job, and started considering opening my own 30 Minute Hit.  My sister moved to Kingston in 2012 and every time I came to visit her, I liked Kingston more and more. Fast forward to November 2019 when we opened our doors in the Clock Tower Plaza, and where we are building a wonderful CommunHity of empowered women in a fun, supportive, and non-threatening environment.  We look forward to meeting you!"
If you're interested in trying 30 Minute Hit before making a commitment, they offer a Free Trial option. Find the details here: https://www.30minutehit.com/locations/kingston-ontario-kickboxing-boxing-fitness.html
30 Minute Hit was founded in Vancouver, and the fitness concept is a fun, fast-paced, and convenient boxing and kickboxing circuit for women. 30 Minute Hit provides women with a highly personalized workout to strengthen their bodies and minds. Learn more on their website: https://www.30minutehit.com/
---
Jessica is a busy working mom and writer who enjoys covering local interest stories, and creating content for her own website A Modern Mom's Life. She loves living, working, and playing in Kingston. You can see what she gets up to with her family on Facebook, Twitter and Instagram!