What actually happens when you win an election?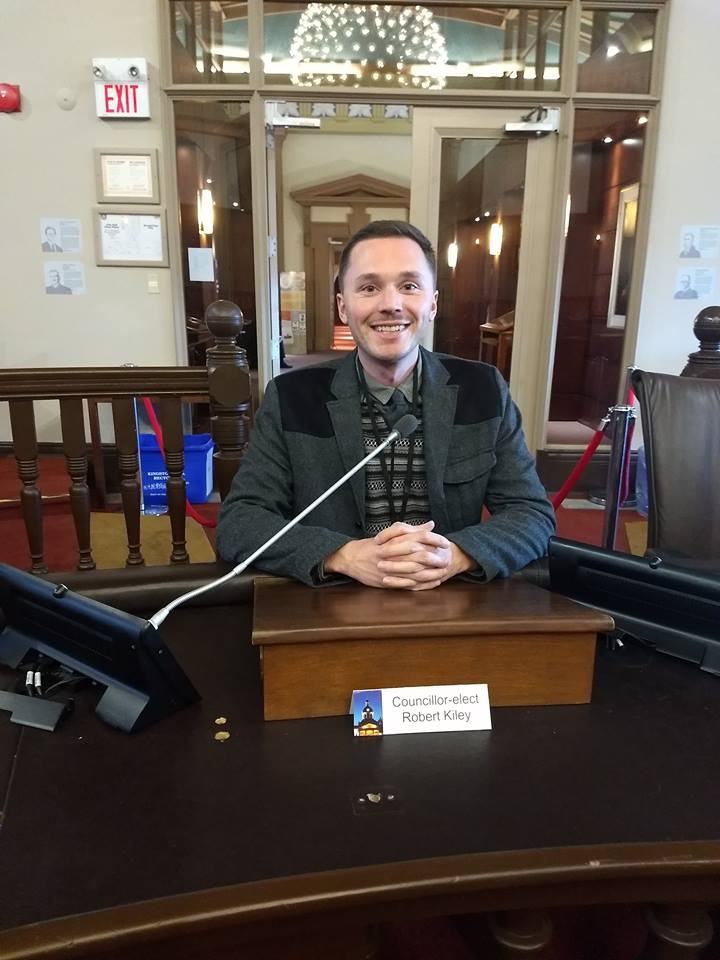 This is the first of a monthly column on life behind the scenes at City Hall, contributed by Robert Kiley, Kingston city councillor-elect for Trillium District.
After four months of a very serious side hustle, five nights a week and almost all weekend – ripe with door knocking, campaign meetings, community events and debates, hundreds of emails and calls – I don't know what I thought would happen if I won the municipal election on October 22. Some voice from on high? A regal letter strapped to the talons of ye ole carrier pigeon? The Harry Potter sorting hat?
When I did win, what I definitely didn't expect was… the silence. Indeed, nothing formally happened beyond a barrage of hugs and congratulatory emails for a week while the results remained unofficial. Time to clean up the office, sleep a little more, polish your shoes (actually, I still need to do this).
But once the city clerk officially released the final numbers, I was, with my new colleagues, inundated. Our email boxes overflowed with invites, now in an official capacities: orientation with city staff, AGMs, changing of police chiefs, small business ribbon cuttings, and, yes, the Santa Claus parade.
Our schedules quickly filled up: coffee dates with each other, the mayor, constituents, and lobbyists (from one of the companies trying to corner the market on legal weed, for instance. I'm not kidding). Evenings and weekends were once again completely committed, though that might be obvious – it's part and parcel of this full time part time job. That's right, councillors are not formally full time employees. That should probably change.
What's maybe less obvious is what exactly these things entail. Take the orientation with city staff, for example. The office of the Chief Administrative Officer, the top bureaucrat, and Clerk, the one who makes city meetings tick, arranged three days of engaging sessions for the new council.
From ethics training to getting our new emails, our time together included a morning bus tour highlighting strategic investments and development across the community, hosted by the COA himself and the head of Utilities Kingston, who Councillor-elect Holland tweeted, looked like he was doing "Kingston Transit karaoke."
The orientation included an afternoon of "speed dating" with upper level city directors and commissioners where we, new councillors, were able to ask them any question about their respective departments. They answered everything openly and with great consideration. I sat with Community Services (planning, housing, parks, environment, culture, communications) for three rounds and I still have lots to talk about!
Naturally, we also got to check out our new digs. Here's the Councillors' Lounge where certain "in camera" meetings will occur.
Speaking of meetings, that's how we finished our orientation: in a mock meeting, with funny motions, like establishing a public kale bar, which articulated step by step what happens around the Horseshoe (the moniker of our shared twelve person desk in Council Chambers).
Through the laughs and serious discussions, I was constantly impressed with the dedication, thoughtfulness, and camaraderie that was fostered. Simply: it was fun and informative and there seems to be a genuine willingness to have honest, sometimes tough, yet always respectful, conversations to benefit the people of Kingston. Isn't that what this is all about?
A spirit of teamwork and community building is here, for now. It is precisely what we need to move our city forward: to act on issues like smart, sustainable development, affordable housing, good jobs, and a healthy environment. We need this type of frank friendship to keep property taxes low and services high quality.
Though of course, these are very early days.
But it's about it get real. We move from winning an election to being elected at our swearing-in ceremony on Tuesday, Dec. 4 at 7:30 p.m.
Follow along, you don't want to miss it.
Robert tweets @robert_kiley.