Wentworth guilty on two robbery counts but not manslaughter; murder verdicts to be determined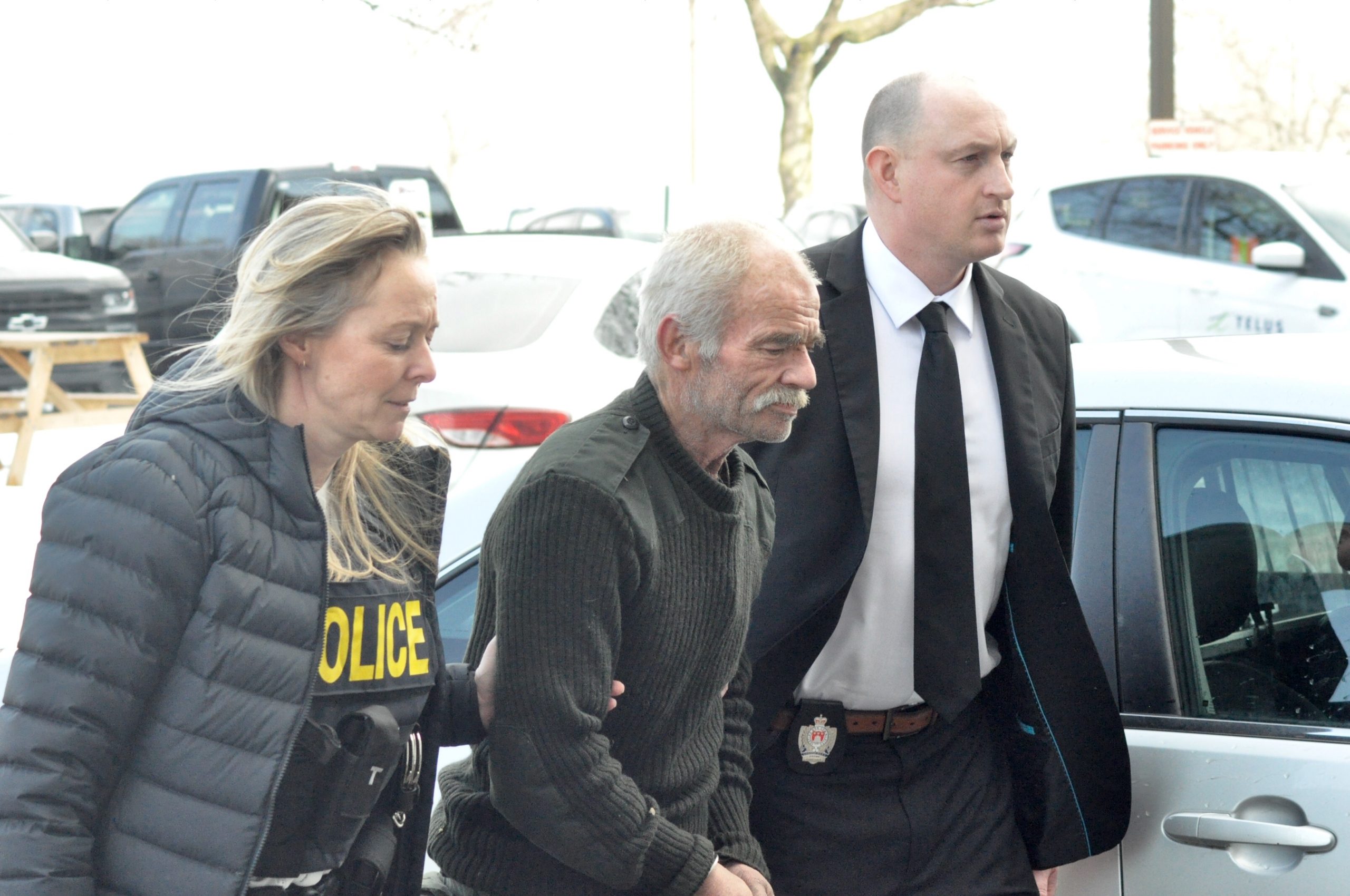 Michael Wentworth has been found guilty of robbing 92-year-old Henrietta Knight in 1995 but not guilty of manslaughter in her death. He has also been found guilty of robbing a TD Bank in 1995.
Wentworth began to learn his fate today as Justice Laurie Lacelle of the Superior Court of Justice started entering her verdict into the record at the Frontenac County Courthouse on Thursday, Jan. 26, 2023. He faces three more counts: one count of arson related to an exploded pipe bomb and two counts of first degree murder.
Lacelle began the proceedings by stating that her decision was a lengthy one. As such, she told Crown and defence counsel, "I have absolutely no sense of how long it's going to take to read it for the benefit of Mr. Wentworth and all the public and yourselves… As I read through the decision today, I don't know how my voice is going to hold. So if I need to take breaks from time to time, please bear with me."
Wentworth stands trial on five counts, each of which was summarized briefly by Justice Lacelle in the order in which they are alleged to have occurred.
Count number one was manslaughter: causing the death of Henrietta Knight by assaulting her with intent to steal from her. 92-year-old Knight was assaulted on Jun. 2, 1995 during a home invasion and died approximately five months later on Nov. 4, 1995. The Crown alleges that the accused targeted Knight because he had received a tip from a woman with whom he was having an affair that Knight had money in her home.
"There is no issue that a home invasion was committed. The issues to be determined at trial are whether the accused was the perpetrator and, if so, whether he caused the victim's death," explained the judge.
Despite finding Wentworth guilty of the home invasion and robbery, Lacelle determined that, based on the evidence, she was left with a reasonable doubt that the accused's actions caused Knight's death.
Count two was the robbery of a Kingston area TD (Toronto Dominion) Bank on Jul. 14, 1995, roughly a month after the Knight home invasion. Wentworth and a friend were alleged to have robbed the bank by backing a stolen cube van through a window and making off with the night deposits as they were being transported by staff to the bank vault.
The issue here was whether Wentworth was one of the perpetrators of the robbery. Lacelle stated that the evidence left no doubt that Wentworth was one of the perpetrators; therefore she found him guilty.
Count three is the first degree murder of Richard Kimball on or between Nov. 1, 1995 and Nov. 30, 1995. It is alleged that Wentworth shot and killed his long-time associate Kimball because the accused was concerned that Kimball "would rat on him about his involvement in the TD bank robbery."
The Crown alleges that after shooting Kimball, Wentworth and a friend dismembered the body by removing the head and hands, then disposed of the body by dumping some of it in a river and burying some of it near Montreal. Kimball's body has never been found.
This afternoon, Lacelle began her discussion of Kimball's alleged murder. However, as it was late in the day, court was adjourned with no verdict given on that charge.
Lacelle will continue reading the verdict tomorrow, Friday, Jan. 27, and will presumably finish count three and move on to the rest of the charges.
Count four is "causing damage by explosion to property" on Jul. 19, 2000. That summer Wentworth worked in conjunction with others in a marijuana grow operation in the Kingston area. The allegation is that the accused was sent to Toronto to kidnap a man named David Allan who had a conflict with another partner in the grow-op.
It is alleged that Wentworth tried to kidnap Allan, had difficulty doing so, and decided instead to set a pipe bomb under Allan's vehicle. A pipe bomb did in fact detonate in a residential neighbourhood in Toronto under a vehicle associated with Allan. The court aims to determine if Wentworth was the perpetrator of that offense.
Count five is the first degree murder on Oct. 21, 2001, of Stephen St. Denis, with whom Wentworth worked in the grow-op.
St. Denis was a former partner of David Allan, the target of the car bombing in count four. It is alleged that St. Denis told Wentworth he planned to go to Toronto and work with Allan. Since St. Denis had once told the accused that he couldn't be trusted to keep secrets if tortured, Wentworth determined that "he had no choice but to kill St. Denis," since St. Denis might reveal to Allan who had attempted to kill him with the pipe bomb.
It is alleged that Wentworth and a friend then drugged St. Denis at a bar by doctoring his drinks. Wentworth then returned St. Denis to his house in an incapacitated state and started a fire using an electric frying pan, leaving the victim to die in the fire. St. Denis died in a house fire on Oct. 21, 2001. At the time, the death was determined to be accidental. The issue on this count is whether the accused planned and committed the murder of St. Denis.
The Judge stated that "the verdicts available to the court on all counts except the manslaughter of Henrietta Knight are either guilty or not guilty."
Much of the evidence against Mr. Wentworth was collected in what is known as a "Mr. Big" operation. A friend of Wentworth, named only as "Barney," became a police agent (PA), operating on behalf of the police to ensnare Wentworth. The PA followed orders from police and recorded conversations between himself and Wentworth.
In the course of the investigation, Barney introduced Wentworth to undercover police officers (UCs). The UCs then befriended Wentworth and involved him in an elaborate ruse, posing as criminals seeking his help with various crimes, including possible contract killing.
During the nine-month sting operation, the UCs also recorded conversations in which Wentworth admitted to each of the crimes of which he is accused.
Judge Lacelle's reading of the verdicts will resume at 10 a.m. on Friday, Jan. 27, 2023, at the Frontenac County Courthouse.