Umicore breaks ground on multibillion-dollar battery plant in Loyalist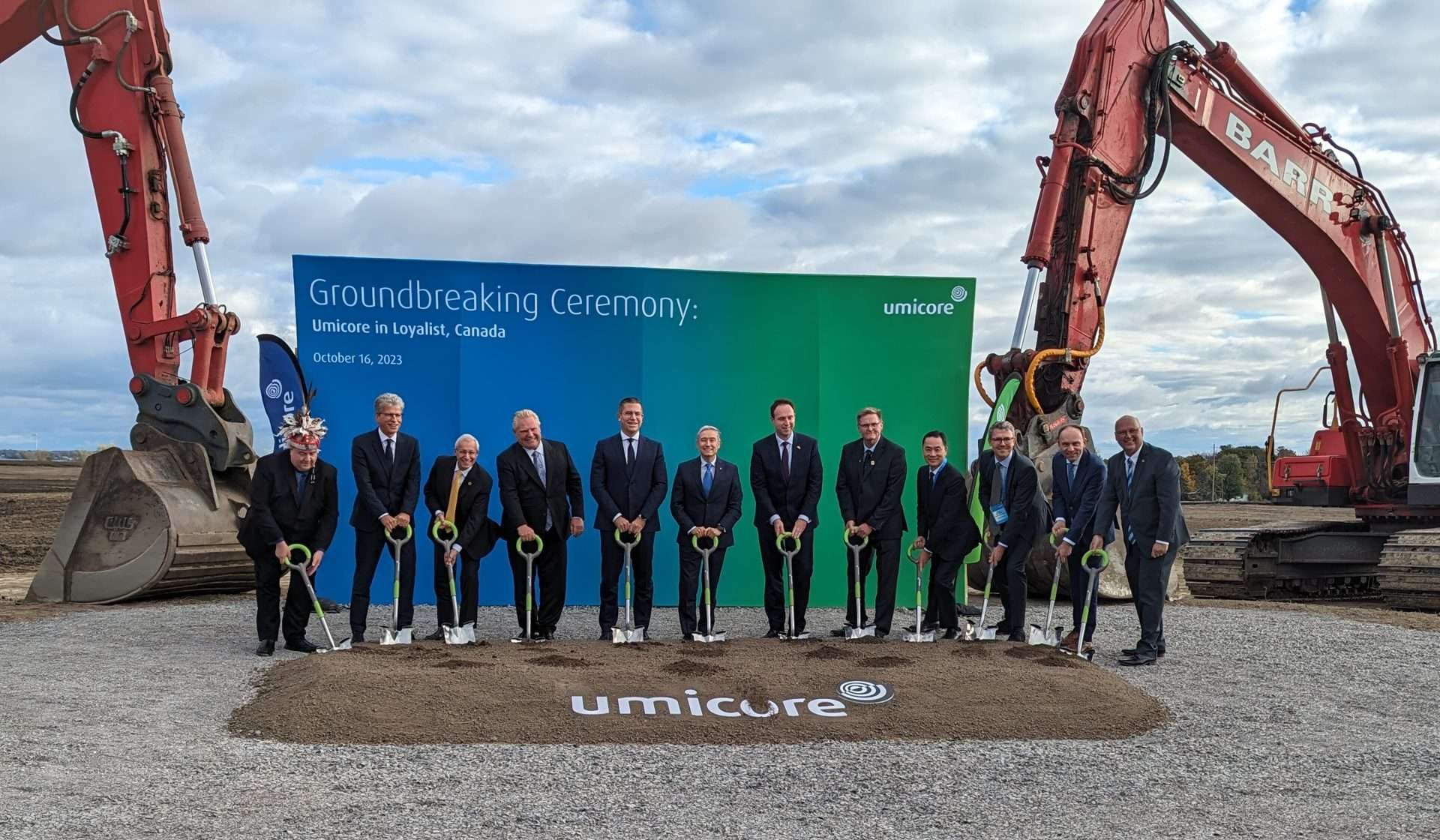 Ontario Premier Doug Ford was in Bath today, along with François-Philippe Champagne, federal Minister of Innovation, Science, and Industry, and Vic Fedeli, the provincial Minister of Economic Development, Job Creation and Trade, to ceremonially break ground for a factory to be built by Belgium-based company Umicore.
The facility will manufacture electric vehicle battery parts, specifically cathode active material (CAM) and precursor cathode active material (pCAM), which are critical components for producing electric vehicle (EV) batteries.
The project, with a total eligible cost envelope of up to $2.761 billion, is planned to be executed in multiple stages. Today, Umicore annouced its firm investment decision for the first stage of $2.1 billion, of which $1.8 billion is capital expenditures, for a battery-materials production capacity of 35 GWh annually.
Based on the full scope of the envisioned project, the Government of Canada is supporting Umicore's project through an investment of up to $551.3 million, while the Government of Ontario is supporting the investment with up to $424.6 million.
The groundbreaking ceremony opened with Chief of the Mohawks of the Bay of Quinte Don Maracle offering "the words before everything" in Mohawk. Maracle was presented with tobacco by the CEO of Umicore, Mathias Miedreich.
MInister Champagne addressed the ceremony's attendees, praising Canada's strong potential for success in the changing global energy sector. "Canada has everything it needs to be a global leader in the green economy: access to global markets, a talented workforce, clean energy, world-leading innovation ecosystems and all the critical mineral resources necessary to make EV batteries," he said. "This is the reason why Umicore has chosen Canada and Loyalist Township as the place to build its new electric vehicle battery materials plant, one that will produce green battery components. This project will bring great economic benefits to Ontario and create well-paying jobs for Canadians, and it is strengthening Canada's position as the green supplier of choice."
Premier Doug Ford agreed. "Umicore's investment represents another strong vote of confidence in our rapidly-growing electric vehicle and battery supply chain. Together, with our government, industry, and labour partners, we're putting our auto sector back on the map, attracting billions of dollars in new investments, creating thousands of new good-paying jobs and ensuring the cars of the future will be made in Ontario, from start to finish."
The first of its kind in North America, Umicore's facility will produce CAM and pCAM on a large industrial scale for EV and battery producers in Canada and the United States. In the project's first stage, the company plans to create 600 new jobs. Additionally, 700 co-op positions for students will be created throughout the project, which will make Umicore one of the largest private employers in Eastern Ontario.
Through their press release, the Government of Ontario states that the full project has the potential to produce enough battery materials to support the production of over 800,000 EVs per year, utilizing Canadian critical minerals, including nickel, lithium and cobalt, and strengthening Canada's and Ontario's domestic EV supply chain and batteries ecosystem. In the last three years, Canada and Ontario have attracted historic new investments by global automakers, EV battery manufacturers, and battery materials suppliers.
In their remarks at the groundbreaking ceremony, the Umicore CEO and the government officials all touted the multigenerational effects this project will have on the surrounding area. "Imagine, every car in North America may have a little piece of Loyalist in it in the future," Minister Champagne said to Loyalist Township Mayor Jim Hegadorn. 
Thanks to Canada's abundance of clean energy, the facility will be nearly carbon neutral from the start of production.
"Umicore is proud of, and delighted with, the unwavering support and financial backing of Canada and Ontario," said CEO Miedreich. "Their readiness to co-fund our investment coupled with the announcement of our first customer contract for the Loyalist plant mean we can forge ahead with the construction. We are committed to being a reliable transformation partner for the automotive and battery industry and a trustworthy neighbour for communities in Ontario."
This is a developing story with more to come.