Turtles Kingston making it easier for locals to save injured turtles
Turtles are on the move, and they won't let anything get in their way! As they come out of their deep winter sleep and prepare for mating season in the early days of June, turtles are roaming around, nesting and searching for their mates. These pre-historic slow movers have been around long before roadways or vehicles. Still, every year turtles are severely injured or killed due to collisions caused by these man-made hazards to their habitats.
According to the Ontario Turtle Conservation Centre, there are eight native turtle species, seven of which have been listed as species at risk by both the Committee on the Status of Endangered Wildlife in Canada (COSEWIC) and by the Committee on the Status of Species at Risk in Ontario (COSSARO). Five of these species are found in Kingston. Turtles are a keystone species, meaning other species in an ecosystem depend on their presence; they are also considered wetland custodians, since they eat a tremendous amount of bacteria-producing carrion and decaying vegetation, helping to keep waters clean, according to Turtles Kingston.
In an effort to conserve the turtles, Turtles Kingston has made it easier to help our shelled friends in distress by setting up temporary holding stations across the city.
What are temporary holding stations, and how do they help local turtles?
Turtles Kingston, working in partnership with over seven veterinary clinics, has set up stations across Kingston where folks who find injured turtles can bring them. While Sandy Pines Wildlife Centre (SPWC) is the nearest location for turtle rehabilitation, it's a bit of a trek for some, as it's located in Napanee. Partnering with vets from the east, central and west ends of Kingston greatly increases the chances of an injured turtle's survival.
"If someone finds a traumatized turtle, they can bring them to the stations," said Tara Bauer, the new director of Turtles Kingston, in an interview. "Not everyone can take the half hour to drive [from Kingston to Napanee], so stations were created as a way to offer somewhere [closer] you could bring an injured turtle. We try to cover the majority of the city… so that we're never more than 10 minutes away from a station… Once they're brought there, we get our volunteer drivers to drive them from our temporary stations to Sandy Pines, where they can get treated."
For quick reference, a map of the turtle station locations can be found here on the Turtles Kingston website.
Who drives the turtles to Sandy Pines Wildlife Centre?
The turtle trauma program is entirely volunteer run, including those driving the turtles from Kingston to SPWC. "There are so many turtle warriors in Kingston," said Bauer, expressing appreciation for her team. "These people are very passionate about turtles, but they are all doing this on their own. We're grateful that there are so many amazing people out there that are willing to do this, especially at a time when the gas is so expensive."
Bauer also expressed thanks to Trailhead outdoor equipment store: "They provided some funding to us in support of our trauma program via their Eco Grant."
If you are interested in applying to volunteer with Turtles Kingston as a driver, do so on their web form, here.
What should you do if you spot an injured turtle?
According to Bauer, if you see an injured turtle, here are the steps to get it to safety or a holding station:
"Firstly: safety. Individual safety is very important. You're going to find the injured turtles on roadways, so it has to be safe for you to stop and… get the turtle."
"When you do find an injured turtle… make sure you know exactly where you are. Because once that turtle has been rehabilitated, it's going to be released back to where you got it."
"Place it in your car, preferably in a small plastic bin with holes in the top. If you don't have that, it can go in your trunk or a mat in your back seat. Keep it contained so that it doesn't fly around."
"We recommend you drive without any radio or sound on. They're already in a traumatic experience. We don't want to add to it."
"Drive as cautiously as you can to one of our participating vets at those temporary holding stations. Once you're there, they'll ask you to fill out a form asking where you found the turtle and your contact information."
A more in depth explanation on how to handle turtles, including snapping turtles, can be found on the Turtles Kingston web page, here.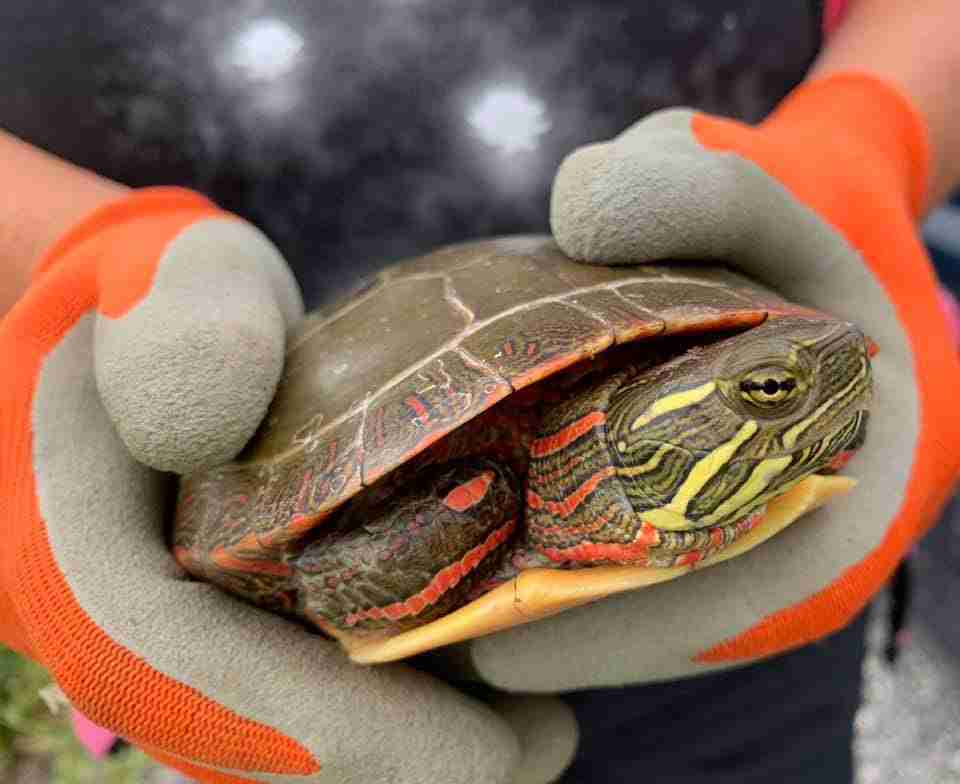 A few words from 'turtle warrior' veterinarian, Dr. Ryan Llera of the participating Kingston Veterinary Clinic:
Dr. Ryan Llera, who also serves as Kingstonist's Wizard of Paws, said, "I was approached by the previous coordinator of Turtles Kingston, Mabyn Armstrong. We at Kingston Veterinary Clinic were the first ones to sign on board and have appreciated the chance to give back to the wildlife community… I have always loved the idea of working with reptiles… I received additional training from the Ontario Turtle Conservation Centre (OTCC) and am a turtle first responder through their training to be able to provide initial triage treatment, including pain management, fluid therapy, and shell stabilization."
"If you see an injured or even dead turtle, pick it up (safely of course) and bring it to one of the [turtle holding stations] around Kingston. Even dead turtles may be carrying eggs, which can be harvested and incubated to be able to hatch. If someone finds a turtle [that] is not injured, they can help it off the road in the direction the turtle is headed, but they should not relocate the turtle any further" he shared.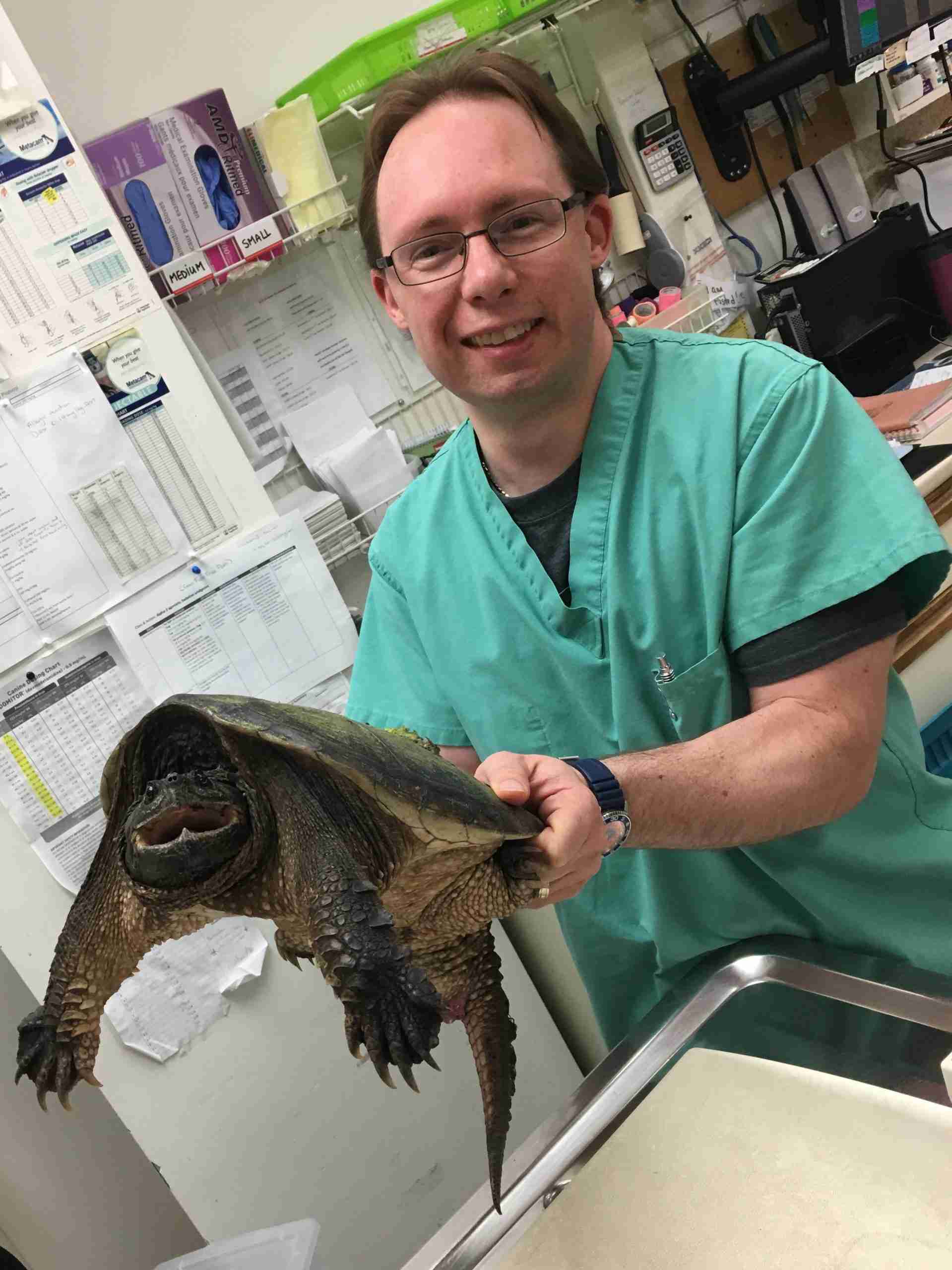 What happens after a turtle is rehabilitated?
Bauer explained that one of the exciting aspects of the turtle trauma program is the ability to release the turtle you saved back into its habitat, something Dr. Llera did himself in 2018 with great success. Contact and location information is required at the stations, so that you can be contacted if you wish to release the turtle yourself.
"Releasing a rehabilitated turtle is something that is pretty amazing to do," says Bauer. "It shows, full circle, how your efforts did help."