Trial begins for Millhaven correctional officer accused of assaulting prisoner with weapon in mass altercation
On Thursday, Jan. 5, 2023, at the Ontario Court of Justice in Napanee, the Honourable Justice Geoffrey Griffin attempted to begin the trial of Donald Kay, who is charged with assault with a weapon in conjunction with an incident that occurred at Millhaven Institution on Monday, Nov. 19, 2012.
However, Justice Griffin was soon informed by Defense Attorney Matt Hodgson, "There's an issue that came up sort of last minute, last night actually… There were some disclosures that my friend provided to me that [he had] just received as well."
"My friend" is the term generally used to refer to the attorney(s) for the other side: in this case, Assistant Crown Attorney Timothy Kavanagh.
Hodgson continued, "There's some substantive portions that may affect how the defence runs the case. So I do need to review that with Mr. Kay."
In deliberating what to do next, Justice Griffin asked the Crown to give a brief overview of how much time the court would need to hear the case against Mr. Kay. According to Kavanagh, the Crown intends to call Mr. Christophe Lewis, the alleged victim; "also a corrections officer named Mr. McCallum[;] and then Janice Whalen, also a Correctional Officer"; and a Detective Jenkins.
"It involves, of course a video," continued Kavanagh, referring to a surveillance video of the incident that took place at Millhaven, a maximum-security federal penitentiary, on November 19, 2012.
In 2021, after seven years of requests, Lewis and his legal counsel were able to obtain surveillance video of the incident from the Office of the Correctional Investigator. It can now be seen widely on YouTube. In a version of the video posted on YouTube by "Black News Canada," Lewis describes the incident in a recording superimposed over the visuals.
In 2011, Christophe Lewis was sentenced to 15 years in prison for second-degree murder in Toronto. In the video statement, he says that when he was transferred to Milhaven Institution in November 2012, a female prison guard told him to undress so she could conduct a strip search, but he asked for a male guard instead.
Though there is no sound in the original video, Lewis can be seen first talking with a female guard, who soon leaves the room. Seconds later, as many as nine corrections employees enter the small room from the direction the female correctional officer left.
After about a minute of what appears to be a calm discussion between the lone prisoner, Lewis, and the large group of corrections workers, a tall male corrections officer can be seen spraying Lewis in the face with what appears to be a canister of pepper spray.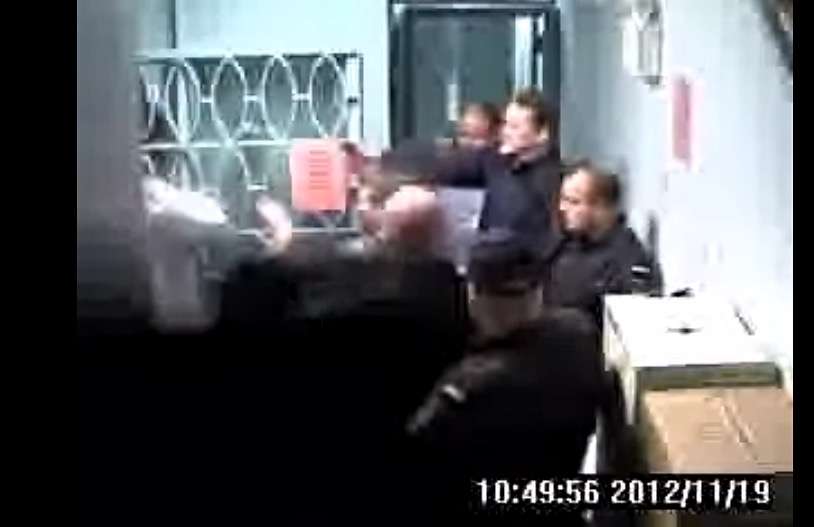 Lewis is then seen being tackled by several guards at once, as the tiny room fills up with 15 or more corrections employees.
Lewis can then clearly be seen being choked with an elbow hold around the neck and forced to the ground. Moments later he is lifted by guards to his feet and dragged from the room.
"The attack on me was unprovoked and vicious," Lewis says in the recording. "The initial assault took place in less than a three-minute time span. There were no escalation tactics deployed, as you can clearly see from the first four minutes of the video."
He also asserts, "I sincerely believe the reason there was no conflict resolution attempted or de-escalation tactics deployed was because I posed no threat to anyone."
He describes being "placed in a chokehold, a physical move disallowed by CSC (the Correctional Service of Canada) in 1999."
Ultimately Justice Griffin decided to allow Hodgson the day to go over the new information with his client, stating that court would resume at 9 a.m. Friday, Jan 6, 2023.
Outside the courthouse, a support rally dubbed the "Rally in Support of Prisoners" was dampened by the freezing rain, but that didn't stop around 20 people from attending court proceedings indoors, while several more interested parties watched the proceedings online.
In a news release, the organizers behind the rally stated that they wished to support "Christophe Lewis who was attacked by guards at Millhaven Penitentiary in 2012 and is seeking justice… On January 5, the trial is starting for one of the guards who beat Christophe Lewis in 2012. Let's show up in support of Christophe and in support of all prisoners. [sic] Including Nicous Spring who was recently murdered by guards in Montreal's Bordeaux prison."
This is a developing story with more coverage to come.