Tri-Board Transportation gets 'back to school' with new CEO Jeremy DaCosta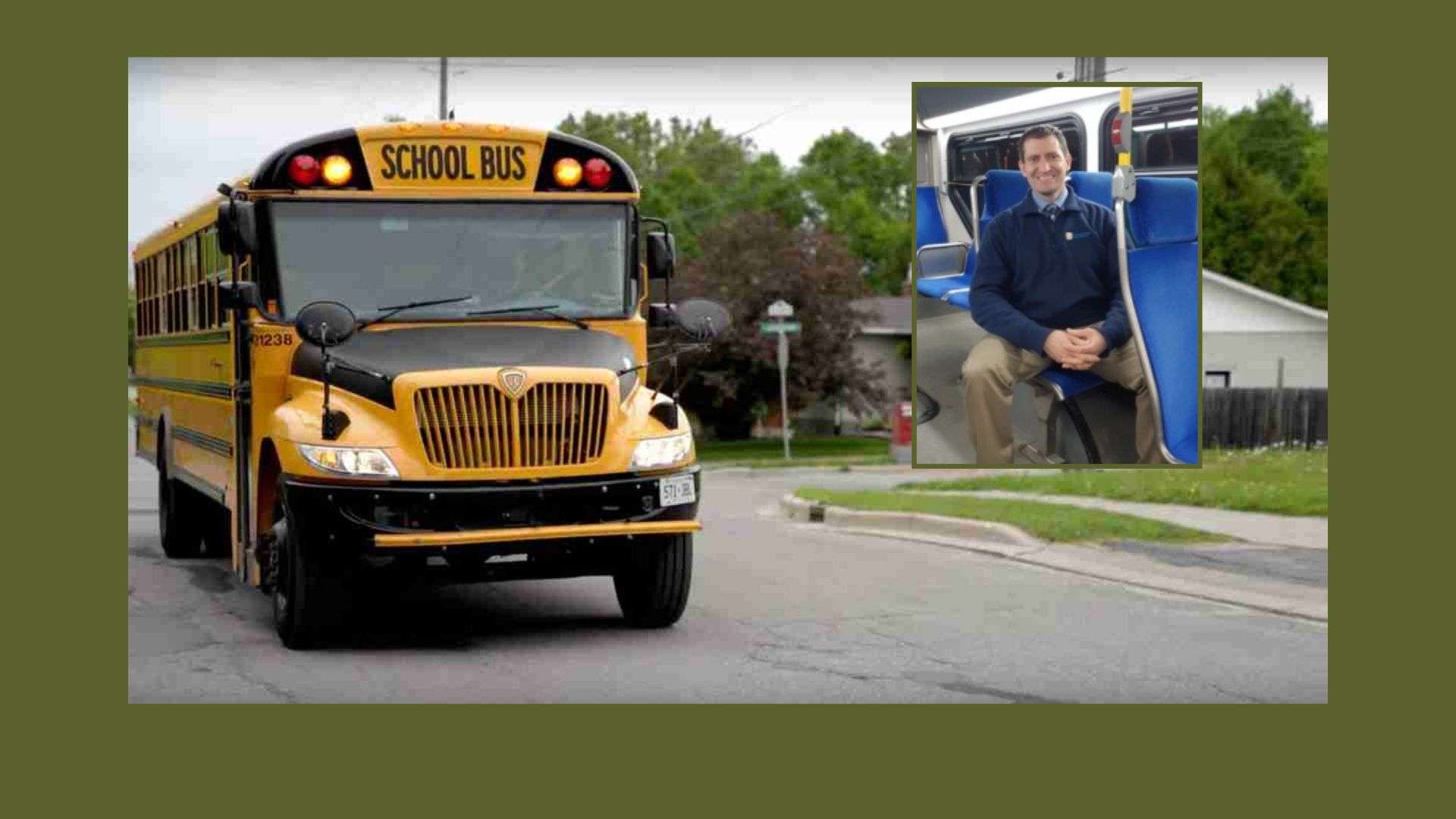 In conjunction with the start of a brand new school year, there will be a major change in leadership at Tri-Board Transportation this fall, as the local school bus consortium welcomes former Kingston Transit director Jeremy DaCosta as its new Chief Executive Officer (CEO).
DaCosta said his decision to join Tri-Board was not an entirely easy one, given that he has spent almost 30 years working with the City of Kingston.
"I worked at the City of Kingston for a long time: I was there for 28 years. I started there when I was a student in high school, in public skate patrol," he said, referring to the municipal role enforcing safety at local skating rinks.
After earning a degree in business from Queen's University, DaCosta joined the municipality full-time, working in various roles before eventually becoming director of Kingston Transit.
While DaCosta was content with his position at Kingston Transit and was not necessarily looking for a career change, an opportunity to join Tri-Board in place of outgoing CEO Gord Taylor was too good to pass up. "The position came to my attention when a colleague shared it with me, and it struck me as a really good fit, both in terms of what I'm really interested in and my background with Kingston Transit… [So] I found myself applying and then being successful and being hired by our board of directors," he said of the quick transition into the new role, which officially took place this past June.
As CEO of Tri-Board Transportation, DaCosta will oversee a network of buses serving three school boards — the Algonquin and Lakeshore Catholic District School Board (ALCDSB), the Limestone District School Board (LDSB), and the Hastings and Prince Edward District School Board (HPEDSB) — across a 16,000-kilometre service area.
With considerable experience in public transit, the former Kingston Transit director brings a unique skill set to the role, but he also pointed out a significant commonality between the two types of transportation: service delivery. "The stakeholders for school buses are perhaps a little more narrow of a focus: you're dealing with parents, families, and children, whereas public transportation is more broad-based and delivering service to the broader community," DaCosta stated. "But those principles of providing really excellent service, ensuring that you're providing a service that's reliable, ensuring the service arrives on time, and ensuring you're delivering the service safely: those principles apply whether you're dealing with public transit or school buses."
While there are notable parallels in terms of the overall mission of the two organizations, the new CEO noted there are some significant differences as well, giving him exciting new challenges to deal with. "The biggest thing that's different… is the vastness of geography. Our service area covers this area of the province as far east as Gananoque, as far west as Belleville and Trenton, and as far north as Maynooth. It's the vastness of the geography, and the uniqueness of the cities, towns, villages, and communities that Tri-Board covers, that's much different from the [previous] role I had, [which] was very much focused on… the city of Kingston," he said.
As for how things are going just a few months into the job, DaCosta described the transition process as "excellent," saying, "I've really enjoyed the opportunity to start meeting the stakeholders in the school bus industry… working with the school boards, working with the bus companies… getting out and travelling the vast geography that Tri-Board covers in this part of the province. I've spent a lot of time on the road, having visited school sites and school bus operators in areas outside of Kingston."
With the 2023-2024 school year now just days away, the new CEO said preparations are shaping up nicely for Tri-Board to offer service across its 600-plus routes when children return to school on Tuesday, Sep. 5, 2023. "I've been meeting with all the bus operators that provide service in our region and touching base with them. Generally speaking, it looks like we are in very good shape to ensure our 600 routes are delivered on a constant basis," he said.
Despite his own and and other Tri-Board staff's best efforts, DaCosta acknowledged that periodic service disruptions are always a possibility throughout the school year. "There may always be reasons that a route is delayed unexpectedly… Parents and families should always be thinking about a backup plan if that is to occur." Families are encouraged to sign up for Tri-Board's alert system, which provides notifications on delays, cancellations, and other potential service interruptions.
While officials expect a "smooth start-up" next week, DaCosta added, "We of course ask parents and families to be patient as we work out some of the kinks that will inevitably happen… We will work through those as we get through the first few days."
One potential challenge that could create difficulties for DaCosta and his team this school year is the ongoing labour shortage that has affected school bus operators across Canada in recent years. With more bus drivers deciding to scale back their hours or retire, DaCosta said Tri-Board has been working to make it easier for new drivers to join the fold. "It's worth saying that many of the bus companies in our area are hiring in anticipation of a turnover," said DaCosta. Anyone interested in applying to become a bus driver with one of Tri-Board's operators can do so on the organization's website.
With students returning to school next week, DaCosta also took time to remind drivers of the rules of the road with respect to school bus safety. "We can expect [with] students travelling to their bus stop location [and] boarding buses, there will be more activity around, and we just ask the community to be aware of that and think of the safety of students as you move about our region… When you see the overhead school bus lights flashing, please stop and ensure that all of our students in your area are staying safe."