Train derailment on Bath Road
A CN freight train derailed on Bath Road near Queen Mary Road just after 11 a.m. on Wednesday, Mar. 4, 2020.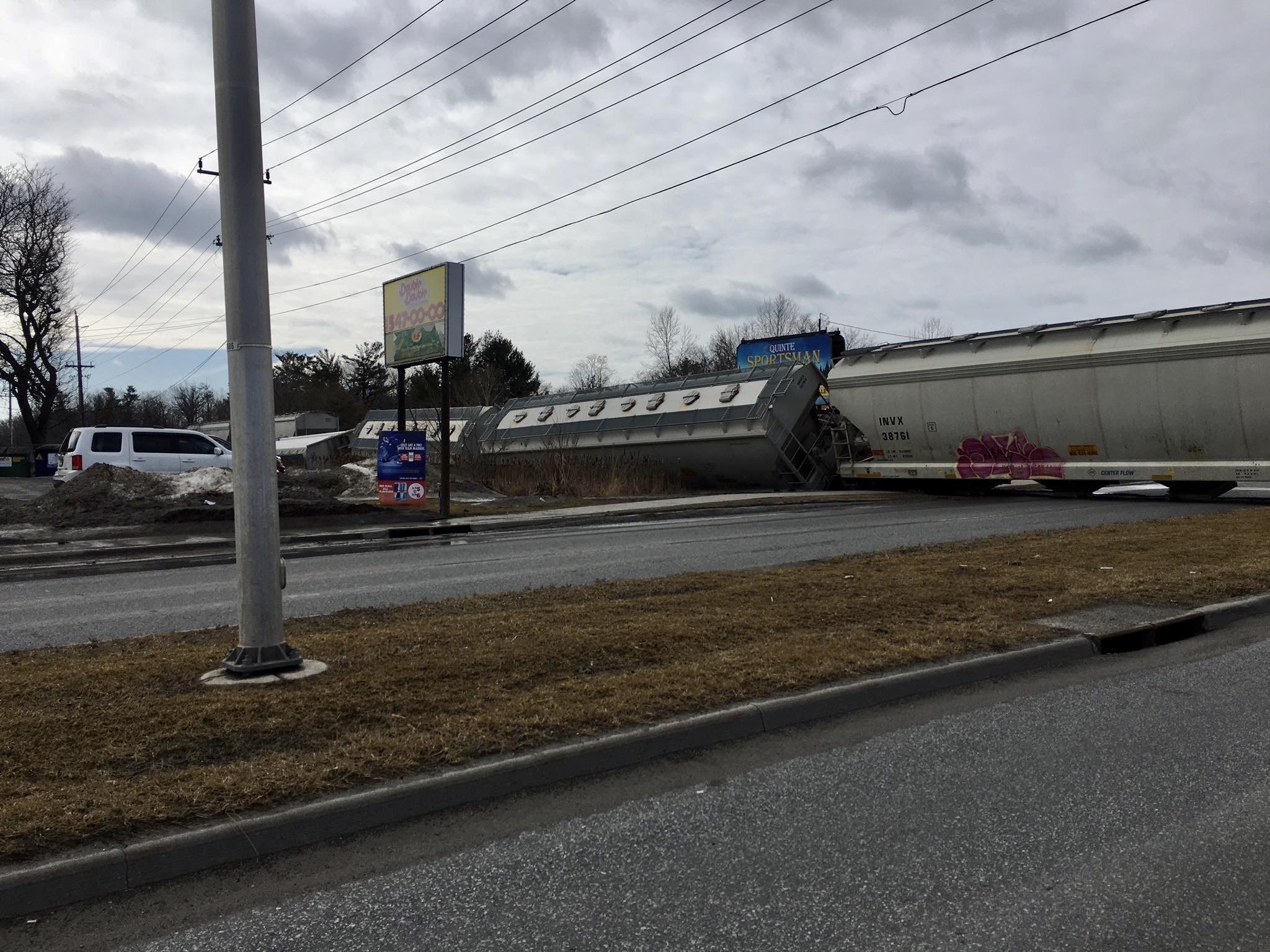 Four cars derailed from the rail line crossing Bath Road. No injuries have been reported, and witnesses said a train operator was seen getting off the back of the train.
"The train started bouncing and then the ground gave way underneath it," said David Guindon, who witnessed the derailment.
Kingston Police, CN, and Frontenac Paramedics are on scene. It is possible the train was transporting chemicals, which could require a hazmat team to clean up. Firefighter on scene relayed that the train had toxic contents at approximately 11:35 a.m. and witnesses reported the smell of bleach in the air in the immediate vicinity.
By 11:43 a.m., the area was being evacuated. Those in the surrounding areas have told to stay indoors unless instructed otherwise by authorities.
The Ministry of the Environment, CN, and representatives from INVISTA arrived on site just after noon. The City of Kingston also had representatives on site, helping to close the road and secure the area.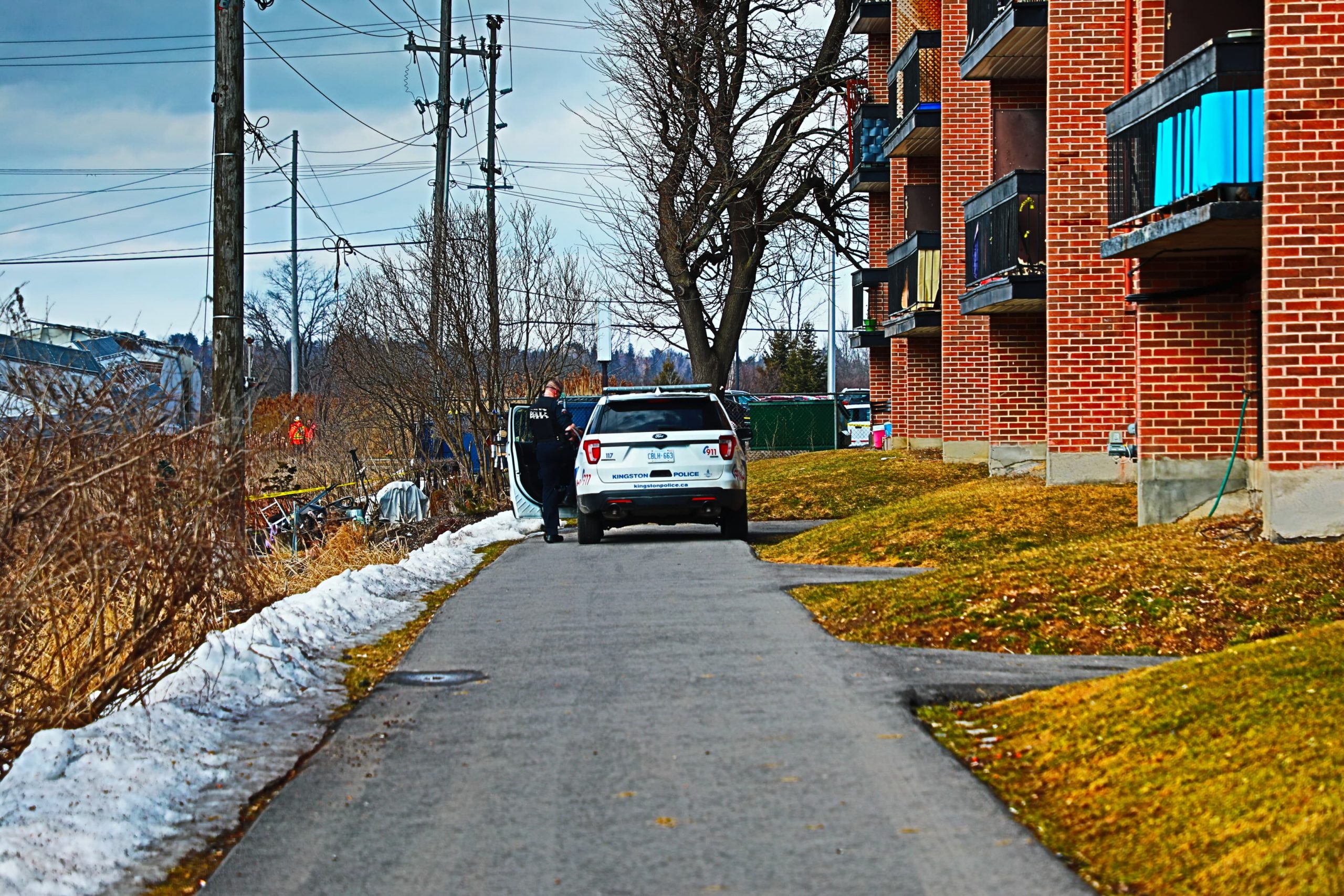 At 1:25 p.m., the City of Kingston posted the following message on social media:
"Kingston Fire and Rescue say there is no immediate danger to the public following a CN train derailment this morning at Bath and Queen Mary roads. Fire officials confirm they received a call shortly before 11:25 a.m. regarding the train derailment and potential leak of material. Officials say risk to the public is low after a food grade product spilled onto the tracks. The spill is confined to one area. The City's environmental services team is monitoring the situation. Queen Mary Road was temporarily closed, but has been reopened. Officials say Bath Road is expected to remain closed for the remainder of today, and possibly into tomorrow. Kingston Transit buses are being rerouted and traffic is being redirected."
The rail line (spur line) where the derailment took place travels to and from INVISTA Kingston. Witnesses said the train was travelling to INVISTA at the time of the derailment. The derailment does not affect the main line.
It is unknown what caused the derailment at this time, nor how many cars were derailed exactly — though it is at least four.
While some police officers in the area were wearing masks, others were not, and none of the CN or Kingston Fire crews appeared to be wearing masks or safety gear beyond their regular uniforms.
At 2:43 p.m., Jonathan Abecassis, Media Relations Senior Manager at CN Rail, confirmed that adipic acid, which is typically used in manufacturing, has been spilled as a result. Adipic acid is slightly to moderately toxic to fish, daphnia, and algae in acute tests, according to the US National Library of Medicine, and can cause mild skin irritation on contact in humans, and adipic acid dust may irritate the mucous membranes of the lungs and nose.
"CN crews are responding to a derailment involving a CN train in Kingston, ON, near Bath Street and Queen-Mary. Approximately 8 rail cars derailed various positions. There are no injuries or fires and there is no danger to public safety or the environment as the minimal amount of product which was spilled from one railcar is contained to CN's property and did not contaminate any source of water," Abecassis said. "The product, Adipic Acid, is a solid industrial product commonly used in food and to make everyday household items such as nylon. CN would like to apologize for the inconvenience caused by this incident."
Shortly after 4:00 p.m., Kingston Police confirmed that the area was safe for residents to return.
"The buildings were not evacuated. People were asked to remain indoors as a precaution. People can return home, but are being asked to avoid the immediate area of the derailment itself," said Const. Ash Gutheinz, media relations officer for Kingston Police.
Expect prolonged closure of Bath Road in the area.
Kingstonist will update this article with more information as it becomes available.