Topsy Farms blanket makes a cameo appearance in The Last of Us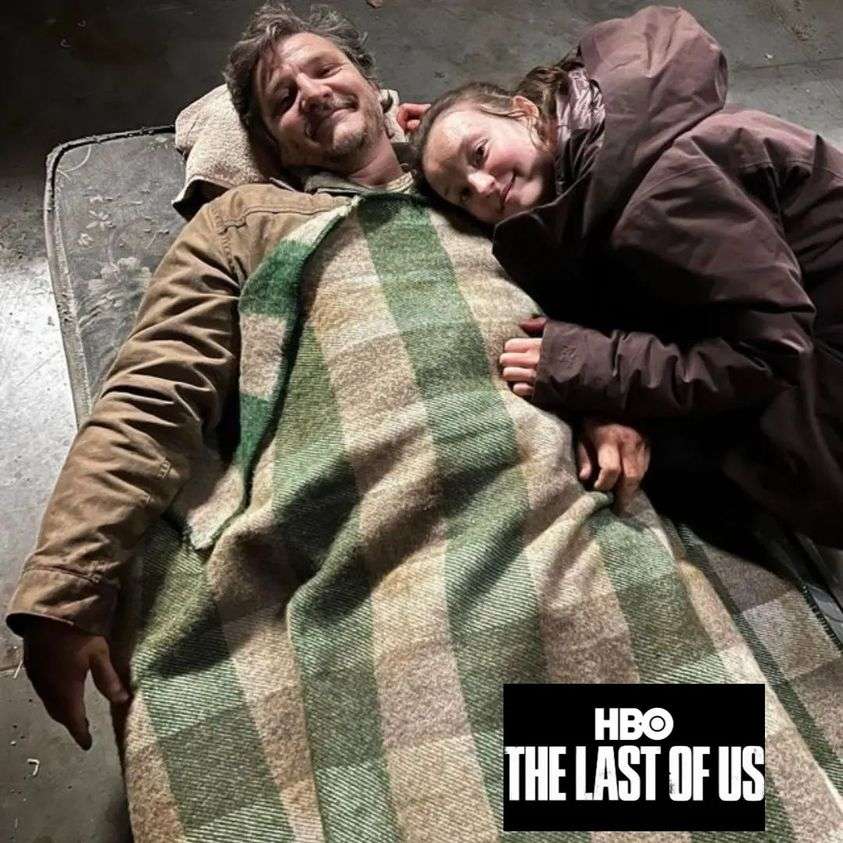 Fans of the popular new series 'The Last of Us' might have noticed a local connection in the latest episode of the post-apocalyptic television series.
HBO's 'The Last of Us' follows Joel Miller, a "hardened survivor" who "takes charge of a 14-year-old girl who may be humanity's last hope," according to the series tag line on HBO's website.
Despite being filmed mainly in Alberta, the series has a small local connection.
Recently in the show, Miller, played by Pedro Pascal, suffers an injury and 14-year-old Ellie, played by Bella Ramsey, is forced to look after him, and protect them both. While Miller recovers in a basement during the cold winter, Ellie keeps him comfortable with a familiar-looking wool blanket.
The blanket, made and sold by local farm and textile company Topsy Farms, made its debut in season 1, episode 8. But how did that come about?
In January 2022, a production manager from the show placed an online order at www.topsyfarms.com for a green and grey checkerboard, queen-size wool blanket.
"He sent an email to let Leah (Topsy's office manager) know that it was to be part of 'a production,' but he couldn't say anything more," Jacob Murray, co-owner of Topsy Farms told Kingstonist. "We had entirely forgotten about it until last Monday night."
According to Murray, he and fencing manager Rachel Hawkshaw had been given a recommendation to watch the show. "It was a quiet evening. We cuddled on the couch under our own wool blanket and turned on the show (on CRAVE streaming service). Serendipity shows in funny ways. We had intended to start at the beginning with the pilot episode. Instead, we accidentally clicked on episode 8 (the most recent). The blanket features prominently. Rachel and I looked at one another like 'no way… is that?!?!'"
Murray said the feedback they had from the production was very positive. According to an email he received from the production manager, everyone on set was "super happy" with the blanket.
"Our propsmaster was super happy with the blankets, and you can tell the shooting crew was too, just by how many times you see it in the show," the email read.
When asked how things are at the farm this week, after the blanket made its appearance, Murray said that the social media response has been nearly overwhelming.
"When we posted about it on Facebook, Instagram, and Twitter, everyone was overjoyed for us. Literally hundreds of messages and shares," he said. "All the people here at the farm are so grateful for the love. It can get lonesome at the end of a gravel road on the way to nowhere. This outpouring of support has made us feel so connected to this great community."
The specific blanket used on set is currently out of stock at the local farm — there is one left which they have plans for — but Topsy expects the green and grey pattern back in store next week. They said they still have plenty of other coloured wool blankets on hand.
While it's still early days, Murray said they have seen an increased interest in their farm and products, but it's too early to tell whether this buzz will increase their sales. "No matter what, having this promotion of our wool blankets will definitely have a positive effect… Hopefully, folks will think of us when it is time for wedding season or cottage campfire nights. We'll be doing a giveaway contest this week on Facebook, Instagram, and Twitter for the last one we have in stock – so we hope that your readers will throw us a follow @topsyfarms."
Despite the increase in interest in this specific blanket, Murray said life on the farm will go on as usual.
"As farmers, we know better than to have attachment to expectations – we will gladly ride this wave for as long as it rolls," he expressed. "We'll keep tightening the fences and changing the tractor oil, we'll check on the sheep flock and give the guardian dogs a treat. Our workday won't change, and that is exactly how we like it. Our mission is to keep the farmland as a farm — To not have this beautiful land sold off as cottage country. 'The Last of Us' blanket placement and this article are getting us closer to that goal."
The Last of Us airs on HBO on Sunday nights, and is available to stream on Crave. Topsy Farms can be found on Amherst Island at 14775 Front Road. Their wool blankets are already a popular seller. View the full collection here.