Three new long-term care redevelopments announced for H-L&A Counties
Friendly Manor Nursing Home in Greater Napanee, near Deseronto, will be among three newly announced long-term care homes to be redeveloped beginning this fall.
Provincial Minister of Long-Term Care Paul Calandra and Hastings-Lennox & Addington MPP Daryl Kramp visited Napanee's Lennox and Addington County General Hospital (L&ACGH) to announce the three approvals for the redevelopment of existing Long-Term Care (LTC) homes in Hastings and Lennox & Addington Counties.
"I am very, very pleased to announce that we are adding 69 new and 219 upgraded long-term care beds to modernize and expand three long-term care homes in Hastings County and Lennox & Addington County," said Calandra. "So, that's 288 spaces for residents to call home near their family and friends. And as Daryl has said, in communities that they [the seniors] have helped build."
"Once completed, these developments will provide long-term care spaces in one of the highest need communities in the province of Ontario. They will address residents' needs in a variety of ways, especially including specialized behaviour supports [and] palliative care, and they will work with local health teams and education sectors."
Minister Calandra announced the following three new LTC projects approved just this week: Caressant Care in Marmora (total 96 new beds, 12 net new), Friendly Manor in Greater Napanee (total 96 new beds, 36 net new), and Stirling Manor in Stirling (total 96 new beds, 21 net new).
These three new projects are part of a number of LTC improvements the government has announced for the area. The site of the media conference was no coincidence, as L&ACGH is the site of a future 128-bed LTC facility, which will soon be under construction. It is one of four new homes previously approved in the region. This 128-bed LTC space will be connected to the hospital and sited between the hospital and the former Lenadco LTC building, which it owns.
"This is a proud moment for every family in Hastings and Lennox and Addington Counties," said H-L&A MPP Daryl Kramp. "This mix of seven new and redeveloped homes will mean generations of families can stay close together, with brand-new facilities for 800 residents. This is a net increase for our two counties of 509 beds. Not to mention the construction and long-term jobs created. Thank you, Minister."
Mayors, wardens, and LTC home representatives were on hand from Greater Napanee, the County of Lennox and Addington, the County of Hastings, Madoc, Marmora, Stirling, and the Mohawks of the Bay of Quinte.
Long-time Village Green Manager, Linda Pierce, spoke about the imminent redevelopment and relocation of that LTC facility, an Omni Health Care-owned home in Selby. The new Village Green will have 128 beds, up from the current 66, and will be located in a new site to the south at the corner of Drive-In Road and Highway 41 in Greater Napanee.
"Village Green has served the greater Napanee community and Selby for the past 45 years, and this redevelopment will ensure that community needs will continue to be backed well into the future," Pierce reported. "Construction of the $33 million redevelopments and expansion is expected to commence as early as autumn 2022."
Once completed, Village Green residents will live in four "spacious neighbourhoods," each housing a dining lounge and activity spaces, and providing added privacy. The new home will also have a greater capacity for infection prevention and control, as well as access to gardens and outdoor space, and will include a whole home gathering area and Chapel space.
Graphics shown at the media conference illustrated the landscaping and features of the new facility.
Chief Don Maracle of the Mohawks of the Bay of Quinte (MBQ) told those in attendance that the Tyendinaga LTC home is planned to be a one-level building, and its 128 beds will be accessible to both Indigenous and non-Indigenous residents. The 90,900 square foot LTC facility will be will be located on 31 acres of land owned by the MBQ on the Tyendinaga Mohawk Territory on old Highway Two.
The Chief said, "It will provide a unique and much-needed opportunity to the community, for our elders, and other members of the community who require long term care services and supportive care facilities, right in the heart of our territory… Many of our people want to live at home and 'at home' to them means in the community that they grew up in, where our culture exists and their relatives live. That's what home is to them."
The 120-bed facility will conform to the current standards of the Ministry of Health Long Term Care design manual and is designed to enhance infection control by featuring all private rooms. It will also ensure that the operations reflect the unique culture and traditions of Tyendinaga and other cultures, Maracle said.
"The philosophy of care will employ a culturally-appropriate, emotion-based, person-centred, home-like care delivery and assist with daily living… Spaces throughout the site provide connection to the land; the walking trail, the gardens, [and] treed areas will be for use by residents. "
Cheif Maracle did not mince words, however, as he pointed out, "Currently, we [the Mohawks of the Bay of Quinte] have committed $38 million to this project, and we're waiting now on the Green Inclusive Community Build Fund for another $25 million. It will create 192 jobs in the area, and it will also provide much-needed service for our people."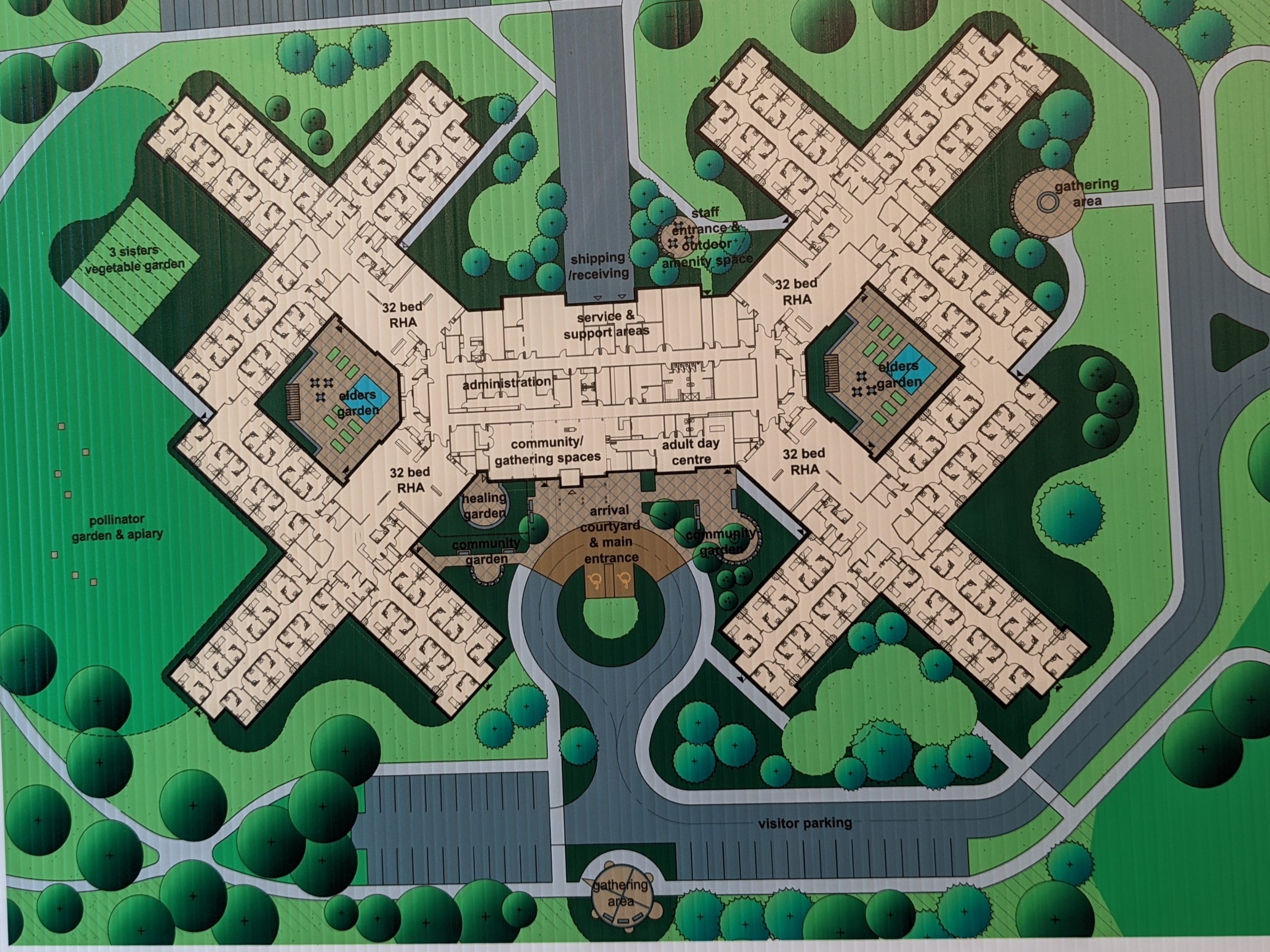 Maracle served as the co-chair of the Ontario Chiefs Committee on Long-Term Care back in 2015, he said, "and we met with the government at that time to say, 'what is the plan for long-term care going into the future, and specifically what is the plan for First Nations who are part of this province?' We heard a lot about reconciliation being important, but we wanted to see reconciliation in action."
The Chiefs' review, at that time, found that of the 133 First Nations, only 225 beds of the 70,000 in the province were on reserves. Of the 626 LTC homes, there were only four long-term care facilities on reserves. Maracle drew attention to this fact: "We had one-quarter of one per cent of the total beds in Ontario."
"The health statistics of Indigenous people are such that Indigenous people have a shorter lifespan by 10 years than other Canadians," Maracle said, "and oftentimes there's a lot of overcrowding in the housing on reserves, a lot of comorbidity from diabetes, and so there are disabilities at a much younger age than other Canadians. So, it's very critical to the well-being of our community, and other Indigenous communities, as well, to have long-term care facilities in our community. And we hear the message preached often about how important reconciliation is with the people who first lived on this land for thousands of years. So, building these care facilities will help towards reconciliation."
"You know," Maracle concluded, "if we're going to be a truly democratic society, there should be no reason why both the federal and provincial governments can't work together to address the badly-needed services… The elderly generation that needs care now are the ones who built the infrastructure. They're the ones who went to war… who built the hospitals, the roads, the infrastructure that everybody takes for granted… They need care. It's not an acceptable answer to me that we have nowhere for you to lay your head… Every citizen should get behind long-term care, and I think the government sincerely are making this a priority."