Three-legged lamb gets custom fit from Kingston prosthetic company
A 12-week-old lamb named Peter got a new leg and a new lease on life thanks to the generosity of V2 Innovations, a Kingston orthotics and prosthetics business.
Peter was born on a sheep farm where Happy Tails Farm Sanctuary summer veterinary student Marika Vogelzang volunteered. Because he was born with a deformity, Peter was could not be bought or sold for meat. Although Peter only had three and a half legs, Vogelzang saw that he was otherwise healthy and strong. The farmer agreed to let Peter live out the rest of his days at Happy Tails Farm Sanctuary, a Frontenac-based charitable organization.
Happy Tails Founder Carla Moore said that Peter struggled to get around, and she had a hard time finding an affordable mobility assistance option for Peter online. She eventually connected with local prosthetic business V2 Innovations.
While V2 Innovations has a primarily human clientele, a follower suggested the company because they previously built a prosthetic leg for a shelter dog named Jack. Jack has since been adopted by co-owner AJ Venter and office manager/wife Jana Venter, and is employed as the office "Happiness Director."
V2 Innovations makes all their custom orthotics and prosthesis on site. They measured, cast, fitted, designed, and crafted Peter's prosthetic leg entirely "pro bono," said Moore.
Venter said that the project was an "incredible learning experience" for their two BCIT work placement students. Orthotics student Brianna Hartness said that designing Peter's leg involved a lot of "problem solving." They were constantly changing, improving, and redesigning aspects of the leg over the course of multiple weeks, according to prosthetics student Nicholas Antoniuk.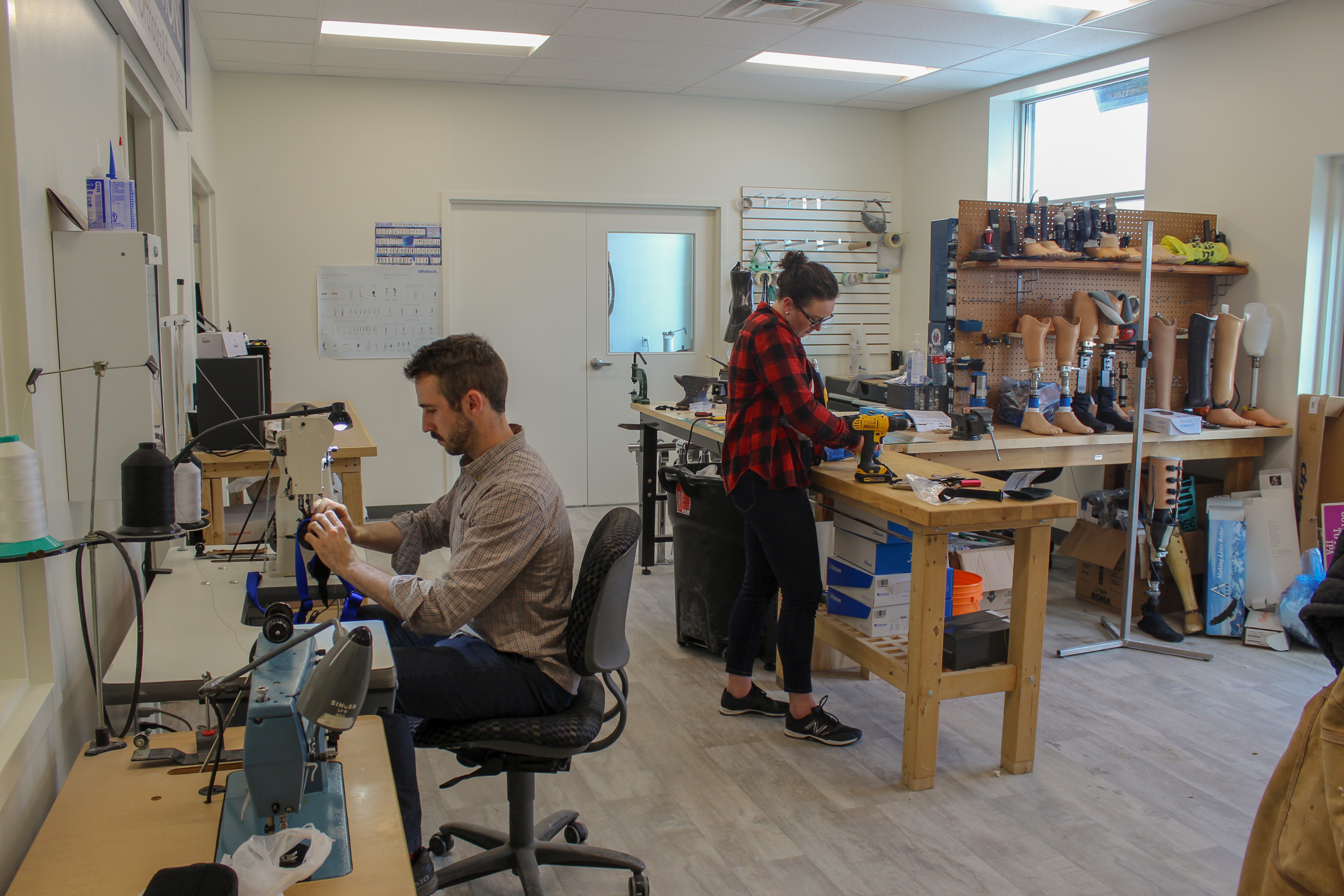 Moore praised the clinic's craftsmanship, as well as Antoniuk and Hartness for their "gentle and kind" work with Peter.
"They were so gentle, and you could see it because (Peter) was so relaxed," Moore expressed.
Moore described Happy Tails Farm's work with school and community groups, and said that the animals provide valuable educational opportunities to children, including those who are disadvantaged or have special needs. The farm has a partnership with the Canadian Forces through the Rehabilitation Reintegration Recovery Program, and gives military persons with PTSD and other disabilities the opportunity to "facilitate healing through animals." Moore said that seeing Peter thriving with a prosthetic leg would be inspiring for people with disabilities that visit the farm: "It shows that anyone can live a full life."
Moore said that Peter's challenges weren't quite over, as he will "require us to give him physio and massage" to help him adjust to life with four legs.
"It's still a process. He may need another leg as he grows. We'll have to see,"  she said.
Moore said the team at Happy Tails feel "blessed to have science and technology, incredible supporters, and extraordinary specialists who can make the lives of people and animals like Peter better."
"The only difference between a farm animal and a companion animal is our perception," she said.  "I can't wait to see him running in the meadows."