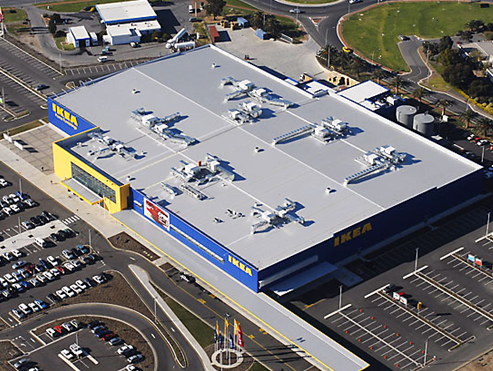 With company representatives, city officials and community leaders on-hand today, Ikea, the world's leading cheap furnishings retailer, officially broke ground for its new Kingston store, which is scheduled to open in the Fall of 2008. The 2 million square foot Kingston Ikea will include 2,500 parking spaces and will be built adjacent to the new King's Crossing development on Division Street. To ensure Kingston's transportation grid is prepared to accommodate the projected increase in traffic, Kingston's newest Scandinavian furniture outlet will have dedicated on and off ramps connected directly to Highway 401.
In addition to offering Ikea's full catalogue of exclusively designed items, Ikea Kingston will feature four model homes, 75 custom room settings, a supervised children's park and more! Ikea Kingston will become the mega-chain's flagship location in Canada, housing a design campus where furniture makers dream up their newest offerings, as well as a production facility for the store's new television show based on the The Learning Channel's smash hit "Trading Spaces". In case that isn't enough, this store will also include Ikea's trademark restaurant, serving Swedish specialties such as meatballs, lingonberries and salmon platters.
"We are excited about breaking ground here in Kingston for our first store in south-eastern Ontario," said Joey Jo-jo Jr. Shabadu, Director of Operations and Logistics for Ikea. "We know there are many Ikea customers in Canada and throughout Ontario who have been visiting Ikea stores elsewhere in the country – and those who have heard of Ikea and are anxious for the unique shopping experience and affordable prices we offer." (Another project, proposed for Wolfe Island, has received all approvals but is awaiting court judgement.)
Since its 1943 founding in Sweden, Ikea has offered a wide range of home furnishings and accessories of good design and function, at low prices so the majority of people can afford them. For two years in a row, Ikea has been named to Working Mother magazine's list of "100 Best Companies for Working Mothers." Ikea is recognized as a socially responsible company, and supports initiatives that benefit causes such as children and the environment.