The mysterious case of the missing aviation lighting on the Wolfe Island wind turbines
At the end of the second week of August, people in the Kingston area began to notice something odd about the night sky.
No, not the straight line of bright lights in the sky that were determined to be Starlink satellites. This anomaly was a lack of lights rather than the presence of lights.
Starting just over two weeks ago, those in Kingston and the area were looking to the darkness in the night sky above Wolfe Island, an area normally alight with blinking red lights – aviation obstruction lights atop the 86 wind turbines on the western portion of the largest island in the 1000 Islands.
After a few concerned readers brought this to Kingstonist to investigate, a post appeared on Reddit's r/KingstonOntario feed on the afternoon of Saturday, Aug. 13, 2022, posing a similar query:
"Wolfe island (sic) wind turbines off? Anyone notice that the wind turbines have been offline for a few days? Amherst Island has had theirs running," Reddit user 'lukemelcool' posted.
The top comment under the post reads: "I noticed they were dark last night, and someone mentioned it a day or two before… I wonder what's up?"
Similar posts were being made by those locally on various social media platforms.
"Out on the water today and observing a rather odd circumstance. Although there's a good breeze – all of the windmills on Wolfe Island are [fettered]. Apparently, they've been that way for several days," the 'Aerosnapper Kingston' Facebook page posted on Wednesday, Aug. 17, 2022.
And while Reddit users pointed out it was likely due to maintenance and/or repair work, another pointed out a more concerning matter: "To stop them, sure. But if they're dark, that's a hazard."
Indeed, aviation obstruction lighting "is used to warn pilots of a potential collision during night time operations," according to the Canadian Aviation Regulations (SOR/96-433).
"If the lighting is of sufficient intensity, it may also serve to give warning during daytime operations and may be approved, by way of a risk evaluation, in lieu of other means of day marking. Criteria for lighting structures, as a result of a risk evaluation, can vary depending on terrain features, weather patterns, and geographic location," the federal document states.
On the Aerosnapper Kingston post, the "hazard" mentioned on Reddit was expanded upon by John Andrew, a local pilot and volunteer member of the City's Airport Advisory Committee.
"Not lit up at night? That's a big problem for airport operations," Andrew wrote, noting that it's also "a violation of the Canadian Air Regulations."
Emails to Denis Doyle, Mayor of Frontenac Islands, along with Frontenac Islands CAO Darlene Plumley, and Councillor Barbara Springay (one of two Frontenac Islands councillors for Wolfe Island) inquiring about the matter were directed to TransAlta Corporation, an electricity power generation company based out of Calgary, which is in charge of the wind turbine operations.
Kingstonist first reached out to TransAlta on Wednesday, Aug. 17, 2022, to confirm that the company is, indeed, in charge of the wind farm operations on Wolfe Island. When the company confirmed (the same day), they were asked why the windmills were currently non-operational and, more importantly, why the aviation lighting on the wind turbines were not functioning – while annual maintenance of wind turbines is a common practice, the lights on the turbines usually remain on during that work. If the aviation obstruction lighting has to be turned off, the operator of the turbines is responsible for reporting that to Transportation Canada, who then notifies NAV CANADA.
On Friday, Aug. 19, 2022, in response to Kingstonist checking in on the status of response from TransAlta, James Mottershead, Lead of Corporate Communications for TransAlta, stated he had been in contact with the relevant operations team and would get back to us shortly. On Tuesday, Aug. 23, 2022, Mottershead provided a response.
"Each year, TransAlta conducts scheduled maintenance at Wolfe Island. This year, we were upgrading two electrical breakers, replacing underground cable connectors, and maintaining substations to improve overall reliability of the site," he wrote in an email.
"This meant that the site was offline for just over seven days," he continued, implying that the shutdown for maintenance had concluded.
Mottershead went on to say that "lights are only required to be on during normal operation in accordance with Transport Canada regulations."
Transport Canada's documents around the national Rules for the Marking and Lighting of Obstacles to air navigation states in section 601.28 (Notification of Deterioration, Failure or Malfunction) read:
"A person who has responsibility for or control over an obstacle to air navigation shall report immediately any deterioration of a marking or any failure or malfunction of a light required under this Division to the nearest flight service station." (SOR/2011-285, s. 6)
In the next sentence of his response, Mottershead seems to acknowledge this.
"If the lights are off due to an outage, equipment failure, or maintenance work, a notice to airmen (NOTAM) must be issued as soon as possible to Nav Canada. Upon discovering that the NOTAM had not been issued for this recent outage, TransAlta immediately notified Nav Canada of the outage so that a NOTAM could be issued, and self-reported the late notification to Transport Canada," he wrote.
"The outage is now complete, the site has returned to normal operations, and our internal processes have been updated to ensure that all outages are reported to Nav Canada."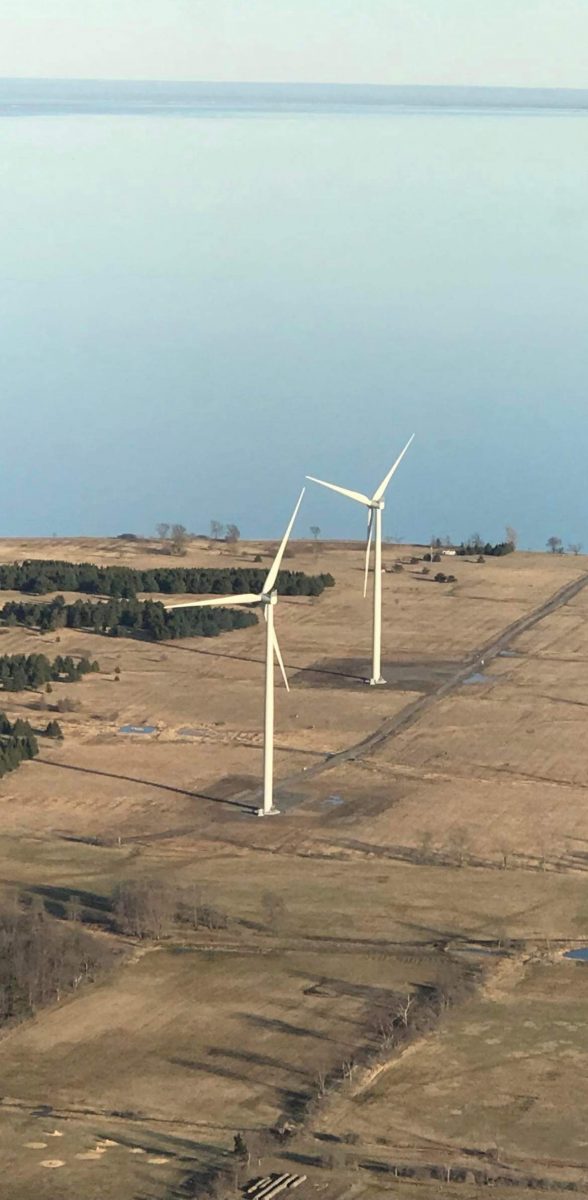 On the same day, Kingstonist, as well as two local pilots, verified that there was not a NOTAM listed for the Wolfe Island turbines on YGK (Kingston) channels. The question was then turned over to NAV CANADA, to confirm that they had received notice of the outage from TransAlta, while a few points of clarification were requested from the latter the same day, as well – namely when the outage began and when it was over.
In response, NAV CANADA clarified that the "failure, malfunction or temporary unavailability of a light associated with an obstacle should be reported to Transport Canada by the responsible party. There is no requirement for companies to provide NAV CANADA with advance notice of maintenance activity."
Brian Boudreau, Manager of Media Relations for NAV CANADA, explained that his organization "publishes information about whether obstacles are lit and/or marked and any NOTAMs for temporary changes (including lighting unserviceability)."
"We can confirm a NOTAM advising of an obstacle light outage on a wind farm on Wolfe Island was published," he wrote in an email to Kingstonist.
"The NOTAM was issued on August 17th, and it currently has an estimated end date of November 16th, 2022."
When asked why the NOTAM was issued with an estimated end day of November 16, 2022, Boudreau stated, "Three months is the maximum length of time for a NOTAM to be active, as such they are often published for that length and are cancelled sooner when appropriate." When asked why the record of the NOTAM was not available, he directed Kingstonist to the general NAV CANADA Collaborative Flight Planning Services database. After some layman searching through it, Kingstonist found that, while the NOTAM was not issued for the Kingston Airport (YGK), it was issued for the Kingston General Hospital Helipad site, on August 17, 2022.
As for TransAlta, when prompted again for response regarding the timeline of the shutdown and maintenance on Thursday, Aug. 24, 2022, Mottershead said he thought the deadline for the Kingstonist article on this matter had passed. When asked again – it was pointed out that a publication's deadline should not impede an organization from responding, Mottershead responded, "We do not have any more details to provide regarding the outage and return to service."
Kingstonist again asked for simply the start and end date of the shutdown. No response was received by time of publication.
With murmurs online of the shutdown beginning on Saturday, Aug. 13, 2022, and noting that the outage had been in effect since at least one day prior – and TransAlta refusing to provide a timeline – it is assumed the shutdown and therefore the lack of lighting began on at least Friday, Aug. 12, 2022. It was not until Wednesday, Aug. 17, 2022, five days later, that NAV CANADA was notified of the outage and a NOTAM was issued – and issued only through one of Kingston's NAV CANADA channels. According to TransAlta, the maintenance work had been completed as of Tuesday, Aug. 23, 2022.
In total, the aviation obstruction lighting on the TransAlta-controlled wind turbines of Wolfe Island were off for at least five days without any notice being given to those flying planes in the air directly over YGK.