Tannery land development presents pervasive problems
The site of the former Davis Tannery along the Great Cataraqui River is a fenced-off urban forest home to flora, fauna, and foulness. And therein lies a controversy.
No Clear Cuts Kingston! (NCCK) is a concerned group of citizens who see the site as an urban forest in need of protection, while Jay Patry Enterprises Inc. (Patry) sees a site prime for development, proposing to build a 1,500-unit, mixed-use development with medium- to high-density residential and some ground-level commercial units.
In October of 2020, City Council voted unanimously to approve a Brownfield Community Improvement Plan (CIP) at the site. The plan would see Patry's proposal moving forward with the caveat that extensive environmental clean-up and repair would be needed on the land before proceeding with the development. According to City planners and the developers, the cleanup costs will be approximately $73 million. A Brownfield CIP allows developers a property tax rebate and other discounts to offset the costs of decontaminating an area.
No Clear Cuts Kingston! is dead set against this plan going forward, citing several concerns, both environmental and practical. The group is currently presenting "Save Our Trees" a photo exhibit, plus poems, prose, posters, and videos celebrating trees and nature at Kingston Community Arts and Design Gallery.
As a result of both the progress being made on the project and the aforementioned contending interests, the City of Kingston is hosting another Public Meeting on the matter on Thursday, Mar. 24, 2022 — An initial Public Meeting was held on March 8, 2018, and a second Public Meeting held on August 5, 2021. Ahead of the upcoming meeting, here we offer an overview of the site, project, and interests at play in one of Kingston's most controversial developments of late.
A brief history of the site
The site of the Tannery, the adjacent marsh, and nearby Belle Island have a central role in Kingston's Indigenous past. Archeological studies of the area show that during the Middle Woodland period (300CE to 900CE), it was used as grounds for hunting and fishing, presumably by the Huron; a more permanent settlement was likely not established due to conflict with the Haudenosaunee.
In 1988, City of Kingston Parks and Recreation staff were creating a man-made beach along the shore of Belle Island when they discovered Indigenous human remains. An archeological dig thereafter uncovered shards of elaborately decorated pottery, remnants of early tools, and a few pipe stems. The remains were catalogued and interred in another site on the island.
In the mid-19th century, the Carrington Tannery was founded and developed by John Carrington and his son, John Joseph, after their first tannery in Picton burned down. They gained an international reputation for the quality of their product, supplying the British army with leather for belts, boots, and more. Frontenac Smelting Works, a lead smelter that ceased operations in 1916, was also located at the site.
In 1903, A. Davis and Son bought the Carrington tannery; over the next 70 years, the business expanded enormously.
Tanning work was physically demanding, smelly, and gross, by many accounts. The process started with raw animal hides being cleaned of flesh and hair. Open train cars full of "fleshings," the flesh scrap generated during the conversion of hides into leather, sat at the site until they were full enough to be shipped off to the glue factory for disposal.
The tannery was successful during wartime when the demand for leather goods was high. In the 1960s, it even manufactured uppers for the US Army's combat boots for the Vietnam War. However, with cheaper leather being manufactured elsewhere and environmental concerns rising, the tannery closed in the 1970s.
The tannery was adjacent to a marsh, and the factory runoff went directly into that marsh and the river. From 1952 to 1974, the marsh was also used as a garbage dump, The Belle Island landfill.
After over 100 years of tanning and nearby industrial smelting, pollutants such as heavy metals are still found in the soil, the river, and marshland. These include large amounts of chromium and lead, as well as arsenic, zinc, and cadmium.
The City of Kingston's Position
According to their website, the City regards the Davis Tannery Lands as strategically important to redevelopment of the entire Inner Harbour neighbourhood, and on Tuesday, Dec. 4, 2012, City Council agreed to undertake a preliminary planning exercise to examine redevelopment scenarios for the property, within the context of the Inner Harbour neighbourhood.
In May 2013, the City held a workshop with stakeholders and the public. The outcome was the creation of a vision and goals for the future development of the Davis Tannery Lands. MacNaughton Hermsen Britton Clarkson Planning Limited (MHBC) was retained by the City of Kingston to assist with a preliminary planning exercise to examine redevelopment scenarios for the property based on these sessions, resulting in the generation of a Redevelopment Vision for the property.
MHBC's report is no longer available on the City's website, but can be viewed by request. It presents two Redevelopment Visions, both of which demonstrate the principles behind the effective development of these lands as a primarily residential area with mixed-use/commercial that respects the natural area and waterfront as key structuring elements of the site. It notes that the precise scale and alignment of these elements would be further developed through the detailed design process, over time.
The cost to clean up and prepare the land for development has been estimated at more than $65 million. The remediation calls for the treating — through removal, excavating, and capping — of about 400,000 tons of soil. City Council will need to help offset clean-up costs through reductions in future property taxes, but there is a strong case for this since the City receives no tax revenues from this property in its current state.
The lands are currently designated 'Residential,' 'Environmental Protection Area,' 'Open Space,' and 'Arterial Commercial' in the City's Official Plan. Patry is requesting that The City amend the Official Plan as follows: change the Arterial Commercial and Environmental Protection Area designation to Residential, place them in a site-specific policy area to allow for high-density residential uses that also permit ground floor commercial and office uses accessory to residential use on any floor of the building, and to limit the amount of commercial permitted. And finally, Patry wants to remove the Provincially Significant Wetland, Riparian Corridor, and Significant Woodland overlay on the lands proposed to be redeveloped.
Currently, City Council is undecided about how to proceed, with arguments from Councillors for and against the development.
Councillor Robert Kiley has said, "I support the clean-up of contaminated sites and the protection of local flora and fauna from the chemical legacy of the Tannery Property and adjoining waterways. Nature is interconnected. I also support the intensification of development within the urban boundary, particularly in the urban core. This is good for both the climate and small businesses with more walkable communities."
"But," he acknowledged, "I remain open to considering evolving evidence on best practices for doing all these things so we can optimize the site in question in terms of climate, housing, and remediation."
Meanwhile, Councillor Peter Stroud, who chairs the Environment, Infrastructure and Transportation Policies Committee and is the Vice-Chair of the Rideau Corridor Landscape Strategy Steering Committee, sees things differently.
"Those in support of the Tannery project will tout its proximity to the downtown as a source of massive carbon savings compared to a project at another location in the suburbs," Stroud has said, noting that, however, "The number of surface parking spaces proposed at the Tannery does not tell of a car-free urban development… this will certainly be marketed to car-dependent residents, who will be adding hundreds of vehicles to the already heavy congestion in the core."
Before he would consider moving forward in support of the plan, Stroud would like to see the proposal changed by removing parking, retaining existing trees, and fully protecting the wetland.
Patry's Involvement
Patry originally applied to clean up and develop this site in 2014 when the City requested proposals. Initially, the proposal looked promising, but was ultimately put on hold by City Council. Then, in 2017, Cushman & Wakefield Kingston mediated an agreement with the City to waive its option, and a successful sale transaction was then negotiated with Patry for the lands.
Patry's Urban Planner, Latoya Powder, explained how things stand currently:
"The proposed development is a 30-acre brownfield site in the City of Kingston, approximately 20 minutes from the downtown core. We're proposing to build 1,500 units of apartments – 1,000 of them will be rentals, 500 will be condos," Powder said, noting there are also 4,650 square metres of commercial space in the plan.
The proposal, she said, "is going to be sustainable, so we're going to have solar panels and low impact considerations for stormwater, etc. We're working with all of the required regulatory departments – Parks Canada, Ministry of the Environment, City of Kingston Parks, City of Kingston Transportation – to help provide a complete community on this site."
Powder calls the site "highly contaminated," explaining, "It's not a site that's suitable for people, that's why it's fenced off. It's not like it's a Lemoine's Point [Conservation Area] where it's a park and everyone can feel invited to come and enjoy it."
Powder said she has met some of the people opposed to the development, including members of NCCK, and has tried to clarify this.
"I'd completely understand [their position] if this site was a clean, healthy, sufficient ecosystem. [If that was the case] I would be upset, too, about the trees coming down. But the fact is [beyond the ground and water contamination], concrete piles are sticking out of the ground. There's rebar. There are all kinds of dangers. I wouldn't take my niece or nephew to go play on this site. I wouldn't walk my dog there," she pointed out. "And the people who do go to the site are trespassing because it's private property."
"Unfortunately, the trees are coming down, but we are also making every effort to try to replant trees… and think about the 1,800 lives that could be homed there," Powder continued, explaining that she thinks another environmental impact to consider is a reduction in traffic due to the densification of living spaces downtown — Young professionals would like to live more sustainably, and car-free lifestyles are more attainable with accommodations downtown.
She described the wetland and marsh as "the most contaminated area on the site," explaining that, "Back in the 80s when they originally decommissioned the plant, a portion of the building was buried in the marsh. It was encapsulated in a clay cap underneath the marsh, and that's something nobody talks about, and it doesn't meet today's standards."
"So, the idea is that some of the dirt would be coming out and we would be cleaning it on site, and then it would be reused… there would be caps placed back, which then would allow for small planting areas throughout the site… we're meeting with City of Kingston Parks [department] weekly to discuss what this is going to look like," she stated.
Powder also pointed out that "technically, the shoreline isn't a part of our ownership," because of the 30-meter ribbon of life requirement and the fact that part of the project will be donated to and owned by the Kingston Rowing Club.
The detractors
No Clear Cuts Kingston! (NCCK) is one group that has been vocal in its opposition to the development. Spokesperson Kathleen O'Hara explained, "It's become a bit of a cause because it's so symbolic of our society's values in 2021. I mean, do you protect and enjoy and benefit from nature or do you clear cut it, destroy the living wild and the wildlife?"
Species on the site she has heard about include deer, rabbits, beavers, and swans, and "they've counted 100 basking turtles" at a time.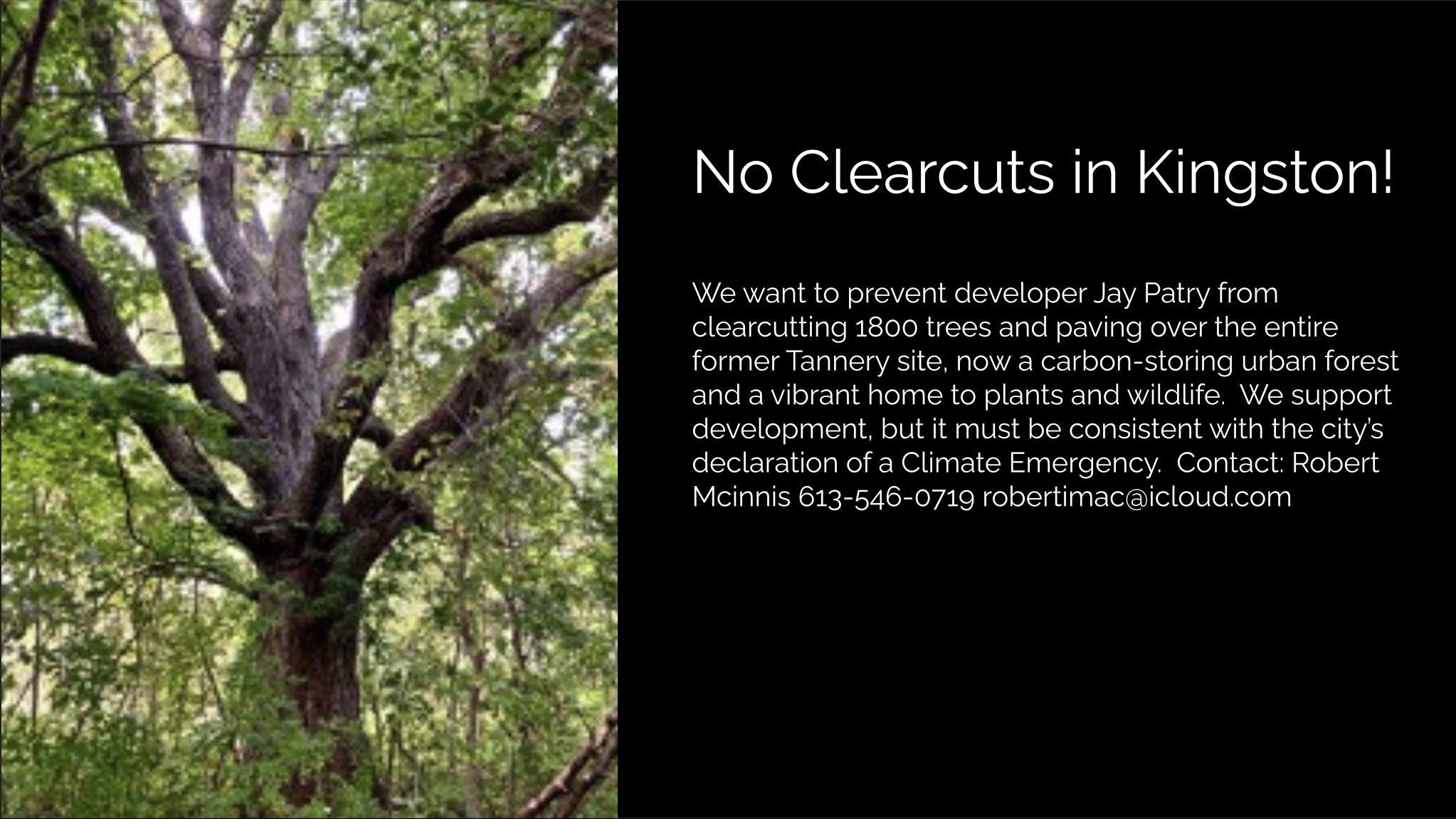 The group is also concerned for plant life, which includes a 200-year-old oak tree. O'Hara said, "That oak probably goes back to the beginning when there was a homestead, so it's a nice piece of Kingston history. It's a beautiful oak."
O'Hara explained that residents have been posting artwork and poetry on the fence at the site in solidarity with the idea of letting it remain wild. The group also created "an exhibit of paint and pictures, and some messages about how important trees are for sequestering carbon and preventing water runoff and soil erosion," which began on Saturday, Jan. 1, 2022, at Kingston Community Arts + Design (KCAD), located at 75 Princess Street in downtown Kingston. They hope this will raise awareness about their opposition to the development.
Of the site, O'Hara said, "It's been sitting there, not totally untouched, but untouched enough that it's rewilding. And nature has come back… as soon as humans stay away, life takes over." She compared it to the site of Chernobyl in Ukraine which has become a nature preserve full of species since the 1986 nuclear accident there, which drove humans away.
"The City claims that it will be better for the environment if they cut all the trees down and allow Patry to clean it up," she pointed out, noting, however, that, "[Patry],has a very negative history in terms of toxins I can mention, so I wonder… he wants to pave over part of what is a provincially significant wetland. And, of course, with Doug Ford in power, that doesn't mean much. So, it's frightening."
"Because there's a provincially significant wetland, one of the options for getting this project moving ahead that [City] staff has suggested… is a Minister's Zoning Order (MZO)," O'Hara explained, adding that, "[City] staff has a history of being very rabidly pro-development and so has the mayor… I don't think I'm saying anything anybody doesn't know."
Under the Planning Act, the Minister of Municipal Affairs is given the authority to zone any property in the province. According to the Province of Ontario website, "zoning orders are rarely used where municipalities have existing zoning by-laws, but can be used to protect a provincial interest. Zoning orders are used mostly in areas of northern Ontario where there is no local municipality or local zoning by-law."
But O'Hara points out this hasn't been the case of late.
"The Auditor-General [recently] came out with her report and said that the Ford government is abusing these MZOs. What [MZOs] do is allow the Minister of Municipal Affairs to override any environmental or planning protection. It's just absolutely it's so undemocratic. And it's environmentally disastrous," she said.
An audit published Dec. 1, 2021, by Auditor General Bonnie Lysyk's office does find that MZOs are being used to fast-track development and bypass normal planning processes that ensure sufficient due diligence through studies and public consultation. She notes that, from March 2019 to March 2021, 44 MZOs were issued, while prior to this, MZOs were issued about once a year. Complicating this, there is no formal process that interested parties are required to follow to request an MZO, and there are no established criteria against which the Minister assesses requests for MZOs.
Lysyk also found that 17 of the 44 MZOs were issued to the same seven development companies or groups of companies, and notes that MZOs have become even more powerful with recent legislative amendments.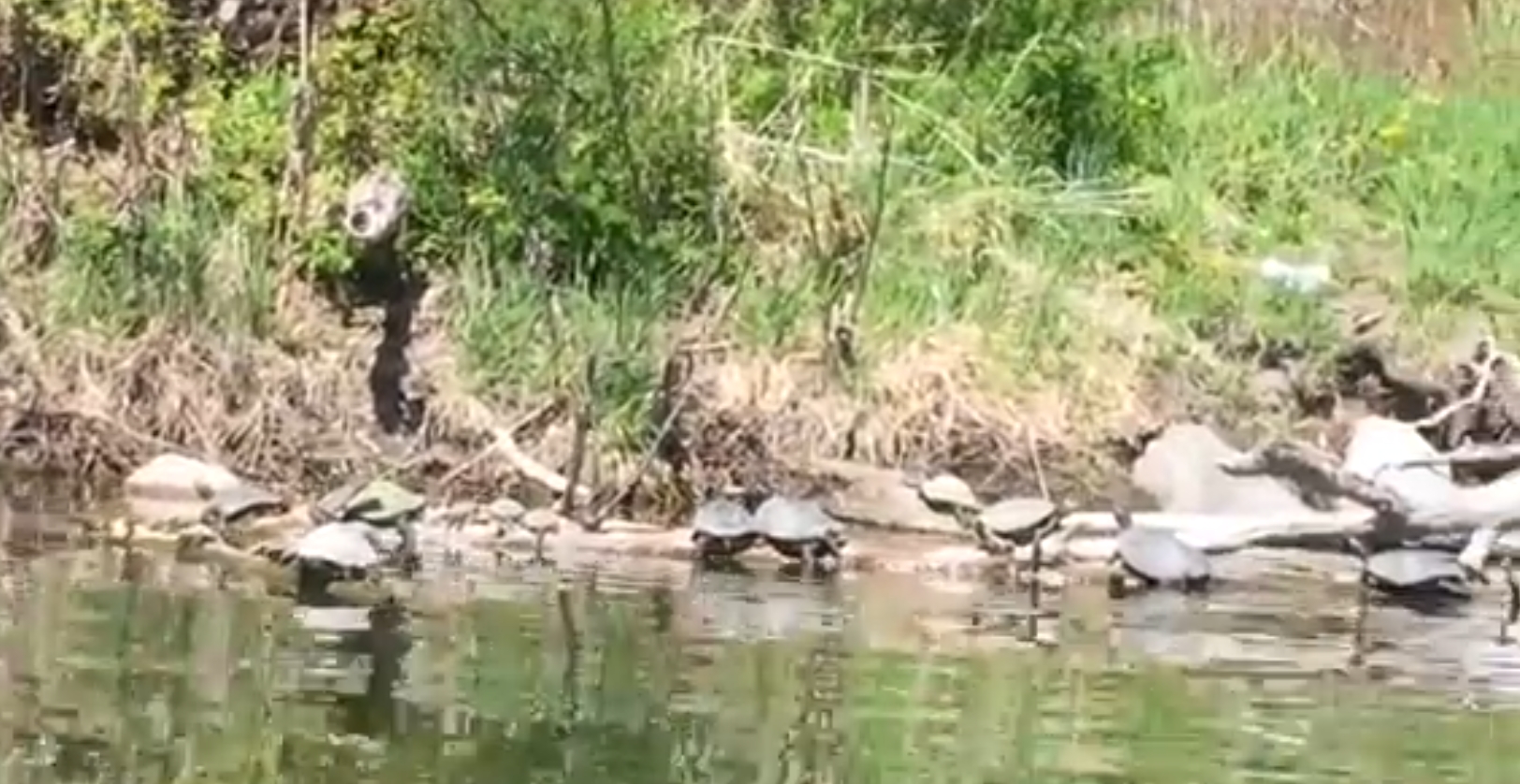 Ultimately, NCCK wants to know the impact of the development in advance, O'Hara said. "We want the City to show the data. There's a parking space in the design… for every unit, so it's not as if they're trying to cut back on cars, right? So… if that's their main thing, less carbon, well: show us the data."
And while O'Hara and many of those with NCCK understand the argument that there is a need for intensification in Kingston, that intensification should happen elsewhere, they argue.
"There are places on Montreal Street that need intensification. We're not against development. There are lots of empty lots along Montreal Street that wouldn't require the destruction of an urban forest and would be just as close to downtown Kingston. So, I just don't see that as an argument," O'Hara expressed.
In her opinion, O'Hara alleged, Patry has previously shown a lack of ethics, something she feels is also being demonstrated with this proposal.
"The thing is, Jay Patry wants waterfront property because he wants to put a Rowing Club boathouse there for his Rowing Club friends. Well, what's that going to do to the basking turtles? It's going to be so unnatural. It's going to be the opposite of what we have now. But the City calls it multi-modal… we're just saying, yes, go multi-modal, but do it somewhere else," she said.
Residents can see a video of a December 14 event held near the River St. Tannery fence, where people have posted poems and prose honouring the 220-year-old oak and the urban forest. Residents can also visit the exhibit this month at Kingston Community Arts and Design Gallery. 75 Princess St., Tuesday to Saturday, 11 a.m. to 5 p.m. (Closed Sundays and Mondays). Finally, residents can learn more about the Thursday, Mar. 24, 2022 Public Meeting, and register to attend the meeting via Zoom, on the City of Kingston website here.