Survivors react to decision denying Richard Joyce parole, escorted absences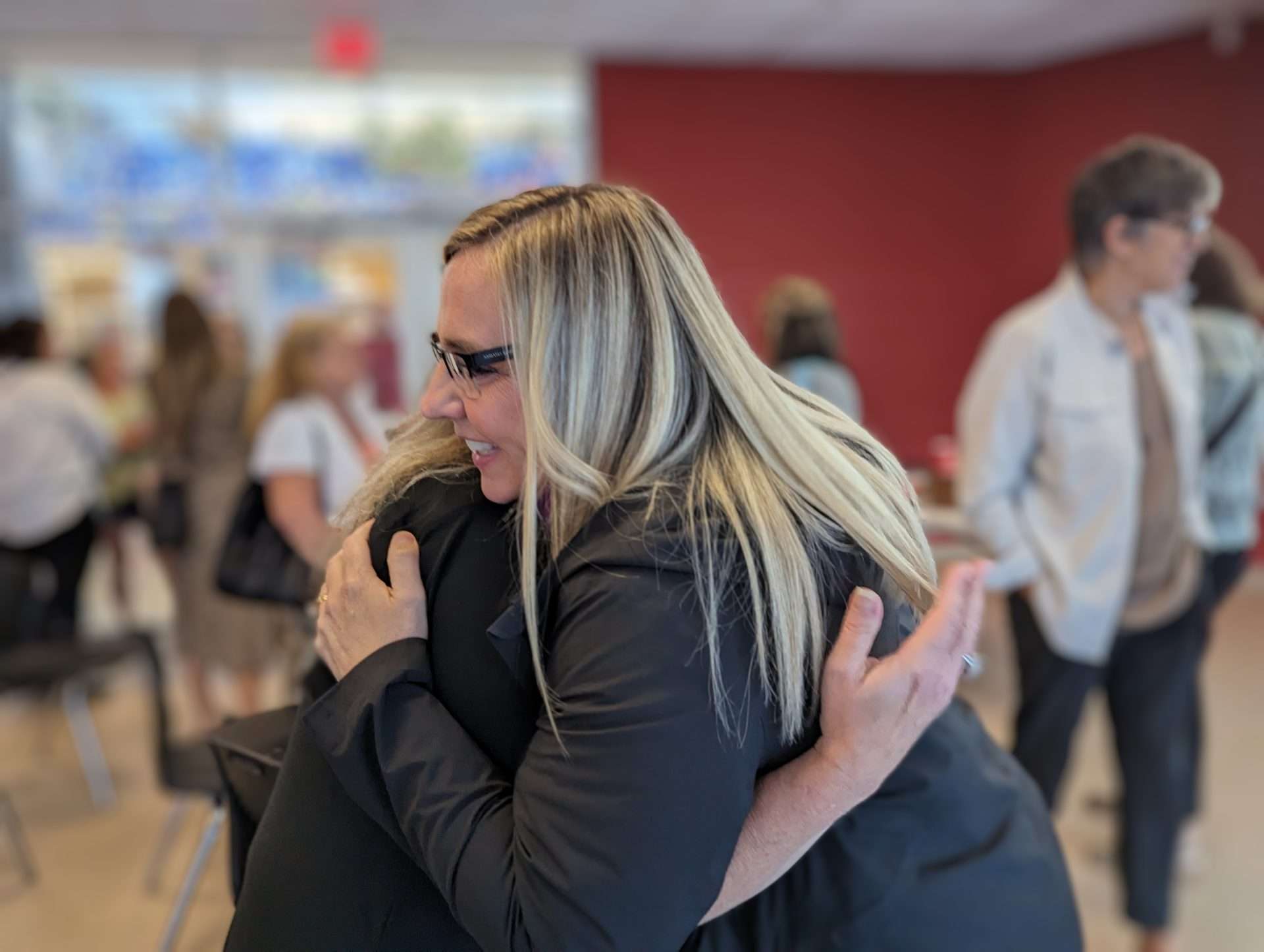 WARNING: This article contains details of violence and sexual assault that may be disturbing to readers.
---
As glad as Kerri Kehoe is that her abductor will remain in prison, she was also shocked by some of the revelations she heard from and about murderer, serial child kidnapper, and rapist Richard Joyce at his parole hearing last week.
Kehoe, who was kidnapped and sexually tortured by Joyce in 1991 when she was just eleven years old, organized a large gathering of supporters to watch the parole hearing on Thursday, Sep. 7, 2023, where Joyce sought but was denied Escorted Temporary Absences (ETAs) from William Head Institution in British Columbia. After taking some time to digest that hearing, she shared some of her reflections and reactions to the ordeal.
Kehoe was shocked to learn that while in the minimum security facility, Joyce had been allowed to work unsupervised outside the prison, clearing brush.
"I am still in disbelief," she said, "that the parole officer stated Joyce could have, if he wanted to, walked away from the prison. I think that's a disregard for public safety."
"I think it's appalling that the parole officer, [Eleanor] Creighton, did not answer the PBC (Parole Board of Canada) member's question of who authorized a serial child-kidnapping rapist and murderer that kind of freedom in a town where two convicts at William Head Institution brutally murdered a resident of the small town four years ago, and the town still has not recovered from it," Kehoe continued, referring to Zachary Armitage and James Lee Busch, who are charged with killing Martin Payne in July 2019, a day after the pair walked away from William Head Institution, located about eight kilometres from the victim's home in Metchosin, British Columbia.
Kehoe was also confused about why, when she asked the PBC staff who were facilitating the hearing on the Kingston end for the names of those in the room at William Head with Joyce, she was not given them. Instead, PBC staff informed her that "while [they were] not permitted to provide [her] with the names of the assistant and the parole officer, you will likely be able to hear it more clearly through the recording," which she will not have access to until later this week.
"They knew my name," Kehoe noted. "Everyone in the room knew my name, but I am not allowed to receive confirmation of the names of the individuals who are supporting Joyce's request for ETAs? I disagree with that."
She has since written a letter to the warden of William Head Institution, asking for explanations. It reads in part, "At the Parole Board of Canada hearing for Richard Joyce, his parole officer, Eleanor Creighton, refused to answer Parole Board of Canada member Carol-Ann Reynen's question not once, but twice, about who gave clearance for Richard Joyce to be outside of William Head Institution where, to quote Joyce's parole officer, Eleanor Creighton, [Joyce had ] 'a position of trust… and could have easily, by all means just walked down the road'… It is my understanding that Richard Joyce did not have a formal, approved clearance … I feel strongly that public safety was at risk when Richard Joyce was given 'clearance' to be outside of the institution before his Parole Board of Canada hearing, where he was requesting escorted passes in the Community and the registered victims were never notified about his 'position of trust' and his opportunity to 'easily, by all means, just walk down the road.' Can I please have a response from the Warden at William Head Institution?"
Kehoe also noted that she was very disturbed at hearing some of Joyce's statements.
"I have never heard a person with psychopathy, like Richard Joyce, speak before. He described being depressed, to this day, on average twice a week. He did not present as someone with depressive symptoms," said Kehoe, herself a medical professional. "I perceived him to be a psychopath with no exaggeration."
Kehoe noted it was particularly bizarre to hear the convict talk about wanting to "share happiness" with his child victims, which she pointed out is contrary to his previous statements on the record that he was interested in "stealing their happiness," especially while showing no remorse for his actions.
Kehoe was also shocked to learn during the hearing that Joyce was allowed to visit with his young nieces while he was in prison for murder, and she said she worries for other members of his family who were unaware of his pedophilia prior to his second conviction in 2011.
Kehoe noted that when Joyce described having sex with an adult woman, he said it made him happy but that it was only temporary. She said, "I am gutted about how he spoke about being happy having sex with his girlfriend, and immediately afterwards he was 'depressed' again and he went out looking for a victim."
It was after that had happened, Kehoe said, that Joyce abducted and raped a local nine-year-old girl. Kehoe shared some of the incredibly disturbing things done to the child in that case, including multiple instances of sodomy. But at the hearing, when referring to the same date some decades ago, "He spoke about that casually, as if he didn't inflict a lifetime of trauma," Kehoe underlined in disgust.
Still, outside of the trauma she and others were reliving, Kehoe expressed thanks for the outpouring of support she has received, noting, "83 individuals logged on to the parole hearing on Thursday, which PBC shared was a first in Canadian history, and never has there been a community gathering like that in Canadian history. I am thankful and grateful for the community support. It made a huge difference."
"I will never forget hearing the applause erupting in the other room where the community gathered when the PBC denied Joyce's request for ETA," she said. "This was a victory for the community. This was a victory for everyone who resonates with my life experiences and knows the pain of being sexually assaulted and has been at the mercy of evil."
She also expressed her thanks to the Canadian Resource Centre for Victims of Crime for writing a community impact statement that was signed by three agencies supporting victims of crime.
Kehoe noted that during the parole hearing, Joyce, despite his conviction and all evidence to the contrary, denied being the one who stabbed Margaret Yvonne Rouleau over 30 times. She pointed out, "Richard Joyce is left-handed and Margaret Yvonne Rouleau's throat was cut right to left – by a left-handed person. Everyone knows Joyce tortured and killed [Margaret] Rouleau."
At the hearing, Rouleau's brother-in-law, Robert Rouleau, read a prepared victim impact statement describing the pain and horror the family went through after Joyce and Terry Douglas Kennedy murdered his sister-in-law.
"I'm doing this for my family and for her children," Robert Rouleau explained in a brief interview following the parole board's decision.
"I had to get myself together this morning," he said, describing going to his sister-in-law's grave to help centre himself on what he had to do.
"Now I think I'm going to go back out [to the cemetery] on my way home and tell her I've rectified things," he said, noting that he planned to tell his niece, Margaret's daughter, right away: "I know she's waiting for that call; she wasn't watching."
With this victory behind her, Kehoe turned her attention to an issue she felt needed to be addressed: the possibility that there are other Joyce victims out there who have not come forward. "I encourage anyone who was a victim of Richard Joyce to come forward," she said. "It's never too late to be believed."
---
The following is information from Kingston Police:
For active incidents of violence, dangerous scenarios, or any emergency situations call 911.
For individuals experiencing emotional or mental distress, AMHS-KFLA (https://amhs-kfla.ca/programs-services/crisis/) crisis lines are staffed 24/7, 365 days a year by experienced professionals. They can provide immediate support, advocacy, and referrals to appropriate services as needed. The Kingston & Frontenac 24/7 Crisis Line can be reached at 613-544-4229 or Toll Free at 1-866-616-6005.
No one has the right to abuse another person. Victims of intimate partner violence, sexual assault, or any type of sex crime (and those who may have witnessed such crimes) are encouraged to contact Kingston Police. The following links offer valuable support services and resources in the Kingston area for victims of sexual abuse and/or violence:
---