Summer of fear: the 1972 Millhaven prison break 50 years later
The Ontario Provincial Police (OPP), the RCMP, other police departments from around the province, the Canadian Armed Forces, and the staff of Milhaven Institution joined forces 50 years ago this weekend when, during a prison ball game at Millhaven, 14 men cut through a wire fence and slipped off into the night at around 9 p.m. Monday, Jul. 10, 1972.
What resulted – the largest prison break and the largest manhunt in Canadian history – threw the communities surrounding Millhaven into a summer of fear and paranoia, and there are many who remember how it impacted their lives. Some details have been lost to time, while others may have been embellished as the years passed.
Five escapees were captured within the first 24 hours. Aircraft were called in, and six of the inmates were spotted in a swamp five kilometres west of the prison. Police said they "scattered like rabbits."
Officers surrounded the swamp and then took in tracking dogs. One warning shot was fired and Robert Clark, 38, surrendered.
Farmer brothers Ray and Bill Newbury — aged 48 and 47 respectively at the time — saw Gaston Lambert, 22, crossing their field. Bill says, "Raymond grabbed a big stick and told him to stand up." The two farmers held the escaped convict until police came.
John Beale of Napanee recalls that his father, Art Beale, owner of Rapid Taxi, received a call to take three men to Toronto for $150. "That was a lot of money for a one-way fare at the time," the younger Beale notes. The three men were well-dressed and polite and gave Beale a $50 tip when he dropped them off, his son recalls. When he returned from Toronto, Art sat down to read the day's paper, where he learned of the breakout and recognized the three men's mugshots. He immediately called the police. "It was his most talked about fare for a long time," his son recalls.
The communities became tense as news of the escape spread. Not all the tension was bad: this was quite a titillating event to happen in this sleepy corner of Ontario. Teens cruised between checkpoints for fun, according to reports of the day.
Reporters at the time described the "jitters" that took hold as nighttime fell that second day.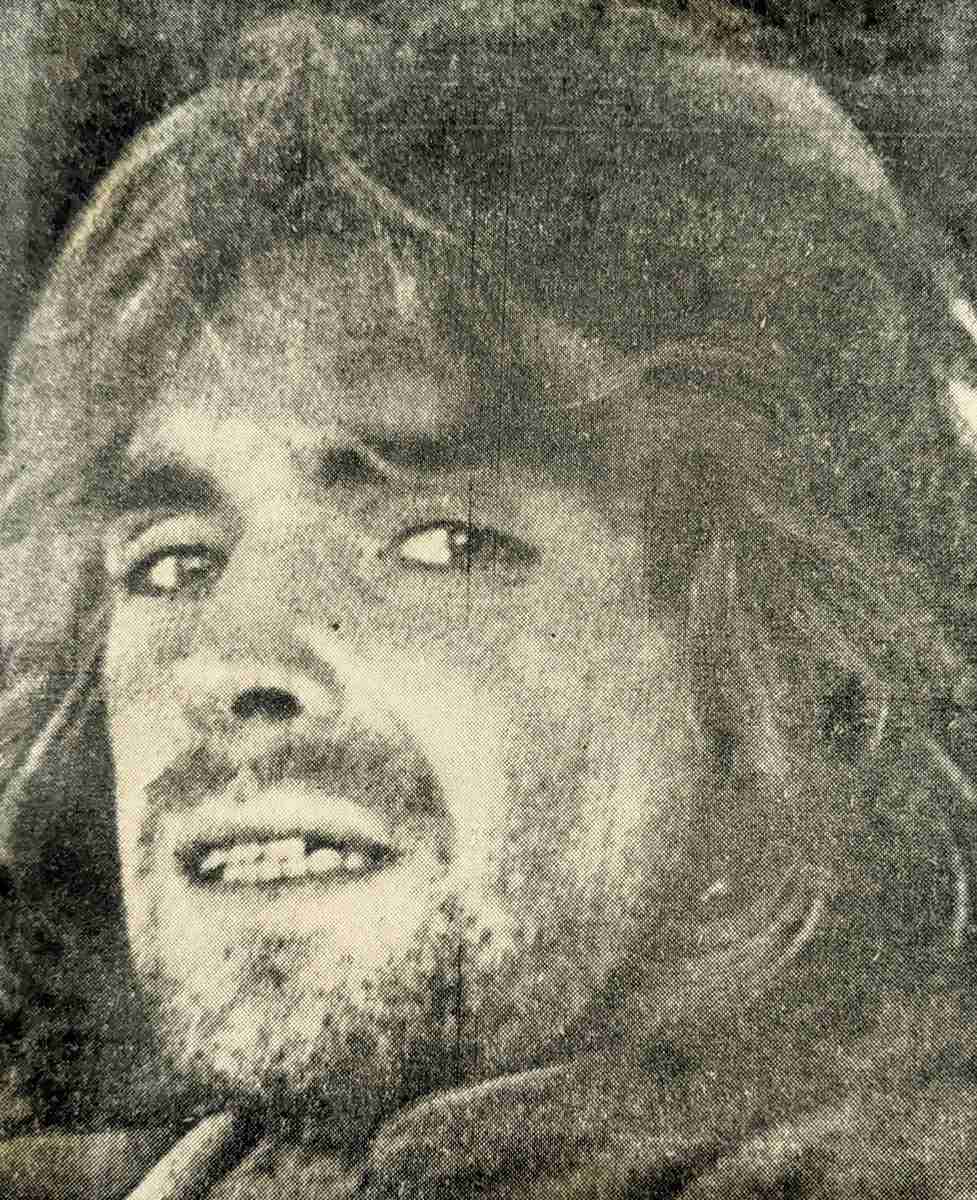 On Jul. 14, 11-year-old Paul Miller climbed a ladder to play in the hay loft of the family barn with his brother. Robert "Buddy" Smith, convicted of seven counts of armed robbery, was sleeping in the hay and woke up when the boys appeared. Miller remembers looking down on him and being startled, but he at first thought that the man wearing grey work clothes was a farmhand from a neighbouring farm putting up hay. "Are you from Lloyd's?" he asked.
Smith hesitated, Miller recalls, then said, "Oh yeah, I am," and asked what time it was. Miller started down the ladder, saying he would find out in the house, but Smith stated adamantly, "No, no, don't do that."
MIller says, "I started thinking… no haywagons around… I said, 'It's okay. I'll go check'… I got to the bottom and sprinted, and he chased me… I was yelling 'Mama, Mom!'… and as I got to the door, she tried to close it, and he pushed his way through."
MIller thinks the calm reaction of his mother, Theresa Miller, kept things from going sideways that day, especially since she was home alone with seven children.
Smith reportedly said, "Don't get excited. Don't call the police. All I want is something to eat."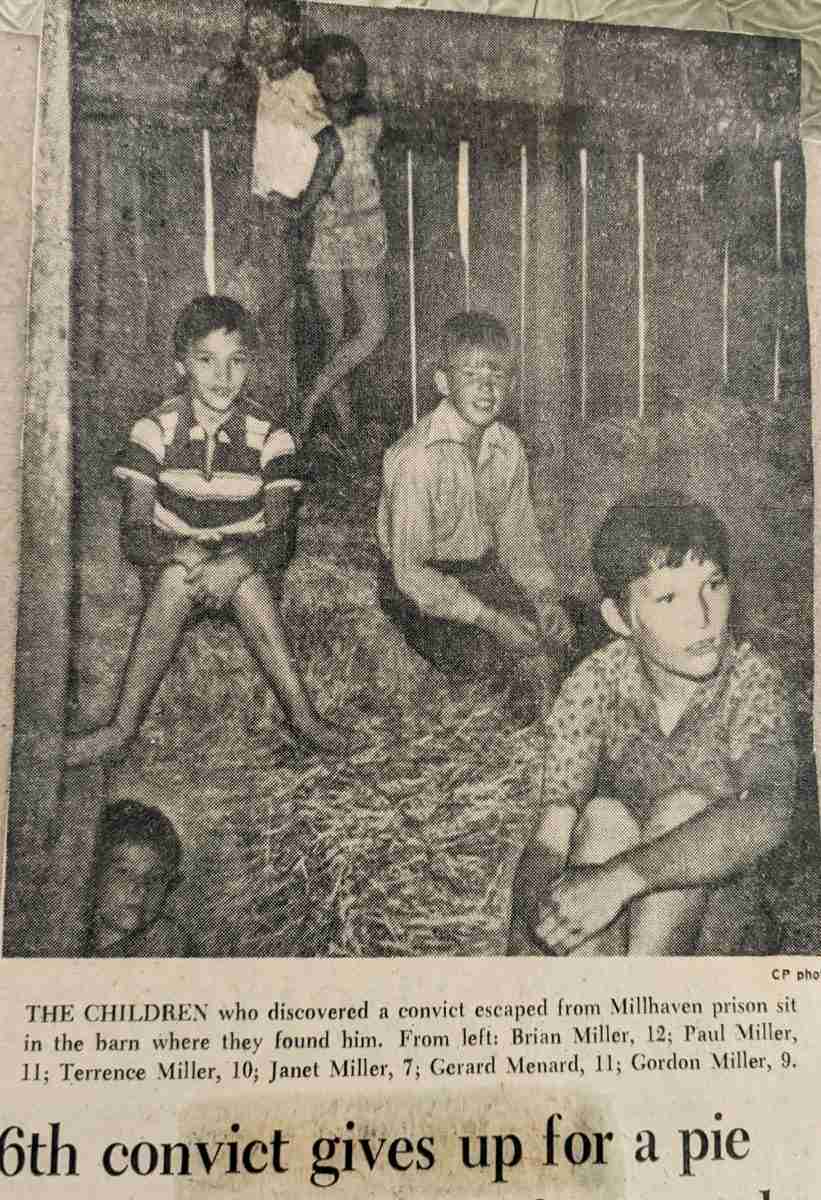 Theresa Miller made Smith bologna sandwiches with mustard, which he gobbled. He seemed disappointed to learn five of his fellow escapees had already been captured. Miller told him about the massive search efforts and convinced him of the futility of remaining on the run.
Smith eventually allowed Theresa to phone the police; he took the phone and identified himself. Miller recalls it was like something in the air switched: "It felt like we had company, you know?" Over lemon pie, Smith told stories; the Miller children were riveted.
P.J. McCaffrey of the OPP recalls, "We whipped in the driveway and got out. I look up, and there's a little baby looking out the window at me. Holy geez, this was a hostage-taking waiting to happen!"
Smith then emerged with a piece of pie in his hand. McCaffrey yelled, "Hands up. Drop it." Smith made as if to take a bite, and McCaffrey racked his 12-gauge shotgun with a loud crack and pointed it above Smith's head. Smith dropped the pie.
Eventually, all but one of the men were recaptured over the next months. Only three ever managed to get out of the search area.
This article is Part 1 of a two-part series looking back on the Millhaven prison break of 1972 on the 50th anniversary of Canada's largest prison break and manhunt to date. Part 2 will become available tomorrow, Saturday, Jul. 9, 2022, on the eve of the 50th anniversary.