Student recounts 'immediate panic' after lockdown at Kingston high school leads to arrest of youth
A 13-year-old has been arrested after a lockdown was imposed at Frontenac Secondary School (FSS) and subsequent hold and secure measures were put in place at nearby schools.
According to Kingston Police, on the morning of Thursday, Jun. 9, 2022, a youth who was "not a registered student" was observed outside FSS, along with three other youths.
In a press release just before 6 p.m. the same day, police said, "Witnesses observed that the accused youth had brandished a firearm outside of the school, and these witnesses subsequently notified school administration." Police were contacted immediately thereafter.
"Upon arrival, police secured containment around the school and viewed security video that showed the accused [youth] entering the school in possession of what appeared to be a Glock style handgun. As a precautionary measure, as it was unknown if this handgun was real or a replica style firearm/BB gun, the school was placed in lockdown status pending further investigation. As the accused youth had not been observed again on camera leaving the school, members of the Kingston Police Emergency Response Unit conducted a thorough search inside the school for the individual."
The investigation then found that the youth in question was not in the school, according to police.
"The accused [youth], as well as the other youths who they had arrived with, had left the property and had split up, possibly bound for Bayridge Secondary School, Bayridge Public School and/or Holy Cross Secondary School, and all possibly via different modes of transportation," police relayed.
As a precaution, the other schools were put on 'hold and secure,' meaning no one can enter or exit the buildings.
"Further investigation led to the accused [youth] being located and arrested at 12:10 p.m. at a residence in Kingston's west end. The accused however, did not have the firearm in their possession," Kingston Police said in the press release.
"The other three youths were also located and one of them had the Glock style BB gun in question in their possession."
At that point, the security precautions at all of the affected schools were lifted, according to police.
As a result of the incident, a 13-year-old youth was taken to Kingston Police Headquarters and held to attend a bail hearing tomorrow, Jun. 10. That youth has been charged with possession of a weapon dangerous to public peace, and carrying a concealed weapon.
Kingston Police could not say whether or not the other three youths were arrested, but did say that those youths were questioned by police.
"All students and staff were safe at all times, but we needed to initiate a lockdown to ensure safety," Patty Gollogly, Associate Superintendent of Safe Schools for the LDSB, said in a statement.
A day like any other?
"It was a normal morning, really," said Zachary Bathurst, a Grade 9 student at FSS, "like all days."
Bathurst said that at 11 a.m. the lunch hour started; however, he had a meeting with the school's baseball team and had to remain in the school.
"We were maybe 15 minutes into the meeting when we heard a very loud bang. It didn't sound like a gunshot at all; it was just a loud bang, which was quite confusing, but we brushed it off and carried on," he said.
"Unfortunately, moments later over the announcements, we were told 'We are going into a lockdown.' Everybody was frustrated because they obviously wanted to go eat lunch, but we had believed it was a drill, so we thought nothing of it."
That is, until the sound of sirens enveloped the two-storey high school. Though he and his friends "thought it was strange," Bathurst said they still believed the situation was a drill. It wasn't until the sound of sirens continued and grew that he and his fellow students "believed it was serious," he shared.
With the current spike in mass shootings in the United States, parents and custodians were naturally worried as word of the incident began to spread on social media. The students themselves were not spared this, as most students have access to social media directly through their phones.
"We had seen our friends post videos of the police outside the school. The police were armed with vests and guns. That's when we believed there was a serious threat," said Bathurst.
By this point, Bayridge Secondary School (BSS) and Bayridge Public School (BPS) had both been placed on 'hold and secure,' "as a precaution while Kingston Police were onsite at Frontenac SS," according to the LDSB.
It was about an hour after the lockdown was announced, Bathurst said, that police came on the school's loudspeaker system. All students outside the school were told they needed to enter the school through the front doors, where they would be checked over by police.
"The students inside were told they could leave their classrooms and, if their parents [were] picking them up, they [could] sign out in the office and leave," the Grade 9 student shared. "When I got downstairs, I signed out and attempted to leave. My principal told me I was not allowed to because we were in a 'hold and secure.' After about a minute, he let us leave."
Although Kingston Police requested that parents not come to the school, some had already arrived, and a number of students left for the day.
However, Bathurst said he feels the school did what they are supposed to do in such situations. While there was "immediate panic in students, and you could even see teachers a bit worried as they didn't know what was happening," he feels the school body received the necessary communications.
"They did a good job communicating to students that we were in a lockdown. Obviously, in that situation, they can't tell us much, but they did as they could, and I believed they did it well," he stated.
"I was trying my best to help my peers by just reassuring them and doing whatever I could."
"The overall situation was quite crazy, to be honest with you. As I said, I thought it was a drill at the start, so I thought nothing about it, but I started hearing sirens and saw news articles, so I knew something was going on. I was really just worried that the suspect was in the building, and I had no clue about what his intentions were," Bathurst continued. He and other students believed there was someone with a firearm in or around the building, something other students noted on social media during the incident.
"I think Kingston Police and all other units handled this very well with securing the school and making sure the threat was removed."
At approximately 12:38 p.m., FSS, BSS, and BPS all returned to "regular activity" according to the LDSB. Around the same time, the Algonquin and Lakeshore Catholic District School Board (ALCDSB) placed Holy Cross Secondary School, which is also in Kingston's west end, in a hold and secure scenario.
"A Hold and Secure Procedure was put into effect as a precautionary measure at Holy Cross Catholic Secondary School from 12:45 p.m. to 1:03 p.m. this afternoon in response to a Police presence at another school," the ALCDSB said via email later in the afternoon.
And while all students either returned to class or went home for the remainder of the day and the communications surrounding the lockdown were handled well, Bathurst said he doesn't believe what happened next was an appropriate response.
"The school gave us a little break, then said they were continuing class. They told parents to not come get us. I believe that wasn't an appropriate response to the situation. The school continued classes under a hold and secure for the rest of the day," he said.
"My mom and family were scared for me and all students, but I was sure to quickly reassure them."
The first-year high school student then shared his feelings on the situation overall as opposed to the situation that occurred at FSS, looking at the security of schools in general and what everyone is seeing happen in the US.
"Some students stayed calm, and some cried. We were finding stuff out from our friends on the outside, so it was very scary not knowing what is happening… I really just believe the City of Kingston and everyone should know this isn't OK. School should be a place of socialization and learning, no more. Too many people are losing their lives to school shootings and it's not OK," he said.
"It was a very scary experience that I never thought I'd have to say I've been a part of. But unfortunately, that's reality."
Although Kingston Police spent a good deal of time at FSS, as well as some time at BSS and Holy Cross, as of 5:15 p.m. police have not communicated what caused the situation in the first place, though an update is expected at some time this evening. Photos taken from inside Holy Cross appear to show police arresting one person; however, Kingston Police would not confirm or deny this.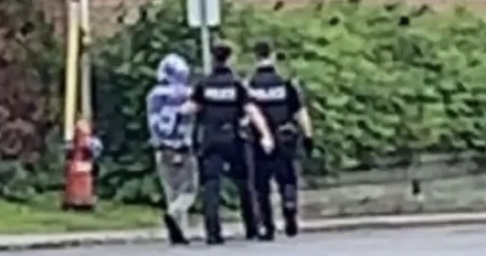 For their part, the LDSB wishes to thank the police, as well as students, parents, and the community at large.
"We are grateful to our school staff for maintaining a calm, caring and safe atmosphere for our students, and to Kingston Police for their prompt and comprehensive response," Gollogy's statement relayed.
"The Board takes all threats seriously and will always respond accordingly. Our schools continue to be safe and welcoming spaces. Our staff are trained to follow comprehensive emergency protocols in preparation for, and in response to, emergency situations such as this.
"We will also use this as yet another opportunity to educate students about school safety protocols to keep everyone who learns, works and volunteers in Limestone safe."
According to the Board, no further information is available at this time, as "this is an ongoing police investigation."
Kingstonist will continue to provide updates on what occurred during this incident if/when more information becomes available.