Speeding complaints lead to multiple charges in 'areas of concern' within Kingston
Over the past few weeks, those in the Collins Bay, Bayridge, and Westbrook neighbourhoods in Kingston's west end, as well as anyone who follows Kingston Police on social media, may have noticed an uptick in the number of traffic stops in these areas.
In the last week alone, Kingston Police have publicly shared the results of 10 such traffic stops, carried out by the Kingston Police Traffic Safety Unit, all of which occurred along two high-traffic corridors: Creekford Road and Woodbine Road.
On Monday, Apr. 4, 2022, a driver was stopped on Woodbine Road at Collins Bay Road for speeding well over double the posted limit. Police recorded the vehicle's speed as 98 km/h in a 40 km/h zone, and the driver received a summons to appear in court on stunt driving charges as a result.
Kingston Police posted about the stunt driving charge laid in relation to the Monday, Apr. 4, 2022 traffic stop the following day.
The charges from those 10 shared traffic stops, which all fall under Ontario's Highway Traffic Act, range from 24 to 54 km/h over the posted speed limits. Kingston Police have confirmed that these traffic stops took place in "high community complaint areas", which officers with the Traffic Safety Unit make a point to patrol, according to Const. Ash Gutheinz, Media Relations Officer for Kingston Police.
And just over a week ago, on Monday, Mar. 28, 2022, one Kingston Police officer laid two stunt driving charges. One offence took place on Bath Road at Coverdale Drive (also in Kingston's west end), where the driver was clocked at travelling 114 km/h. The posted speed limit in the area is 60 km/h. As a result of going 54 km/h over the speed limit, "[a] summons was issued for stunt driving and speeding and the driver has had his driver's licence suspended for 14 days and vehicle impounded for 30 days," Kingston Police said on social media.
Earlier that day, the same officer clocked a pickup truck driver travelling at 93 km/h on Woodbine Road just west of Collins Bay Road. The posted speed limit in the area is 40 km/h. As a result of going 53 km/h over the speed limit, the truck was impounded for 14 days, and the driver's licence was suspended for 30 days. This is also a high community complaint area, police said, noting on social media that there have been "complaints from residents that commuters are using Westbrook/Woodbine as a bypass around Princess St."
But the charges Kingston Police documented on social media are only some of those laid by just one officer from the Traffic Safety Unit. In fact, beyond those 10 charges, the same officer has laid over 20 additional traffic violation charges in the past two weeks. Perhaps most shockingly, all of these violations took place along the same stretch of road: Woodbine Road just west of Collins Bay Road.
While there is "no specific initiative occurring targeting solely speeders," the Woodbine and Creekford Roads have seen increased patrolling for a reason: They are areas "of concern and complaints of excessive speeding," Const. Gutheinz explained.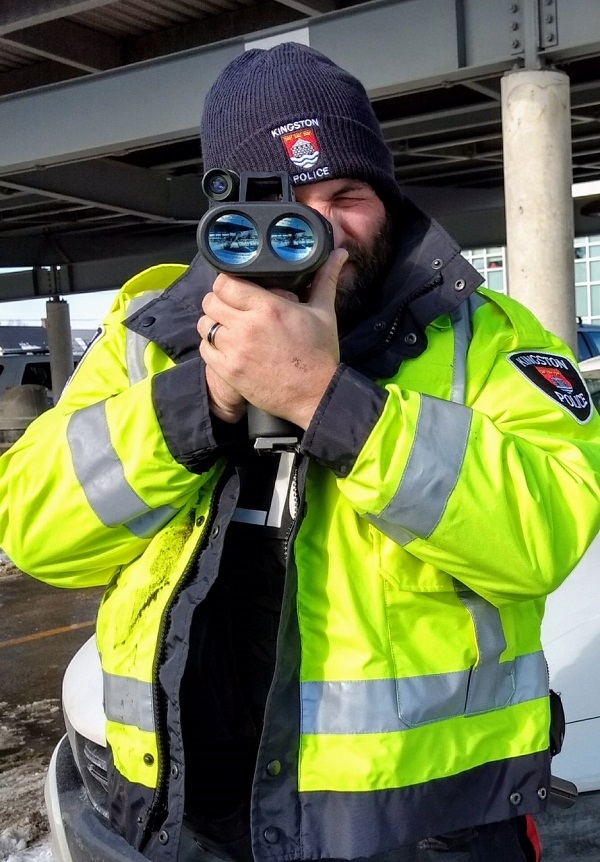 "Our Traffic Safety Unit officers are out daily issuing tickets, summons, and warnings for a variety of Highway Traffic Act related offences in an ongoing, concerted effort to keep the community safe. Many of Kingston's serious collisions involve speed and distracted driving as contributing factors, so these are certainly two areas of many that officers focus on," he said.
Concerns raised by members of the public regarding excessive speeding and/or dangerous driving provide helpful insight for planning police initiatives, Gutheinz further detailed.
"By receiving input from the community via traffic-related complaints and input from the citizens of Kingston, officers are able to proactively conduct enforcement in areas of concern as well as the rest of the City."
The following is a list of the charges laid by one Kingston Police Traffic Safety Unit officer on Woodbine Road west of Collins Bay Road from Tuesday, Mar. 22 to Tuesday, Apr. 5, 2022, as provided by police. These are the statistics of just one officer, not the entire Unit, Gutheinz emphasized, noting that the data gives, "a rough idea of the efforts being made to ensure the safety of other motorists on the roadways, as well as pedestrians."
Driving while under suspension: 2
Speeding: 16
Fail to have insurance card: 3
Fail to wear Seat belt: 2
Fail to surrender Drivers Licence: 3
Fail to stop for stop sign: 1
Insecure load: 1
Driving without a licence: 1
Stunt driving (40 km/h over in zone less than 80 km/h): 2
Off road vehicle driven on road: 1
Additionally, several drivers were issued warnings. In just one day, the same officer – using radar detection while standing on the side of the road – stopped approximately 40 vehicles, the drivers of which were "warned/educated" about speeding in 40 km/h zones.
For more information on making and filing traffic complaints with Kingston Police, visit their Traffic Complaint page.