SnapCab introduces new mobile medical exam room at KHSC COVID-19 Assessment Centre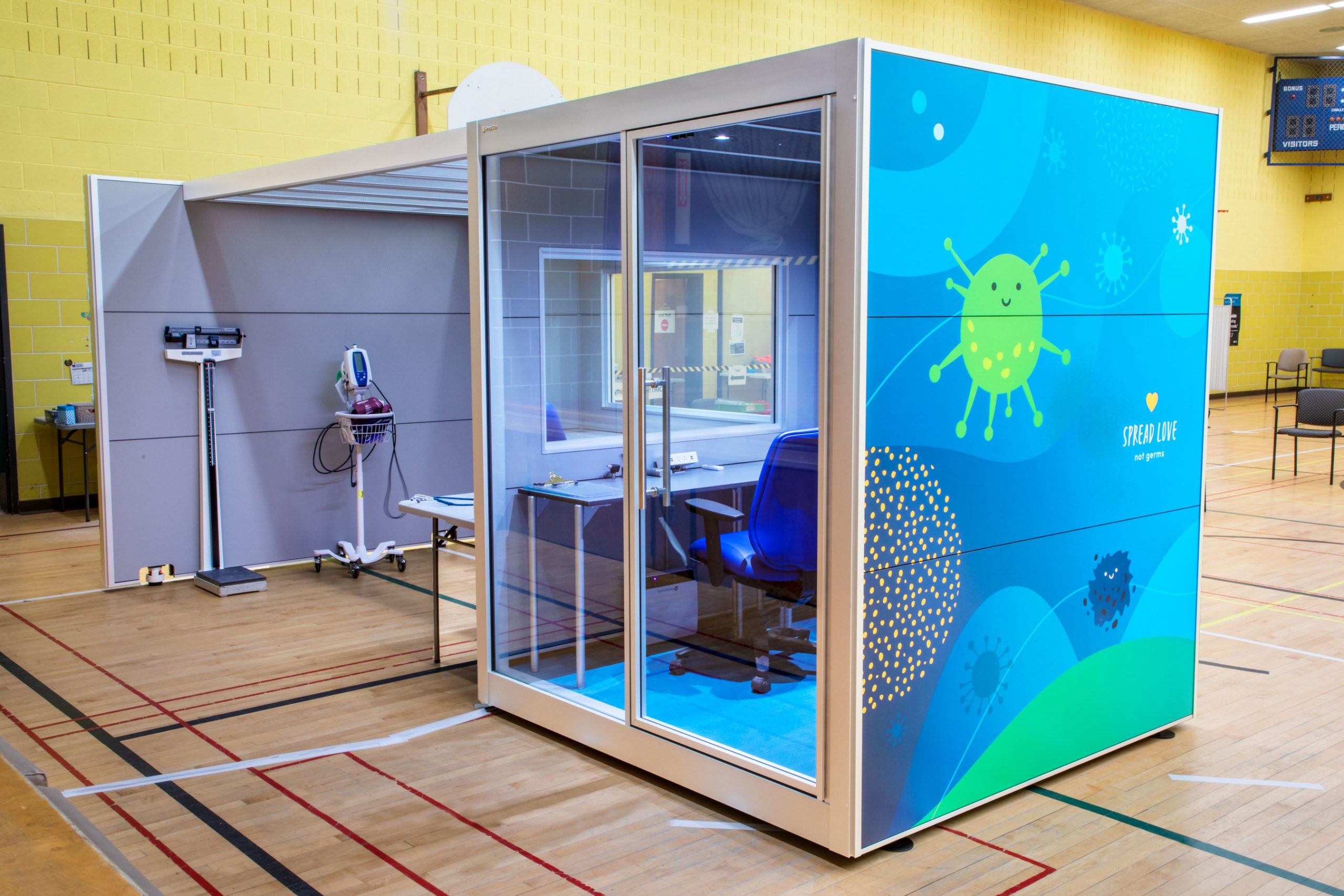 A Kingston-based manufacturer has used its COVID-19 pivot to create SnapCab Care, a mobile medical exam room created in collaboration with medical experts.
Located in Kingston Health Sciences Centre's COVID-19 Assessment Centre, the exam room is an isolated pod connected to a semi-enclosed examination area that physicians can take advantage of to treat patients requiring additional privacy and comfort. It also has a fully ventilated office area with its HEPA (high-efficiency particulate absorbing) filtration system, a glass front with a sound-blocking glass door, as well as two windows with one-way glass, allowing physicians to see out into the assessment centre and exam area while fully maintaining the privacy of the patients they are treating.
The idea of the pod was developed in March 2020 when the need emerged to provide a safe examination area to health care workers to conduct COVID testing.
"We quickly realized we had the design and manufacturing capabilities to develop medical testing pods for use by healthcare workers," said Glenn Bostock, CEO and Founder of SnapCab. 
"We started connecting with local medical experts for advice and guidance, because we had no background in the medical field, and we knew we wanted to help." 
SnapCab worked with CannonDesign to make the final product. It features heavy-duty casters that allow users to move around the floor space as needed to accommodate the Assessment Center's patient flow and any other requirements. It can be taken apart and reassembled in another building when the time comes. The surfaces are easy to sanitize and in compliance with the Assessment Center's safety regulations. 
In March 2020, SnapCab started working on the prototype of the mobile exam room. Dr. Joy Hataley, a family practice anesthetist who is the District Chair of the Ontario Medical Association, joined the team and assisted, providing medical expertise and experience to help create the mobile pod's design. 
Dr. Hataley worked with the University Hospitals Kingston Foundation (UHKF) to secure major donors. One of them is the W.J. Henderson Foundation, a local organization which supports healthcare projects that can have an immediate local clinical impact, and the CaraCo Group of Companies. 
"The CaraCo family has made a commitment to keep donations within our local Kingston community, and we feel strongly that the UHKF touches everybody," CaraCo CEO Gennaro DiSanto said of the donation.
Other local doctors have also donated to the cause, namely Dr. Omar Islam, Department Head of Diagnostic Radiology at Queen's University Faculty of Health Sciences, Radiologist Dr. Johanna Ortiz, and Dr. Hataley.
"Donating to the exam pod seemed like a good cause to contribute to," said Dr. Hataley. "The pandemic has made many of us feel unsafe. This pod could make the patients and our healthcare workers feel safer."
In addition to SnapCab Care and testing pods, the company also took it's Meet 4 and Meet 6 collaboration-style pod products and redesigned them into individual office pods called the Work and Work+.
The team developed an award-winning home office pod, the Meet 2, and the Consult, a two-person pod designed with a glass partition to provide a safe place for face-to-face interactions.
Earlier this year, SnapCab was recognized for its pandemic pivot by Export Development Canada in its national advertising campaign Business as Unusual and Fast Company's 2021 World-Changing Ideas Awards for designing and developing isolation and medical testing pods to help keep people safe. This week, SnapCab Care was named a winner in the DNA Paris Design Awards in the Responsible Design category.
"In Kingston, the community is stronger in adversity because of the connections between people and organizations that want to be of service," Bostock said.
SnapCab was founded in Warrington, Pennsylvania, and has it's newest start-up factory here in Kingston.