Six questions with Sebastian Vaillancourt of the Communist Party of Ontario
Editorial note: As Ontarians head to the polls for the Thursday, Jun. 2, 2022 provincial election, we want to be your one-stop home base for everything you need to know in the Kingston area ridings. As part of this coverage, we've created profiles for each candidate (pending candidate availability) in Kingston and the Islands, Hastings—Lennox and Addington, and Lanark—Frontenac—Kingston. For these profiles, each candidate was asked the same list of questions, the responses to which we've compiled into an easy-to-read Q&A format, with additional links for more information. To view all of the profiles and additional election coverage, visit Kingstonist's Provincial Election 2022 page.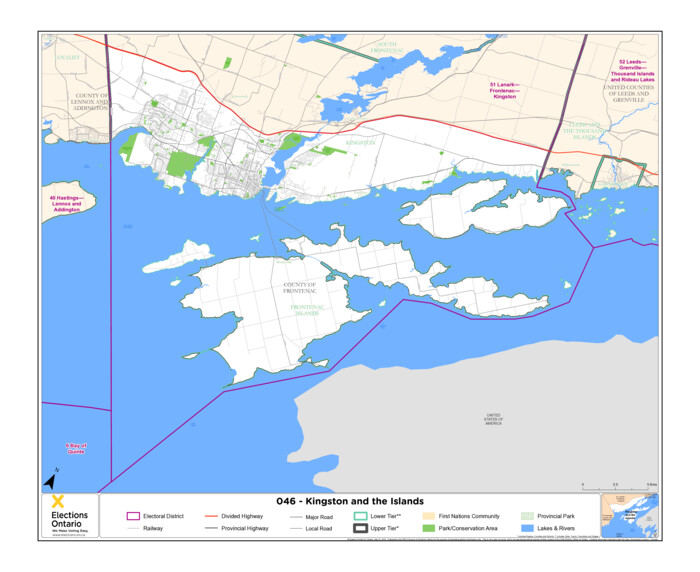 Sebastian Vaillancourt is the Communist Party of Canada (Ontario) candidate for Kingston and the Islands. He is a 22-year-old student, worker, and activist living in Kingston, and is the former host of the radio show/podcast Crisis Watch: Kingston, which sought to highlight local social justice issues and provide interviews with other activists working in the community.
In the past few years, Vaillancourt has worked with local organizations such as Kingston Peace Council and the Katarokwi Union of Tenants to help support Kingston's unhoused community and make sure their basic needs are met. He is running in Kingston and the Islands to fight for social housing so that nobody is left without a home, and for rent control and rent rollbacks so that nobody has to pay more than 20 per cent of their income on housing.
Vaillancourt believes that working people and families deserve a break, and that this can be accomplished by re-envisioning the way taxes are levied: the tax burden should be shifted onto corporations and the very rich, while there should be no taxes on personal incomes under $40,000, and the provincial/harmonized sales tax should be eliminated. Vaillancourt believes it is also crucial that the government enact price controls on food, fuel, and housing, and prosecute price fixing and price gouging.
What made you decide to run in the provincial election?
Well, simply put, I'm a young worker, I'm finishing school, and I don't feel like I can afford to live in the world as it is, and I'm quite frankly terrified for my future.
In your opinion, what's the most important issue being discussed during this election?
One hundred per cent that would be housing. We need to make sure that every single person in Ontario and across the country has a home that they can call their own.
And what's the single most common thing constituents bring up to you if you're going door to door?
We have been focusing on campaigning and canvassing at a lot of Homestead buildings, and the one thing we hear from them is that they're living in apartments that are infested with cockroaches and other insects. They're not able to keep their food in the cupboards, they are living out of bins, and they're getting sick because of the chemicals that are being used to kill these insects.
Is there one particular issue that you would like to champion if you were elected to represent Kingston and the Islands?
Housing. We have 250 to 300 people living on the streets of Kingston, and we have a vacancy rate of 3.5 per cent, meaning there are about 800 units of vacant housing in the city. We need to stop prioritizing the bottom line of landlords and other corporate interests, and make sure that the people are getting what they need because it's out there.
And what do you feel is the most overlooked issue for the riding?
Well, to give you a bit of a different answer, I'll look to the fact that, across the province in the country, overdoses and overdose deaths are on the rise in a big way. But here in Kingston, we're one of the only places in the country where we've seen a decline in that, because of the work being done by the people over at the Integrated Care Hub. And I think we need to see a lot more programs like that across the province and across the country.
If you could share one message with the voters, what would you what would it be?
You don't need to vote for the least of evils. All the major parties are representing the same interests, that being the interests of Canada's largest corporations and wealthiest individuals. And those aren't your only options. There are parties like us out there who are fighting for the people and not for corporate interest. A lot of people don't know much about the Communist Party in Canada. We're out there. We're actually Canada's second-oldest party. We've been around for a long time. We had our 100th anniversary, actually, earlier this year. We've had to fight for our right to be here in the Supreme Court in the '90s. And we won that fight. And we're here to fight for the people and to work for the people — our movement is growing like never before, and we hope to see that growth continue.
You can learn more about Sebastian and the Communist Party of Canada (Ontario) by visiting their website.