Six questions for Robert Kiley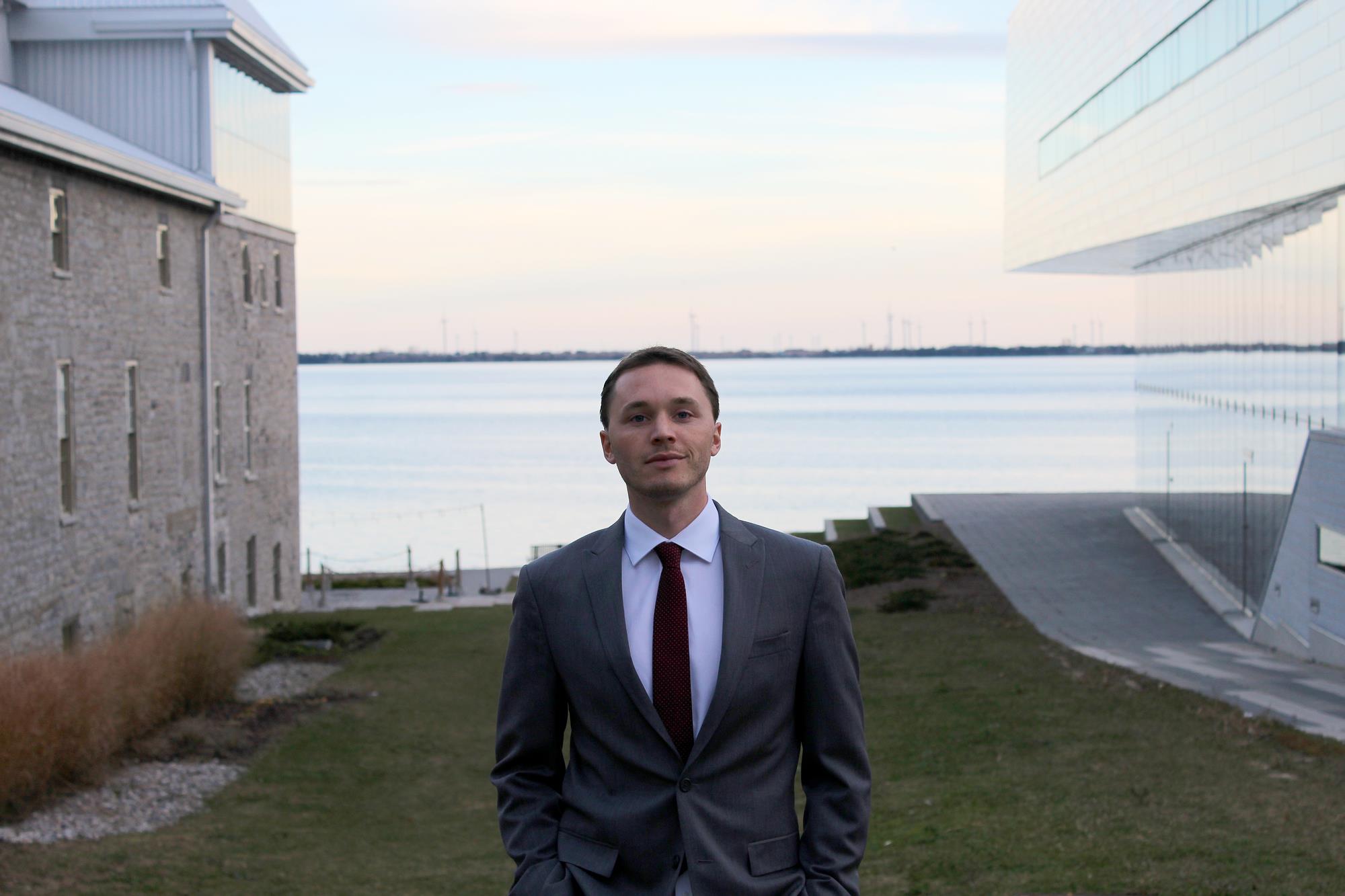 After serving as the provincial Green Party representative for Kingston and the Islands for seven years, Robert Kiley announced on Friday, Jul 6, 2018, that he was stepping down from that position and moving on to a new political arena: municipal politics.
That same day, Kiley announced he is running for Kingston City Council as the Trillium District representative. Following nearly a decade in provincial politics – Kiley was the provincial Green candidate three times for Kingston and the Islands, he served as a member of shadow cabinet from 2015 to 2017, and, for the last few months, was the deputy leader of the Green Party of Ontario – and a provincial election just a month ago, Kiley is now campaigning in Trillium District with the October 22 municipal election fast approaching.
We caught up with Kiley to find out more about his decision to step down from provincial politics and into municipal politics, and his hopes and plans for the coming election.
1. How did you enjoy your short break from politics? What did you do with all of that free time (less than a month)?
Well, I tried to rest, I caught up with family and friends, I did a bit of travelling, and I got back to my day job… I work as the head of PR and communications for a local marketing company. I was a teacher for many years, but I haven't been in the class room since 2015, and for the last two years I've been working with Open Door Media.
My boss was very gracious and my colleagues were very supportive during the provincial campaign, and I took an extended leave… But I do have a full time job! (laughs)
2. What made you decided to make this move from provincial politics into municipal politics?
For me, politics has always been about helping people and serving the community and giving back to our city, and after I was disappointed with the results federally and provincially, and after government after government, regardless of the party, continued to disappoint me, I decided that the best way I could give back to the community, and serve the city that has given me so much is to hopefully become a municipal councillor. And that's particularly important in this day and age when upper level governments will download a lot of services to the local government. We need a strong, progressive council, and I want to be a part of it.
We need people with the experience that I have, and we need people with the commitment that I have to good jobs and our kids and grandkids to continue the fight on the ground for Kingston.
3. In your opinion, what are the most pressing issues in your district?
One is the development of the old Nortel site. It's actually where my dad worked for the better part of 17 years, and many people in our district have either older parents or grandparents now who worked for Nortel.
And the plant has been stripped down, it has been pulverized, and there's a massive field that's waiting for good, smart, sustainable development, and, as the councillor for Trillium, I would be at the forefront of making sure that it is developed as a mixed-use – residential, commercial and industrial – community to continue what Trillium has had for many years, which is all of those things.
Trillium is unique in that sense. It has a very strong industrial presence, it has a very strong residential presence, and a very strong commercial presence – there's the RioCan Centre, the mall, Development Drive and all of the neighbourhoods, so we need to continue with that mixed-use planning and it needs to be smart and sustainable.
That's the first issue that comes to mind.
The next one is that people want to make sure that their streets are smooth and that their streets are safe. So we have to fill in the potholes on existing roads, and we have to make sure that traffic is calmed so that kids and grandkids can bike, they can play street hockey, so they can run around the neighbourhood like I used to as a kid growing up in Trillium. That needs to continue.
4. Currently, you are running against Jimmy Hassan and Jim Hoover, with no word from the incumbent [Adam Candon] as to whether or not he'll be running again. What do you think will be most challenging about this race?
My goal for this race is to reach every door twice. So it's a race against the other candidates to do that, but, actually, it's kind of a race against time. That's the most challenging thing is that there are only three months, and I want to talk to every person in Trillium two times between now and when voting starts in October. So I'm racing against time here.
4b. Why is that important to you?
Because I've always believed in representative democracy, so if I get elected, I'm elected by the people of Trillium, for the people of Trillium, and I'm there to give back to them, I am there to serve them, but I'm also there to be their voice on Council. And that's why my slogan in this election is 'Working for you,' because when the people pick up my postcard that's come to their mailbox, when they talk to me at the door, that's the truth: I'm there to work for them, and working for them means making a happy and healthy community, and that's what this campaign is all about.
I invite anyone and everyone in Trillium to give me a call. I'll always answer people's calls, I'll always respond to emails, and that goes back to the point I made earlier about working for the people of Trillium, for our community. It's really frustrating when you have an issue that you have an elected representative there to solve, and they don't get back to you. That's why I put my personal cell on all of my postcards, that's why my email is on mu website, because I'm going to be a responsive and respectful representative.
5. If elected, what are some of the most top-of-mind issues that you'd like to address?
Well, I don't want to sound like a broken record, but the two that I mentioned earlier are really top-of-mind. The development of the old Nortel site – smart, sustainable development, mixed-use development – and also safe and smooth streets to make sure that our community is functioning and that there can be multiple uses for the roads throughout the district – bike, car, foot, wheel – every kind of transportation you can imagine should be able to operate effectively and efficiently within Trillium, and across the city of course, and to do that we have to prioritize active transportation and filling in potholes on existing roads.
6. What, if anything, from your years of being the local Green Party representative are you bringing with you on your journey into municipal politics?
I have a deep understanding of the different responsibilities of different levels of government, and I know how important a strong, progressive council is to make sure that there are good local jobs in our community, to make sure that our kids and our grandkids have a bright future, and I also bring education – I have a masters of public administration, I was a teacher for many years, I graduated both of those degrees from Queen's, so I have a strong appreciation for the institution, for government itself
And on top of all of that, and the most important thing, the very most important thing is that I have met with residence in Trillium for seven years as their Green candidate, seven years working in politics, but more than that for 19 years as both a resident, someone who grew up in Trillium, and someone who does business in Trillium.
So I have 19 years of experience in the district, meeting with the people, talking about their hopes, talking about what they want to see in the future for what I think is one of the most vibrant districts in the whole city.