Shooter in Fergus Street homicide receives conditional sentence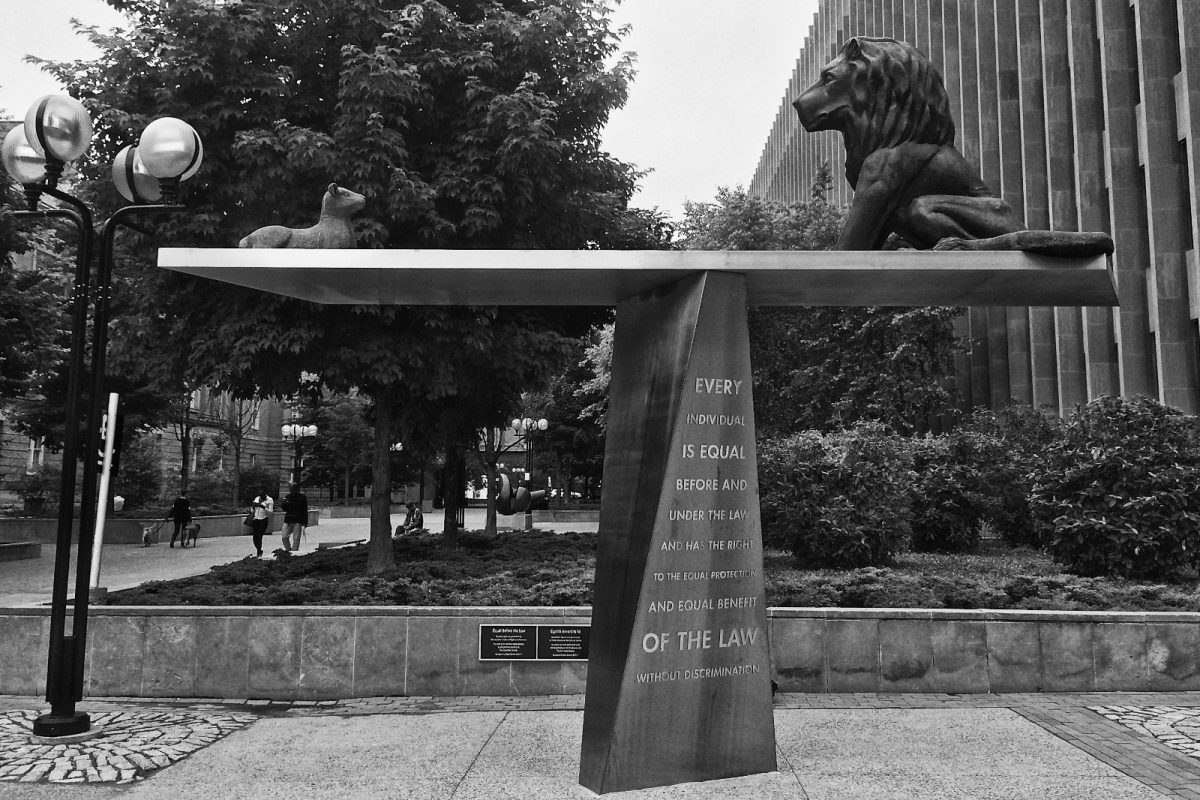 Content warning: This article includes reference to racism and gun violence.
On Thursday, Aug. 12, 2021, Kingston residents were shocked to hear of an incident of gun violence on Fergus Street resulting in the death of a local man.
The man, who was located by Kingston Police at a Fergus Street residence just off of Concession Street, succumbed to his injuries the same day, and was later identfied by police as 43-year-old Jason Wagar.
The same day the shooting occurred, following a large police presence in the Kingscourt neighbourhood, Kingston Police announced in a press release that the shooter had also been arrested. "Shortly after the incident occurred, an alert uniformed officer was able to execute the arrest of the accused nearby the scene of the original offence," said Kingston Police in the release.
The following day, the identity of the shooter was also disclosed. Police alleged that Vaughan Roberts, a 20-year-old man from Ajax, had not only shot Wagar, but also fired at another individual in the residence named Michael Muchmore. Roberts reportedly then fled the scene on foot, and was arrested a short time later. Roberts and Wagar were known to one another, according to police. Roberts was charged with second degree murder, attempted murder, discharging a firearm with the intent to wound, using a firearm to commit an indictable offence, pointing a firearm, possession of a loaded regulated firearm, and being an unlicensed person in possession of a restricted weapon.
Since then, at a bail hearing that commenced in October 2021, a judge found that there were additional layers of complexity to this case. "Mr. Roberts appeared to be the target of a crime, possibly a hate crime," noted the judge, adding that Roberts had been set up by Wagar and Muchmore to be the victim of a robbery, and was subjected to a racially-motivated attack in the process. At his bail hearing, Roberts pleaded guilty to unlawful possession of a loaded, restricted firearm, effectively clearing him of murder in Wagar's shooting death. Roberts was granted conditional bail.
On Thursday, Jan. 19, 2023, a "lengthy sentencing hearing" was held before Justice Alison Wheeler, according to court documents. "It needs to be stated clearly that Mr. Roberts is being sentenced on a charge of possessing a loaded illegal firearm. He is not being sentenced for firing it, although the circumstances of him firing the gun are an important consideration in my decision," Justice Wheeler wrote in her judgement, released on Tuesday, Mar. 7, 2023.
"The facts that make out the offence are actually very simple. Mr. Roberts came to Kingston from Ajax to visit friends and traffic Percocet. He brought a Glock 9 mm handgun with him for protection. He had no advance plan or intent to actually use the gun. Mr. Roberts discarded the gun behind a convenience store when chased by police shortly before his arrest. The gun was loaded," she continued.
"The full context of the case is much more complicated."
In the days leading up to the shooting, Roberts was staying at an apartment on Fergus Street in Kingston. The residents of that apartment and those who frequented it were "living an anti-social lifestyle and were entrenched in the local criminal and drug subculture," Justice Wheeler noted.
"Jason Wagar was one of the residents of the apartment. He was much older than Mr. Roberts and had a serious, lengthy criminal record," she continued. "Jason Wagar and his associates formed a plan to rob Mr. Roberts for his drugs. Police discovered this in part through text messages exchanged between Jason Wagar and his associates. The plan was fueled by hateful racist attitudes towards Mr. Roberts, who is Black."
While Roberts was sleeping on the couch in the living room of the apartment, Wagar and his associates attempted the robbery. Roberts, the court heard, was "threatened with a machete and a pellet gun that looked like a genuine firearm."
"Mr. Roberts believed that he would be killed or seriously harmed. It was reasonable for him to think that. Mr. Roberts shot and killed Jason Wagar in self-defence. Two of the other people involved in that incident have been charged with attempted robbery and conspiracy to commit robbery of Mr. Roberts. Jason Wagar would also have been charged if he had survived," Justice Wheeler said.
She noted that, after fleeing the apartment, Roberts was arrested nearby after "a brief police chase," during which he ran behind a convenience store and discarded a fanny pack containing the gun, which was "loaded with a chambered round and two more in the magazine." When arrested, Roberts was found in possession of 76 tablets of Percocet, four tablets of OxyNEO, and a substantial amount of cash. He has not been charged with any drug-related offences.
In terms of sentencing, both the Crown and the defence agreed that a sentence of incarceration of less than two years (followed by a period of probation) should be imposed.
"They are not far apart in their submissions about the length of incarceration, but they differ on whether it should be served conditionally in the community," Justice Wheeler stated.
The Crown argued that, "but for the many mitigating factors and the particular and unusual facts of this case," the charge could easily result in a three-year penitentiary sentence," and held that the judge should impose a sentence equivalent to two years less a day.
Conversely, the defence argued that, in light of the mitigating factors, "including the racial context of the case," case law pointed to a conditional sentence of 18 months less credit for pretrial custody and mitigation for harsh conditions of pre-trial custody.
In presenting the "purpose and principles of sentencing," the judge noted the importance of parity – "to the extent offenders and their offences are similar, their sentences should be similar," but also noted that "at the same time, sentencing is a highly individualized process that must consider the specific facts and circumstances of the case in order to respect proportionality."
The "circumstances of the offender" in Roberts' case noted:
his age (he was 20 at the time of the incidents and just recently turned 22)
that he comes from a hard-working family (many of whom submitted letters of support on Roberts' behalf to the court)
that he has no prior criminal record
that family members attested to the impacts the events in Kingston in 2021 have had on Roberts
his stated regret of what occurred, and his expressed concern for how the loss has impacted Wagar's family
The court also gave weight to the fact that, well prior to the events in Kingston, Roberts himself has been a victim of gun violence. He was shot in the leg at a community event when he was 16 years old, the court learned, an incident that led to his use of — and eventual addiction to — Percocet.
In her analysis of the case before her, Justice Wheeler noted that Roberts' offence "was objectively very serious," and that he bears responsibility for the offence, as he made the deliberate decision to bring the gun with him to Kingston while trafficking Percocet.
"His actions were not impulsive or short-lived," she stated. However, it was the "racist attack on Mr. Roberts by Jason Wagar and his associates," which added "a significant complexity to the sentencing decision."
The defence submitted that the hate-based attack was an "important factor that mitigates Mr. Roberts' moral blameworthiness for the offence," and pointed to the analytical framework laid out in case law through the Court of Appeal that "social context evidence of anti-Black racism could 'offer an explanation for the commission of the offence which mitigates the offender's personal responsibility and culpability for the offence.'" While Wheeler said she agreed that the racist attack was "an important consideration in the sentencing analysis," she disagreed that the case law cited provided an "applicable analytical framework."
"In my view, the racist attack stands apart as a separate, although highly relevant, consideration," said Justice Wheeler. "Jason Wagar's racist attack on Mr. Roberts was abhorrent, but it does not diminish Mr. Roberts' degree of responsibility for the offence of possessing the gun in the first place. Although justified in shooting Jason Wagar, Mr. Roberts did not go and get the gun because he was threatened by Jason Wagar. He brought the gun with him to Kingston."
That said, Justice Wheeler found that the racist attack remained a "central consideration" noting that the attack is relevant in that "it diminishes the weight that I ascribe to Mr. Roberts' actions in running from the police and discarding the gun," and in that "it inflicted a significant moral harm on Mr. Roberts, and that moral harm was compounded by the laying of the murder charge when in fact Mr. Roberts was the victim in those events."
"The racist attack makes this case very factually unusual. It makes it much harder to apply the principle of parity and to determine a fit sentence by reference to other cases. A fit sentence for Mr. Roberts must take account of this complexity when it comes to blending the sentencing objectives of deterrence, denunciation and rehabilitation," said Justice Wheeler.
"Furthermore, the weight ascribed to the racist attack has to be evaluated in light of the evidence of systemic racism."
Wheeler then referred to the "expert report and testimony" of Dr. Barrington Walker, a former professor at Queen's University and current Vice Provost of Equity, Diversity, and Inclusion at McMaster University.
Before explaining the significance of systemic racism in the case at hand, Justice Wheeler quoted directly from Dr. Walker's report: "It is undoubtedly true that the contexts outlined above have had a profound impact upon the societal structure in which Mr. Roberts was reared, his behavior and life choices and the particulars of this case. Anti-Black racism is evident across virtually all spheres of life in Canada and significantly impacts the lives and life chances of African-descended people. These overlapping and intersecting spheres of racial disadvantage in the aggregate comprise the institutional and attitudinal structures that have been labeled systemic anti-Black racism. The impact of anti-Black racism is that it limits the horizons of possibility (both materially and psychologically) and it makes it difficult for Black people to thrive both in terms of their objective social position and their perception of whether such opportunities exist. [emphasis added by the court]"
"Black people face bias in many spheres of life that many other Canadians take for granted… The impact of systemic racism is magnified for young Black men in Canada," Justice Wheeler stated, noting that there are indications of systemic racism in Roberts' life experiences. "Among other things, they are disproportionately likely to be a victim of violence, to be targeted in interactions with the police, and to be incarcerated and treated unfairly in custodial settings. The ways in which they are marginalized makes it harder to find a route to a successful adult life than it is for people who do not experience racism."
Before stating that a conditional sentence would be appropriate in this case, Justice Wheeler noted that Roberts' "track record while on bail satisfies me that he would comply with a conditional sentence, such that it would not endanger the safety of the community."
"I also find that there is relatively little need for specific deterrence. Pretrial custody that is the equivalent of a sentence of over six months is a meaningful amount of time for such a young person with no prior experience of custody. The reports from his family, particularly his older sister, indicate that it was a difficult and traumatic time for him," the judge noted. However, she stated, "The gravity of the offence calls for a sentence that sends strong messages of deterrence and denunciation."
Therefore, Justice Wheeler found, a maximum reformatory sentence of two years less a day was "needed in order to address" that deterrence and denunciation. Crediting Roberts for the equivalent of 191 days that he'd already served in custody, 538 days remained to be served on a conditional sentence, to be followed by 10 months of probation.
"I am also ordering that Mr. Roberts must provide a sample of his DNA suitable for analysis and I am imposing a 10-year firearms prohibition," Justice Wheeler concluded.
In addition to the statutory conditions, she ordered that the conditional sentence include:
House arrest for the first 12 months of the sentence, with GPS monitoring.
Following the period of house arrest, curfew between 10 p.m. and 6 a.m.
Not to possess any weapons as defined by the Criminal Code.
Attend and actively participate in culturally sensitive assessment, counselling and rehabilitative programming as directed by the supervisor, which is to include:

Substance use
Trauma counselling
Mentorship and, if deemed suitable by your supervisor, opportunities to mentor
Life skills which is to include employment counselling, job readiness skills, educational assessment, academic support
Consideration to be given to programming offered through the Enhanced Youth Outreach Worker Program and Tropicana Community Services if deemed suitable by your supervisor.

Open a bank account and provide proof to your supervisor that income from employment is deposited into that bank account.
Not possess cash in an amount greater than $200.
Perform 200 hours of community service work which is to commence no later than May 1, 2023.