Serial killer Dellen Millard found guilty in prison stabbing incident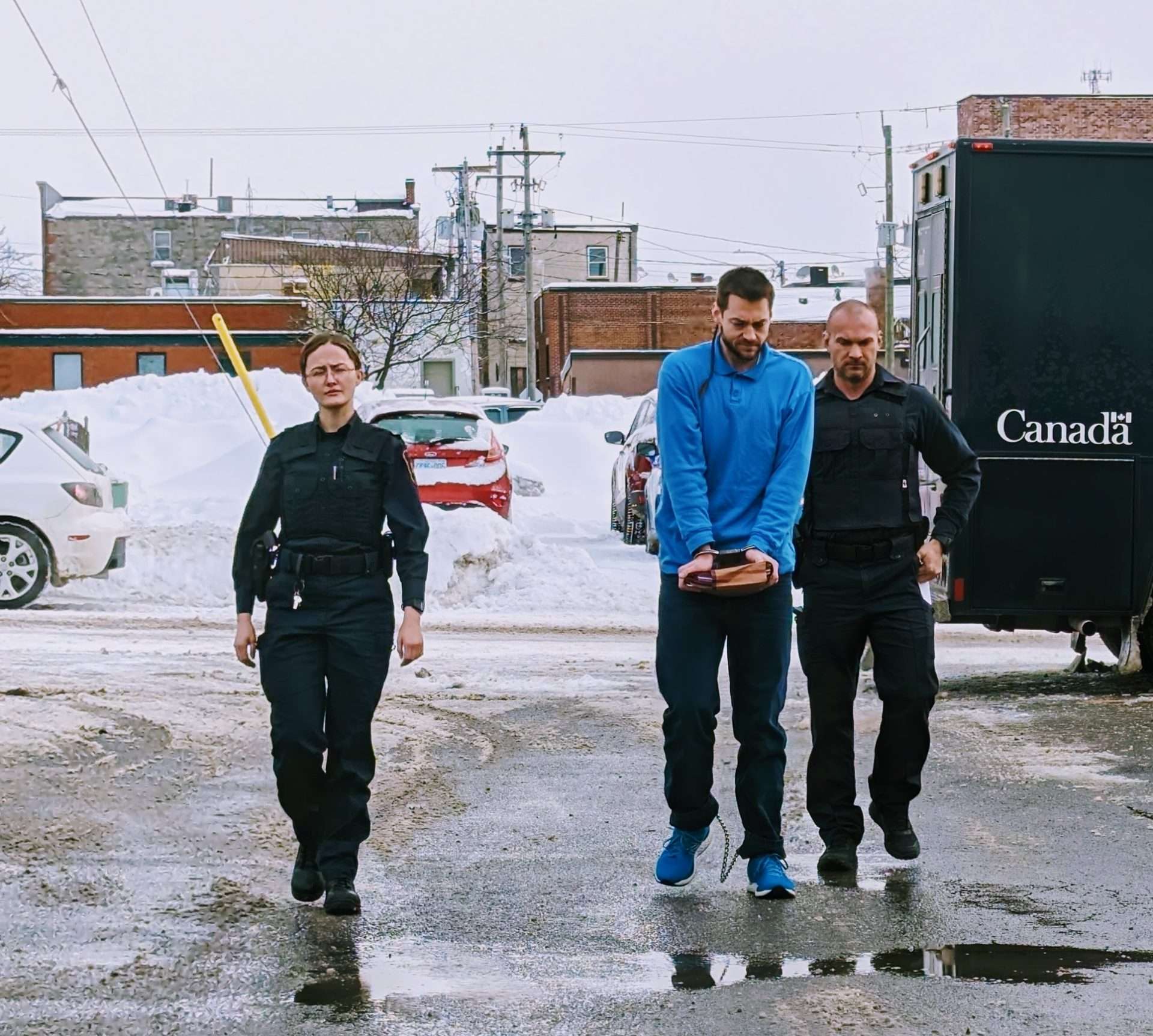 One "silent witness" was present the day Dellen Millard participated in a stabbing at Millhaven, and that witness's testimony was accurate and dispassionate, according to the findings of Justice Geoffrey Griffin.
Already a convicted serial killer, Dellen Millard was found guilty in a Napanee courtroom Monday, Mar. 6, 2023, of assault causing bodily harm to a fellow inmate, Sean Trites.
Millard entered calmly and listened intently from a video booth at Millhaven Institution as Justice Geoffrey Griffin read his decision into the record. His expression soon changed though, when the Judge described what he had observed in the surveillance video footage of his actions on July 11, 2021.
Behind pursed lips, Millard ran his tongue over his teeth and fidgeted in his seat as the judge noted how he had pushed Trites into his attacker, co-accused Clayton Sumner, and prevented him from escaping the stabbing.
In his analysis, Justice Griffin quoted from the Supreme Court of Canada decision of R v. Nicolovski in 1996, "The video camera on the other hand is never subject to stress. Through tumultuous events, it continues to record accurately and dispassionately all that comes before it. Although silent, it remains a constant, unbiased witness with instant and total recall of all that it observed. The trier of fact may review the evidence of this silent witness as often as desired. The tape may be stopped and studied at a critical juncture."
In this case, the judge said that the video was of excellent quality and he was able to review the tape, stopping to study, slowing down the speed, and zooming in at pivotal moments.
"So where Mr. Martin Forget [said] he did not watch much of the fight at all and Terell Sullivan said the altercation was 10 to 20 minutes and he could not see what happened exactly, I was able to watch the altercation over and over again," said the judge, who was clear about what had actually occurred. Forget and Sullivan were witnesses for the defence who'd previously testified before Justice Griffin on Friday, Jan. 30, 2023, as part of the trial.
The judge put very little faith in any of the witnesses testifying on Millard's behalf, saying, "I do not find the defence evidence is of any real assistance as to what actually happened to Mr. Trites on July 11, 2021, while the video surveillance makes it clear what happened; Mr. Sumner stabbed Mr. Trites and, for some unknown reason, Mr. Millard can be observed during the entire incident."
Justice Griffin also pointed out that Trites, the victim of the stabbing, was a very reluctant witness for the defence, who had to be coaxed from his cell to testify via video on the judge's orders, and then refused to submit to cross-examination by the crown.
Trites stated at the time of his circumspect testimony on January 30, 2023, "I hope I helped you out, I don't want to be here." This statement was directed at Millard, and followed by the parting message "I hope everything works out for you, brother," Justice Griffin noted.
"At the outset of the video, Mr. Millard is a keen observer of the ongoing incident," the judge stated, pointing out that Millard stays within a very short distance of the two men the entire time. "Unfortunately, at 5:06:56 p.m. on July 11, 2021, Mr. Millard becomes more than an observer of the confrontation."
This is when the actual physical altercation commenced, noted the judge, with Millard putting his left arm on the back of Trites and pushing him toward Sumner. Millard then stood behind Trites using both his arms to prevent Trites from retreating from the advancing Sumner.
At 5:07 p.m., the Judge said, he observed Millard holding Trites's shoulder area with both hands, "controlling his movements" and allowing Sumner "better access to Trites" as he stabbed him in the torso.
"The video makes it clear that Mr. Millard does nothing to assist the wounded and bleeding Mr. Trites," stated the judge, in direct contradiction to Trites's own questionable testimony that Millard had saved his life.
On-screen at Millhaven, Millard rolled his eyes.
In fact, Justice Griffin noted, the whole incident could have resulted in death, was it not for the quality of care Trites received at KGH. After an initial surgery on the day of the stabbing, Dr. Darrin Payne, a cardiac surgeon who testified for the Crown, determined that there was fresh bleeding around Trites's heart on July 12, 2021, and reopened Trites's sternum to repair the source. Had that not happened, the wound might have been fatal.
The Crown requested that sentencing be postponed in order to allow Crown Attorney Tim Kavanagh to file undisclosed materials in the case. The Judge reminded the court that any additional materials should also be given to Millard, who served as his own defence. Justice Griffin ordered the sentencing to take place in late April.
Millard had made an application and been approved to move to a medium security facility prior to the stabbing incident, but that opportunity was subsequently quashed.
Regarding his role in the stabbing, Sumner has pleaded guilty, but has not yet been sentenced.