'Room for change' noted at Love Kingston Marketplace opening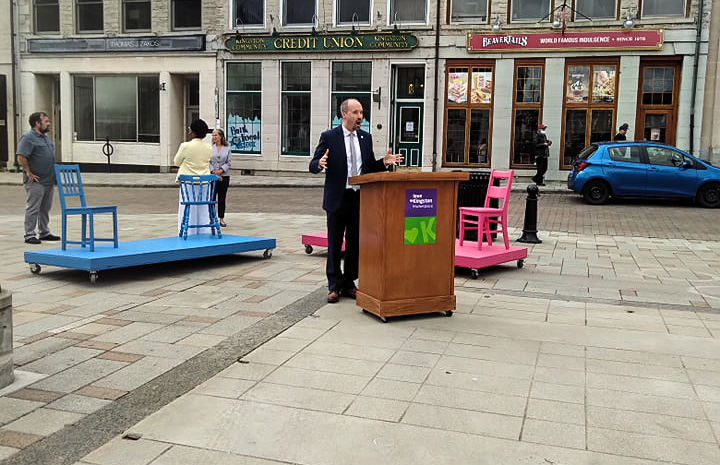 The City of Kingston hosted a press conference to herald the opening of the Love Kingston Marketplace, a joint effort between the City of Kingston, Tourism Kingston, Kingston, Frontenac Lennox & Addington (KFL&A) Public Health and the Downtown Kingston BIA. 
While some business owners have expressed concerns about the plan, which is closing down several downtown vehicle lanes to make space for pedestrians to practice social distancing, Mayor Bryan Paterson said the feedback he's received has been "overwhelmingly positive."
"We're really trying to get all the details right and respond to as many concerns as we can," Paterson said. "I've heard from some businesses that would like even more lane closures. We may make some changes as we go, but we think the overall concept is great." 
Tim Pater,  Chair of Downtown Kingston BIA, reinforced that message in his statement to the press.
"I think its really important that [downtown businesses] get behind this and make it successful," he said. "Not everyone is going to be pleased by a plan like this, but it's new for Kingston and the more we get into it, we can adapt."
Princess Street restaurant owners Stone City Ales took to social media voice their concern with the plan on Monday, Jun. 22, sharing an image of the parking way-by they have been assigned as a patio expansion.
"We were waiting on the City to announce their plan to expand downtown patios onto sections of closed roadway," their post reads. "We have been offered a 'parking space' of two by six metres for our 'expanded patio.' Anyone sitting there would be on a road with vehicle traffic right beside [them]. So we are discouraged… this definitely isn't the help we needed."
Pater confirmed that the parking way-bys, but not closed street area, are being offered as patio space to downtown restaurants.
"Patios are going to be in the parking way-bys. The sidewalks will be maintained for accessibility," he said. The closed lanes of the streets will be for pedestrian traffic.
"There is room for change if certain things aren't working, but I really think the message needs to be that we want this for our businesses, for our employees, so that people can be downtown really safely and be free to wander around the streets without having to worry about social distancing," Pater said.
He added that it is "not a made-in-Kingston" idea. "This is happening all over the world to great success," he said.
Dr. Aba Mortley, The Chair of Tourism Kingston's Board of Directors, said the plan is inline with ideas going back to 2018 to make Kingston a more walkable city.
"COVID kind of pushed that a little bit further and a little bit sooner than we thought," she said. "It's still keeping in line with the sustainability goals of the City and the destination marketing of Tourism Kingston… We can have more of a playground, a place in which patios and retailers can spill out into the streets and people can enjoy those things in a socially distant, acceptable limit."
Question of Kingston's Emergency Detour Route (EDR)
In advance of today's event, the Kingstonist reached out to Kingston's Director of Transportation Services, Ian Sempel, to confirm whether a contingency plan exists for a Highway 401 closure diverting heavy traffic through the downtown core.
"If there is an unplanned closure on the 401, the impact on the City's transportation system, especially in the downtown, can be significant," Sempel told the Kingstonist on Monday, Jun. 23 2020. 
"This impact is felt across the downtown network and the delays experienced throughout the closure are expected to be similar with one or two lanes of Princess Street available to vehicles. During an unplanned closure, the City works with emergency services and other stakeholders to address concerns, and the approach would be similar during these lane closures."
At the press conference, Mayor Paterson said he thinks that it's an example of they type of thing the City will continue to have discussions about.
"If we need to make some other adjustments and changes in the event of a closure, then I think we would just want to react quickly to that and find a plan that would work," he said. "Those events are rare, but they are significant. If we see that, then we will quickly respond as needed to try to manage that traffic."
KFL&A Public Health: Risk of COVID-19 not over 
Kris Millan, Director of Family Health Division of KFL&A Public Health, was also present to make a statement.
"The risk of COVID-19 is not over," she said. "As the economy reopens and more people travel and come out of isolation, the risk of being infected increases."
Millan noted that we will have more cases, and subsequent waves of infection.
"We must be prepared and continue to be vigilant as we balance health with the social and economic well being of our communities," she said.
She encouraged Kingston residents to enjoy the Love Kingston Marketplace while observing public health advice to wash hands frequently, wear a face covering when necessary, and be vigilant for symptoms of COVID-19.
"Take a staycation, shop local, stay safe and support the local economy," she said.