Road closures and traffic delays, week ending Oct 6, 2023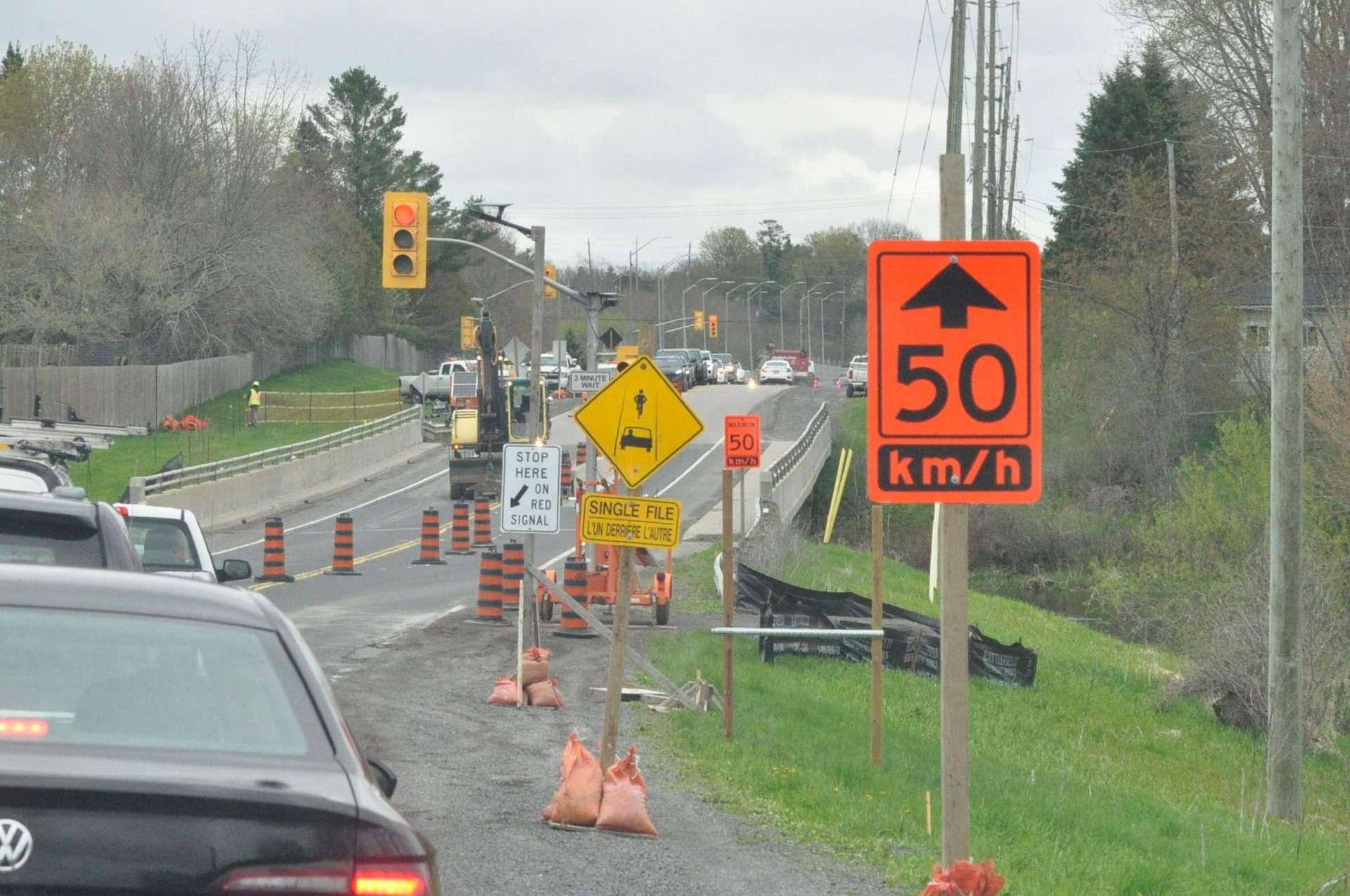 The following is a selection of the most significant road closures and expected traffic delays in and around the city of Kingston for the week ending Oct. 6, 2023. Full lists of closures and delays provided by the City of Kingston and the MTO can be viewed here and here.
Drivers should expect delays at Bath Road and Queen Mary for the Utilities Kingston NETS project. 
Bayridge Drive from Woodbine to Cataraqui Woods will see delays until November 30 for Phase 1 of the Bayridge Drive cycling and pedestrian improvements.
Drivers can expect a lane closure along Duff Street, from Patrick to the end of Duff, until Oct. 15 to facilitate the replacement of a watermain on Duff St.
King Street from Place D'Armes to The Tragically Hip Way will be closed on Oct. 2 from 7 a.m. to 5 p.m. for a crane to work on the cooling tower at the Leon's Centre, and again from Oct. 5 at 12:01 a.m. to Oct. 6 at 2 a.m. for the Wiggles event at the Leon's Centre. 
Delays can be expected along Mona Drive at the intersections with Humberside and Lynwood until Oct 6 while contractors are completing intersection upgrades.
Patrick Street will be closed from Railway to Fraser daily until Oct. 5 from 7 a.m. to 5:30 p.m. each day for the installation of utilities. 
Delays are expected along Princess Street from Collins Bay to Bayridge until Oct. 31 for the construction of new sidewalks and traffic signals along Princess Street. Please note that one lane of traffic will be maintained in each direction at all times on Princess St. 
Drivers can expect a closure along Queen Mary Road from Notch Hill to Greenview for the Utilities Kingston NETS project.
The intersection of Sir John A. MacDonald Blvd and Johnson Street will experience delays for the installation of a new high-pressure gas line for Utilities Kingston.
Sydenham Street will be closed from Queen to Princess until Oct. 12 for Downtown Kingston activations.
Taylor Kidd Boulevard from Collins Bay Road to 100 metres West of Collins Creek Bridge will experience a lane closure until Nov. 15 for the Collins Creek Bridge Rehabilitation project. Please note, Taylor Kidd will require the reduction from a two-lane to a single-lane roadway and the lane closures will be controlled with Temporary Traffic Signals for the duration of the project.
University Avenue will be closed from Union to Earl until Dec. 22, 2023, at 7 p.m. for the removal of debris from demolition and concrete deliveries at the Queen's John Deutsch University Centre project.
Delays are expected along Westbrook Road from Princess to Windemere until Oct. 31 for the construction of new sidewalks and road rehabilitation. 
The Rideau Trail will be closed from Queen Mary to Parkway for crews to replace the sanitary main, install shoring and build a new gravel pathway. The City did not provide an expected completion date for this project.
Parking Disruptions
The Chown Memorial Parking Structure Restoration project is underway. The work will take place throughout all levels of the building, and will include efforts such as routine structural maintenance, renewal of waterproofing materials and upgrades to the building's mechanical/electrical systems. The work is expected to conclude in late December. 
The work will be completed in phases to allow the building to remain open to public parking for the duration of the project. Phased work areas will occupy a maximum of 40 per cent of the available parking stalls at a time. Up to 180 spaces will be out of commission. There is parking availability at the Hanson Memorial and Robert Bruce Memorial parking garages in the two adjacent blocks to the east.
The Robert Bruce Memorial Parking Garage second level will be closed from Thursday, Sept. 28 through Monday, Oct. 2 for maintenance. There is parking availability at the Hanson Memorial garage in the adjacent block to the east.

Centre 70 – Public EV charging stations at Centre 70 will be unavailable until late October 2023 due to the seasonal relocation of the sleeping cabins to this site. The City apologizes for the temporary inconvenience.
Lower Brewers Swing Bridge – closed until further notice. Temporary bridge closure signs and detour signs have been installed. Parks Canada is continuing with their efforts to replace the bridge.