Raptors' Larry O'Brien Championship Trophy coming to Kingston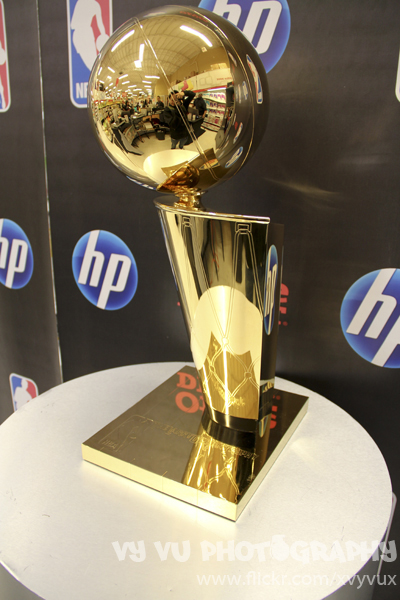 Attention all Raptors fans! Tomorrow is your chance to see the Larry O'Brien Championship Trophy up close and in person!
The Toronto Raptors and the Dairy Farmers of Ontario are bringing the Larry O'Brien Championship Trophy to Kingston on Friday, Oct. 4, 2019 as part of the MilkUP Trophy Tour. Kingston is one of just eight Ontario cities the Tour will visit, offering Kingstonians the opportunity to get up close and take photos with the iconic Trophy, which was awarded to the Toronto Raptors for the first time in franchise history after the team won the 2019 NBA Championship.
The Tour also includes interactive activities, opportunities to win prizes, and fans can enter to win a pair of tickets to the Raptors home opener on Tuesday, Oct. 22, 2019. That event will see the Raptors take on the New Orleans Pelicans, as well as celebrate the Raptors' championship with a banner raising and ring ceremony. According to organizers, fans who bring proof of purchase from a milk product purchased within the last seven days can double their chance of winning.
"As we launch the MilkUP youth-focused sports program with the purpose of helping youth across Ontario build a strong foundation with the right nutritional start, we wanted to inspire the youth and dedicated fans alike across our province and celebrate the historic playoff victory run from the Toronto Raptors," said Sean Bredt, Chief Marketing and Business Development Officer for the Dairy Farmers of Ontario.
MilkUP is a program from the Dairy Farmers of Ontario that is focused on young athletes with the goal of educating, inspiring, and motivating teams to build a strong nutritional foundation with milk.
The Tour comes to Springer Market Square from 10 a.m. to 6 p.m. on Friday, Oct. 4, 2019, and is free to the public.