Queen's University student workers express distress at #ValueOurWork rally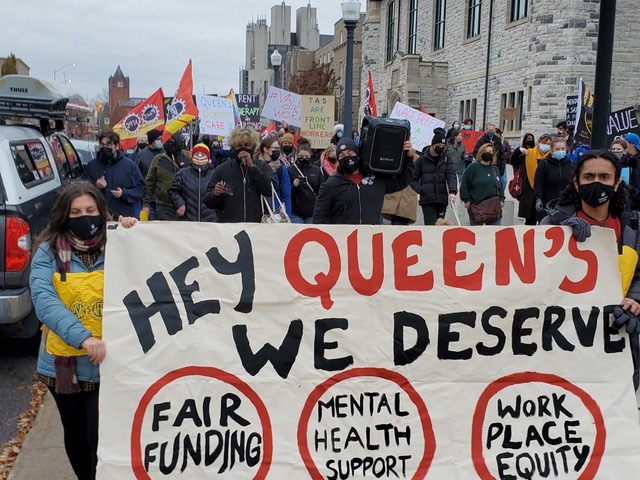 On Thursday, Nov. 25, 2021, at 12:30 PM, Queen's graduate student workers and their supporters gathered outside Stauffer Library for a #ValueOurWork rally, demanding a meaningful response to the concerns of the Public Service Alliance of Canada (PSAC) Local 901 at Queen's University. 
Teaching assistants, research assistants, and teaching fellows are integral to the quality of research and education in any institute, and their well-being is crucial to producing high-quality academic discourse, the union asserts.
"Graduate student workers are often the first point of contact for undergraduate students and the link between undergraduates and faculty. We are teachers and students, all while producing our own unique and independent academic research. Our success is Queen's success." said PSAC 901 President Astrid Hobill.
Due to low funding and increasing cost of living, many student workers have to face hardship during their course of study at Queen's, Hobill and her colleagues explained. The pandemic and associated mental health difficulties during the school year have added more severity to the equation. 
The PSAC Local 901's demands revolve around providing mental health supports, accommodations, action towards sexual violence prevention, and the urgent need for anti-racist education and action at Queen's University. For these, the action items include: 
Paid and mandatory sexual violence prevention training.
Paid and mandatory anti-racism training.
Processes of anti-racist pedagogical review.
Clearer and more accessible accommodation processes.
Better preventive and responsive mental health supports.
Students claim that they overwork on short-term contracts, while their actual rate of pay is decent per hour. 
"We often far exceed the number of hours on our contract to support our undergraduate students properly," said Hobill.
With the rising cost of living and rents, students find themselves at a stalemate between burnout from work and/or mental health issues for many. One student in support of the union's demands went so far as to say, "Queen's mental health supports for timely care are abysmal — even worse for graduate students in general, and specifically BIPOC students or LGTBQIA2S+ students, which has led to the demands around mental health." 
"I really love my department and the professors I work for, but I have always felt exploited as a TA for this University, and COVID-19 has exacerbated it," continued the student, who prefers to remain anonymous.
"Our time is undervalued; the turnaround time on too many assignments is unrealistic, leaving no space for work-life balance. Also, because of the online shift, professors are difficult to get in touch with, often leaving us to deal with urgent student issues — all of which leads to TA exploitation."
The University is currently in discussions with PSAC Local 901 regarding their current demands and hopes to continue negotiations. 
"The University is currently in collective bargaining with the Public Service Alliance of Canada (PSAC) Unit 1, which represents University Graduate Teaching Assistants, Graduate Teaching Fellows, Graduate Research Assistants, Law (Juris Doctor) and Medical (Doctor of Medicine) Teaching Assistants," said Michael Villeneuve, Director (Faculty Relations) in the Queen's University Faculty Office.
"These graduate student employees, that are paid hourly, work no more than an average of 10 hours per week. The University values their contributions, as it does all its employees, and remains committed to the collective bargaining process. We look forward to continuing the discussion through the collective bargaining process," he added. 
A recent survey done by the Society of Graduate and Professional Students (SGPS) at Queen's, which collected responses from October to November 2021 from students and was completed by 667 (13 per cent) of total members, shed light on a few essential needs. In this survey, 72 per cent of respondents expressed a desire for the University to provide bursaries to subsidize private, professional therapy. 
On average, 43 per cent of respondents agreed that the University should also diversify counsellors on staff, including those with migrant, racial, Indigenous, and LGBTQ2S* lived experience. 
"Our members' input serves as further evidence supporting the reasonable demands of the PSAC Local 901, which call on the university to prioritize mental health and the safety and well-being of student workers." the SGPS said in a statement.
Seeing the mental health impact of the pandemic on graduate students made me show up today," – Hannah Ascough, Ph.D. candidate in Global Development Studies 
Another significant concern raised by students was the funding for the fifth year of their Ph.D. programs. Typically, the University and other sources only provide four-year grants; however, due to the pandemic, many students were asked to pivot their research goals along with excessive mental health implications and stresses while completing academic requirements, the students said.
"Fifth-year funding is a human rights issue rather than a funding issue — we need Fifth-year funding to finish our research. We need support to finish," said Sabrina Masud, Ph.D. Candidate in the English Department at Queen's. 
While funding remains the central issue, the students demand resources to deal with the mental health issues related to less financial support, racism, issues around sexual misconduct, and the pandemic.
For more information from PSAC Local 901 on their organization and demands in the ongoing collective bargaining with Queen's University, visit the PSAC Local 901 website here.