Positive COVID-19 case identified at Providence Care Hospital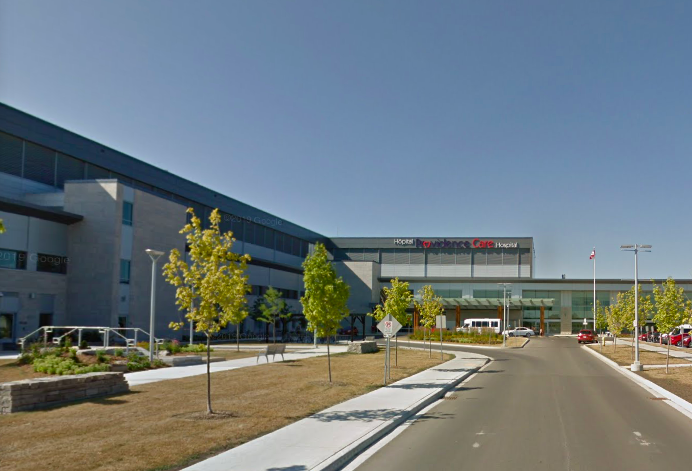 A patient admitted to Providence Care Hospital on Thursday, Dec. 10, 2020 10 has tested positive for COVID-19.
A release from Providence Care stated that on Thursday, Dec. 17, 2020 the patient tested positive for the virus while still in their quarantine period.
COVID-19 admissions policy at Providence Care Hospital require all new admissions to quarantine for a minimum of eight days, and be tested on day seven. According to the release, the individual was swabbed on December 16, and the hospital received confirmation of the positive test result today, Thursday, Dec. 17, 2020.
A quarantine alert has been declared on one of the units at Providence Care Hospital and all patients, clients and families on the impacted unit have been notified, Providence Care said in the release.
Because the confirmed case was already on quarantine measures, the hospital believes there is a low risk of the virus spreading to other patients and staff.
"We have strict protocols in place when a patient is admitted to the hospital. They are immediately placed on quarantine and staff must wear the appropriate personal protective equipment (PPE) during every interaction. The patient must also remain in their room for the entire quarantine period. Because we have these protocols in place, the patient had no interaction with any other patient or client on the unit, so the risk of the virus spreading is low. We are not taking any chances and are monitoring the situation very closely," explained Heather Candon, Providence Care's Director of Infection Prevention and Control.
Working in collaboration with Kingston, Frontenac, Lennox and Addington (KFL&A) Public Health, Providence Care has also reached out to all patients, clients and their loved ones at the hospital to inform them about the positive case, according to the release.
An investigation is underway to determine how the patient contracted the virus, and the patient has been transferred to Kingston Health Sciences Centre's Kingston General Hospital site.
According to the release, the impacted unit will remain on quarantine for a minimum of 14 days until the investigation is complete.
For confidentiality reasons Providence Care says they are not able to share any identifiable or additional information about this positive case.
"Given the rise of COVID-19 cases in our region, we were prepared for this. Our teams are working around the clock, reviewing our protective policies and changing them to make sure they keep the people we serve and our staff safe. That has been our top priority since the start of this pandemic and continues to be," said Cathy Szabo, Providence Care President and CEO.
To help limit the spread of infection the hospital has implemented several additional measures including:
Infection Prevention and Control and Occupational Health, Safety and Wellness teams are investigating and completing contact tracing for individuals who had close contact with the confirmed case.
All staff, patients and clients identified as having met the criteria for close contact with the confirmed case will be contacted and placed on quarantine to monitor for signs and symptoms over the next 14 days.
Families/loved ones have been contacted to inform them about the impacted unit being on quarantine.
Staff is closely monitoring patients in order to identify potential cases early.
The impacted unit remains locked, is closed to admissions and designated visitors are temporarily prohibited. Only essential visitors (those with a loved one nearing end-of-life) are permitted to visit.
Enhanced housekeeping measures are in place including extra cleaning of all high touch surfaces and common areas.
Staff must practice safe physical distancing while at work and during breaks.
Designated visitors are still permitted on other units at the hospital, but they must pass screening protocols before entering, sign in, wear a mask for the duration of their visit, and practice physical distancing. Click here for more information about visitor protocols at Providence Care Hospital.
Quick Facts
At this time Providence Care Hospital does not meet the criteria for declaring an outbreak. However, the quarantine measures in place are the exact same measures had an outbreak been declared.
All Providence Care staff, at all sites, is actively screened daily for COVID-19.
Universal masking has been in place for all Providence Care sites since July 21, 2020. Masks may only be removed when eating or drinking.
All new admissions to Providence Care Hospital from the community are tested for COVID-19 upon arrival.
All new admissions from other healthcare facilities are tested for COVID-19 prior to their transfer. They may only be transferred to the hospital if their test result is negative.
All new admissions must complete a mandatory quarantine period of a minimum of eight days. All new admissions must be re-tested for COVID-19 on day seven of their quarantine, even if their original test result upon arrival was negative, to complete their quarantine period.
Providence Care Hospital may require a full 14-day quarantine if the individual is coming from a Red or Grey (lockdown) area, returning from international travel or deemed appropriate.
About Providence Care:
Providence Care is Southeastern Ontario's leading provider of specialized care in aging, mental health and rehabilitation. The organization consists of Providence Care Hospital, Providence Manor long-term care home and more than 20 community-based support and mental health services across the region. To find out more about Providence Care, visit ProvidenceCare.ca or follow us on Facebook, Twitter and Instagram.