Police seek assistance to identify suspect in ATM theft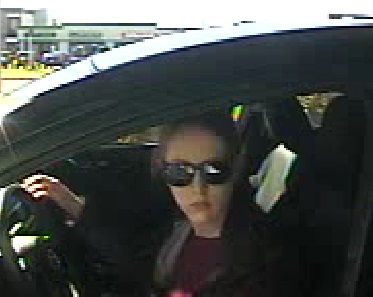 Kingston Police have released the above photos hoping the public may be able to help identify the suspect in a crime of opportunity.
On Thursday, Oct. 4, 2018, the complainant, a local resident, drove into a drive-thru Automated Teller Machine (ATM) at a bank on Gardiners Road to make a cash withdrawal. Although the complainant completed the transaction, they inadvertently drove away without taking their money, according to a press release from Kingston Police.
Shortly thereafter, a female driver, the suspect, pulled up to the ATM. She was observed exiting her car and taking the complainant's cash from the machine, police said.
Anyone with information or who might be able to identify the suspect pictured above is asked to contact Det. Graedon Schaule at 613-549-4660 ext. 6272, or via email at [email protected].
Tips can also be provided anonymously by calling the Kingston Police general number (613-549-4660 ext. 0) and asking to be anonymous, or by calling Crime Stoppers at 1-800-222-8477 (TIPS).