Parents protest at Molly Brant Elementary as doors remain unlocked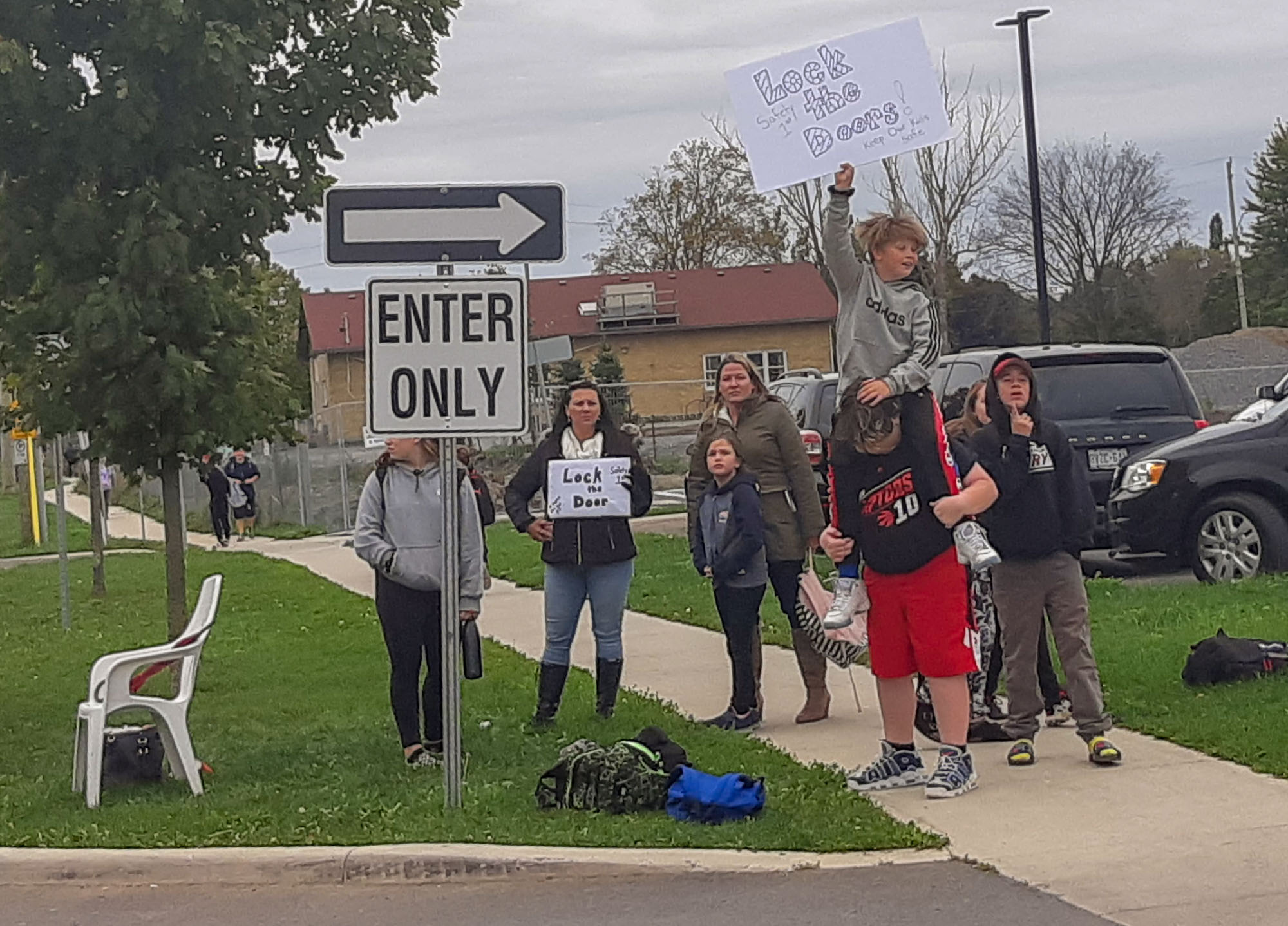 A small but determined group of parents and students gathered out front of Molly Brant Elementary School today, voicing concerns about a change that has occurred as a result of the partial withdrawal of CUPE services
"I'm sitting outside with signs, asking the principal and School Board to lock the front door," said Elizabeth Rubec, a parent of two children at the school.
"As of Monday, they've refused to use the buzzer system and have the doors wide open allowing anybody to walk into the school."
The buzzer system Rubec referred to is the standard system in place at all elementary schools throughout the Limestone District School Board (LDSB). According to the LDSB Visitors Policy, "All of our elementary schools are equipped with a Safe Welcome system which requires all external doors be locked during the school day. All visitors are required to report to the school's main entrance and request access using an intercom and buzzer system."
However, as CUPE announced the partial withdrawal of their services pending contract negotiations, a number of services attended to by CUPE workers have ceased.

"Some duties, such as sweeping of hallways or entrances and the operation of the front door buzzer in elementary schools, and clerical duties were struck duties," said Jane Douglas-Charanduk, Communications Officer with the LDSB.
"The safety and well-being of our students, and the safe operation of our schools is our top priority every day. Safety protocols are reviewed regularly. In instances involving a change to school routines, such as a withdrawal of service by staff, safety protocols are reviewed as needed, and appropriate changes are made as required."
According to Douglas-Charanduk, the front door of elementary schools throughout the Board are remaining open during the instructional day during this time of job action, and the Board and administrators continue to monitor closely.
For Rubec, that plan is unacceptable.
"Our children are supposed to be coming here to be safe every day, parents were not notified that this would be happening, they just have one little sign outside," said Rubec, noting that her daughter has potentially been suspended after she refused to return to class because she felt unsafe.
"[The Board] promised us that, with this work to rule, our children's safety would not be an issue and they wouldn't be jeopardized, but however their safety is being jeopardized every single minute of every single day that this door is open," Rubec continued.
"All I want is for them to keep the doors locked. It takes two seconds to push a button."
Rubec noted that, while she supports the educations assistants and other CUPE workers during this period of job action, she is simply asking that her children's school be safe throughout the process.
"I've started a petition for parents to sign asking them just to close the doors. I'm 100 per cent backing up all the EAs and what they're asking for, I'm just asking that our school be safe while they go through their strike or whatever. That's all I want.
According to Douglas-Charanduk, the "school safe arrival program has a number of safety measures in place," including the buzzer system, as well as cameras at the front door entrance, and sign-in procedures.
"Visitors will continue to be greeted by office staff when they enter school buildings and must sign in at the office before proceeding anywhere," Douglas-Charanduk said.
"All other exterior doors to elementary schools will continue to remain closed."
The group of protestors said they intend to return to the school and protest again on Friday, Oct. 4, 2019.
Kingstonist continues to monitor the CUPE job action situation as it pertains to local schools. We will provide more updates as new information becomes available at www.kingstonist.com.