Over 25 new doctors join Kingston Health Sciences Centre
Kingston Health Sciences Centre (KHSC) added more than 25 new doctors to its team in the 2019 calendar year, coming to Kingston from as close as Queen's University, and as far away as Europe and South America.
According to KHSC, the new doctors have varying backgrounds and areas of expertise, including in psychiatry, cardiology, surgery, neurology, and respirology.
"We are fortunate to have the ability to attract world-class academic physicians and provide them with opportunities to excel as part of amazing clinical teams, to work on innovative health research projects, and to teach and mentor the next generation of doctors, all in the beautiful and caring city of Kingston," KHSC's Chief of Staff Dr. Michael Fitzpatrick said in a statement on Tuesday, Jan. 28, 2020.
Meet some of the new doctors
Dr. Gavin Winston is an epileptologist, which is a neurologist specializing in epilepsy. Winston relocated to Kingston from the United Kingdom in May of 2019, and enjoys living and working here due to Kingston's unique position as a hub of medical and health care innovation that isn't one of the larger metropolitan cities. Winston has been working in the epilepsy monitoring unit at the Kingston General Hospital (KGH) site, as well as in southeastern Ontario's first seizure clinic, which he helped establish at the Hotel Dieu Hospital (HDH) site.
"It's ideal to be able to live in a city the size of Kingston but still have the professional opportunities often associated with bigger centres, and be part of an expanding epilepsy team," Winston said.
Respirologist Dr. Juan Pablo de Torres Tajes relocated to Kingston from Spain with his wife. His decision to take a position in Kingston was greatly impacted by the opportunity to work with Dr. Denis O'Donnell. O'Donnell's globally recognized work on respiratory diseases, including chronic obstructive pulmonary disease (COPD), was well known to de Torres, and a key factor in accepting his position here in Kingston.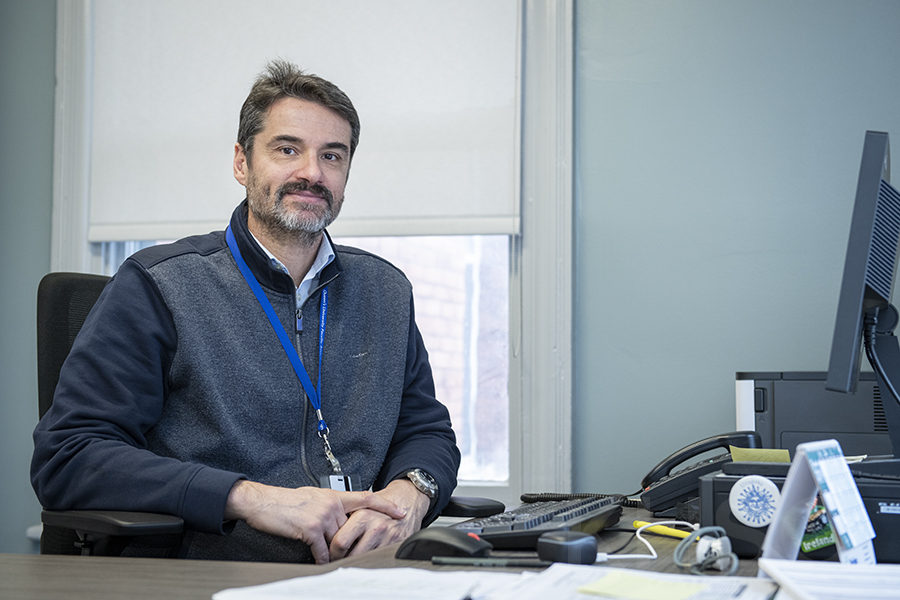 Psychiatrist Dr. Nazanin Alavi had been working as at the Centre for Addictions and Mental Health in Toronto for a few years when the opportunity to return Kingston arose. Having completed her graduate medical education in Kingston, she couldn't pass it up. Alavi has been a psychiatrist in KHSC's adult mental health program at the HDH site since April 2019. For her, having the support of the Queen's Department of Psychiatry while also being able to continue her research on online psychotherapy for people living with depression, anxiety, bipolar disorder and post-traumatic stress disorder (PTSD) made the decision to return to Kingston an easy one.
"The team at KHSC is really skilled and enthusiastic, which is vital to improving the care we provide to patients and families," Alavi explained.
Alavi also leads emergency psychiatry at KHSC's KGH site, and credits the team of nurses, social workers and doctors in the emergency department for "working well together to ensure people get the care they need at a critical time in their lives."
KHSC brought another Queen's graduate on board in 2019 when Dr. Laura Gaudet joined their ranks. Gaudet completed her graduate training in obstetrics and gynecology in Kingston and had most recently been practicing in Ottawa. She relocated to Kingston with her husband, four children, and her family's sheep farm – and the fact her new location is less than 30 minutes from work has benefited her family greatly she said.
"I'm excited about the research opportunities my new position brings," said Dr. Gaudet. "We strive to provide the best possible care, and as we learn more, questions arise about what is the best possible care; we need research to answer those questions in the best interest of patients and families."
KHSC welcomes all of their new doctors, who've helped bolster their team on top of the over 20 doctors who joined KHSC in 2018.
"Recruiting doctors can be very competitive," said Dr. Fitzpatrick. "I'm proud to work in a collegial environment and live in such a wonderful community. I'm also very pleased with the collaborative efforts of KHSC, Queen's and the Southeastern Academic Medical Organization to attract the best and brightest."