Outdoor Indigenous gathering space officially opens at Queen's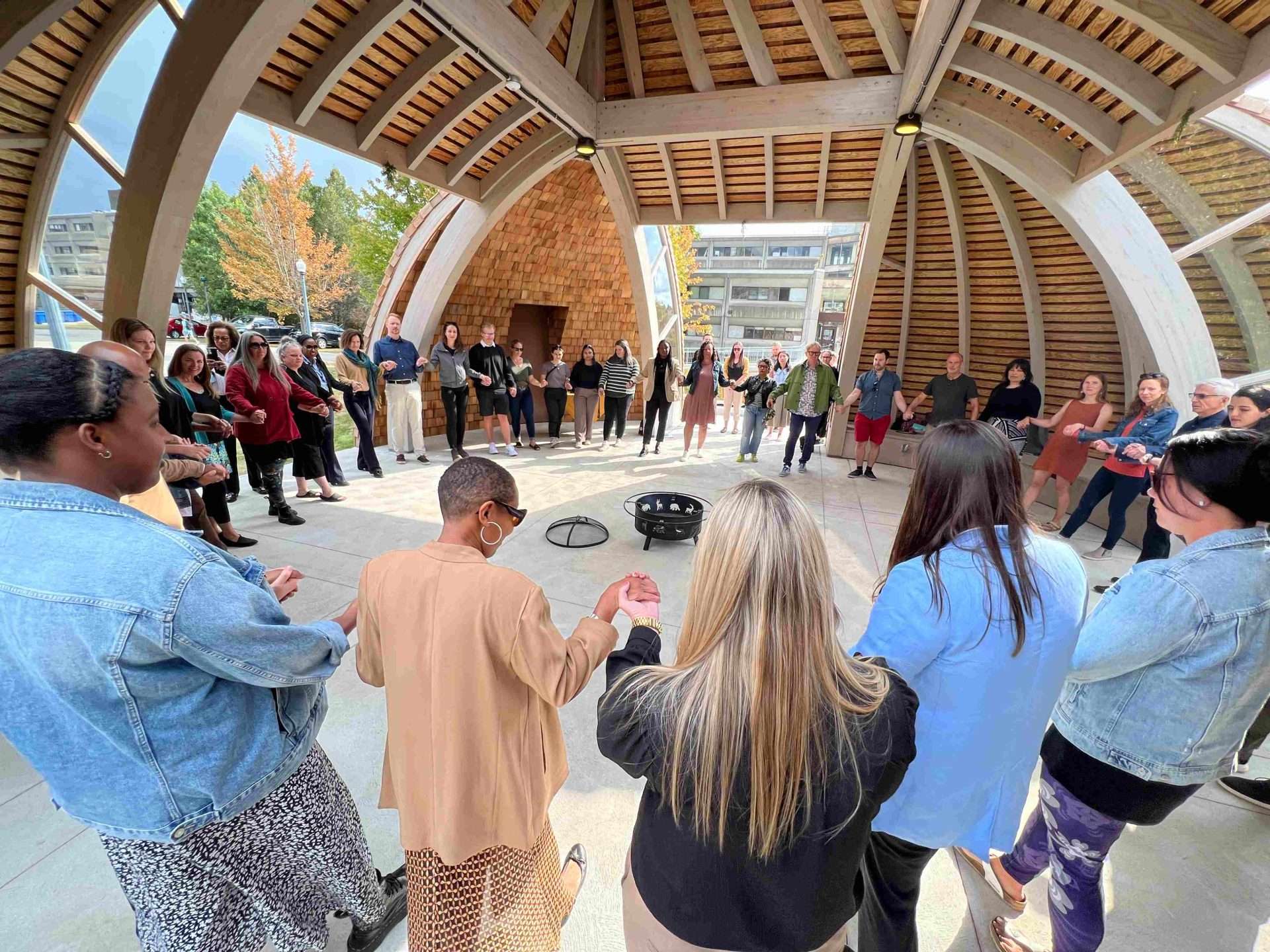 On Monday, Sep. 18, 2023, the new Outdoor Indigenous Gathering Space at Queen's University had its official opening ceremony, attended by university staff, special guests, and Indigenous representatives. According to Kandice Baptiste, Associate Director of Queen's University's Office of Indigenous Initiatives, Monday's grand opening was a long time coming.
Baptiste said, "This [project] has been going on since before the pandemic. COVID really delayed the opening of things, but this has been almost five years in the making. We're really proud to be able to unveil it… and have it be an active [and] engaging space on campus."
The outdoor space, located in the southeast corner of Tindall Field, will host year-round programming for members of the university's Indigenous communities, including ceremonial fires and experiences in Indigenous teaching and learning. "It's both an event space and a teaching space… to be set up in a circle for faculty to be able to teach classes with students all together in a much more informal conversational style, rather than lecture-style teaching," Baptiste explained.
The Associate Director added that the open layout of the space should support Indigenous teaching styles, which practice an "equal conversational style" as opposed to the traditional "top-down approach" common in most western academic settings. The outdoor gathering space was also built in close proximity to the university's Welcoming Room, an Indigenous-focused classroom located in Mackintosh-Corry Hall.
In addition to the important role the outdoor gathering space will play in bringing together members of the university's Indigenous community, Baptiste also noted the structure will be an inclusive space for other Indigenous communities throughout the region. "We hope that many Indigenous communities see themselves reflected here in this space as a symbol of the territory and a symbol of our commitment to the land."
From an architectural standpoint, the structure's design makes use of Indigenous symbols and other elements; for example, the entryways are positioned to coincide with the rising and setting of the sun. Eladia Smoke | KaaSheGaaBaaWeak, whose firm Smoke Architecture Inc. was tasked with designing the structure, said working with the University's facilities department was an exercise in "mutual learning."
Smoke explained, "Whenever we come into an institutional environment, there's always a process of mutual learning because often institutions have been built on western traditions. They aren't really internally familiar with Indigenous ways of doing things, Indigenous belief systems, what matters to us, and what we need in place to do our work."
The idea of building an outdoor gathering space on campus was first envisioned by Kanonhsyonne-Janice Hill, the university's Associate Vice-Principal (Indigenous Initiatives and Reconciliation), as part of the school's commitment to Truth and Reconciliation. For years, Indigenous staff at Queen's worked to make the space a reality, despite adversity presented by factors such as the COVID-19 pandemic and the rising costs of building materials. Despite some "bumps in the road," everyone responsible for the project persisted, in recognition of the significance of such a space.
Smoke remarked, "The power of this place comes from the fact that it needs to be here to help people do work. And that's why it's here. That's why it exists. There were a lot of bumps on the road, [but] we're still here. It needs to be here."
While Monday's opening ceremony was a celebratory affair that included a ceremonial fire, singing, and a circle dance, there was a certain emotional weight to the event as well, especially for people who have not always felt respected or included at academic institutions. For Allen Doxtator – Te ho wis kwûnt, a cultural advisor at the university, the opening of the outdoor gathering space is a sign that Indigenous educational traditions are finally starting to be respected and acknowledged by institutions like Queen's University. "We're getting recognized for our own knowledge, our own way of being, and that's what's important. That's why I'm so happy," he said.
Doxtator said he hopes non-Indigenous people will also come to the space to learn more about Indigenous cultures. "It's hard for non-native people," he said, "because they're afraid of us because they don't know us, they don't know the knowledge. It's going to be foreign for them to come and learn, [but the space] is going to be there for them."