OPP investigating violent, dangerous incidents involving motorcycle clubs
Two separate incidents involving the Outlaws Motorcycle Club (Outlaws) and the Loners Motorcycle Club (Loners) have resulted in police investigations this month.
According to a release from the Ontario Provincial Police (OPP), the incidents took place on July 8 and 10, 2023, and the OPP Biker Enforcement Unit (BEU) is assisting with the two investigations.
One incident, involving a shooting and assaults with edged weapons (knives), occurred on Saturday, Jul. 8, 2023. Cornwall Police Service is leading this investigation. The other incident, which occurred around 2 a.m. Monday, Jul. 10, 2023, is being investigated by Brockville Police Service. This involves a suspected arson at a commercial building.
The OPP noted that members of the Outlaws are known to carry weapons and engage in violent behaviour. If anyone encounters an Outlaws member, police ask that the public not approach them.
"Ontarians are also reminded of the dangers of wearing gang-related clothing or paraphernalia. In addition to supporting illegal activities by purchasing these items, you may also put yourself at risk of being targeted by rival [gangs]," the OPP said.
"While 99 per cent of motorcycle enthusiasts are law-abiding, [Outlaws] members believe that they are the one per cent that live outside the law. [Outlaws] are criminal organizations whose activities cause harm and victimization in communities across Ontario. These profit-driven activities include fraud, drug trafficking, human trafficking, assaults, intimidation and murder."
According to the release, the BEU continues to tackle the criminal activities of Outlaws through an integrated, intelligence-led approach, which has resulted in numerous successful investigations. The BEU monitors and provides support to frontline police officers at most large public events where Outlaws are present.
Earlier this month, the BEU made Loners-related arrests, according to a release from the Brockville OPP. On Wednesday, Jul. 5, 2023, two people were arrested in North Augusta Township in Leeds and Grenville County in relation to suspected drug trafficking. Police seized suspected cocaine, a large quantity of Canadian currency, and "items consistent with drug trafficking" from a home in North Augusta while executing a search warrant. According to the OPP, Eric St. Louis, age 34, of Ottawa — whom police identified as a member of the Loners — was jointly charged along with Jessica Rose, age 31, of Augusta Township. The two were charged with possession of cocaine for the purpose of trafficking, and possession of property obtained by crime over $5,000. Police detailed that the following items were also seized:
over $11,000 in Canadian currency;
suspected cocaine;
items consistent with drug trafficking;
Loners Motorcycle Club vest which contained ballistic panels;
an additional Loners Motorcycle Club vest;
Loners Motorcycle Club jewelry; and,
one vehicle.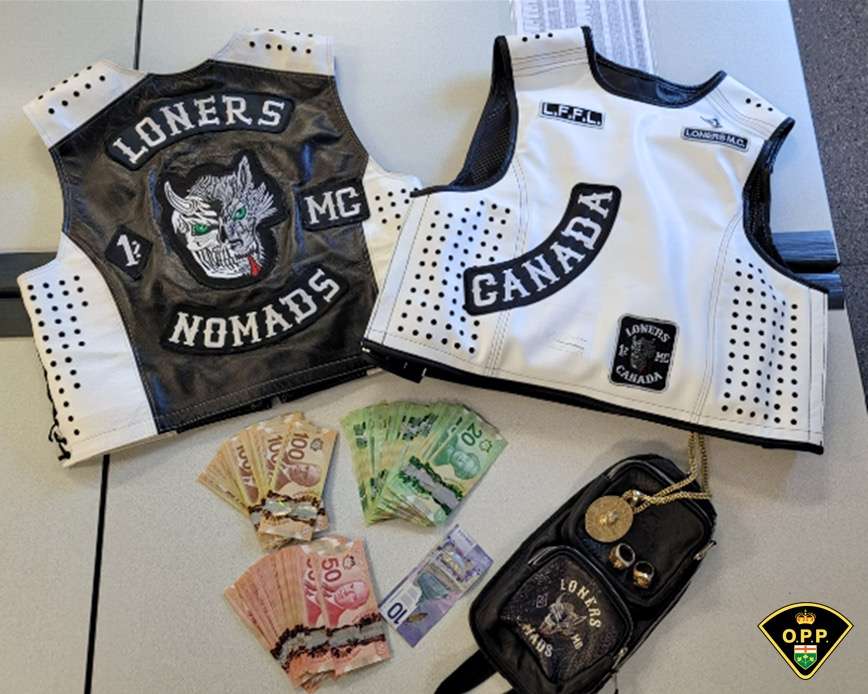 The OPP remind the public that if anyone is in immediate danger, call 911. To report suspicious or illegal activity, call the Outlaw Biker Hotline at 1-877-660-4321. Those who wish to remain anonymous may call Crime Stoppers at 1-800-222-8477 (TIPS).