OPP investigating fatal collision on Highway 15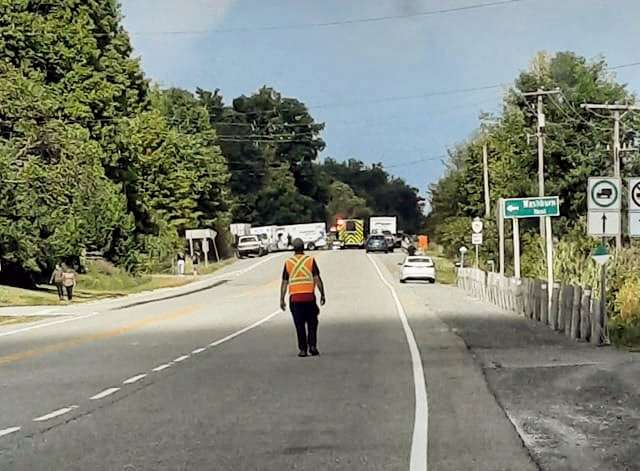 A collision on Sunday afternoon has taken the life of a 40-year-old Kingston mother, according to police and the family of the deceased.
At approximately 2:25 p.m. on Sunday, Sept. 17, 2023, two vehicles collided on Highway 15 at Washburn Road. Multiple witnesses reported the incident to be a head-on collision of vehicles that had been travelling in opposite directions, however, police have not released information around the circumstances of the collision at this time.
The stretch of Highway 15 between Sand Hill Road and Pine Grove Road was quickly closed down by police, with both Kingston Police and the Ontario Provincial Police (OPP) responding to the scene, along with Kingston Fire & Rescue and Frontenac Paramedics. Kingston Police announced the road closure on social media at approximately 2:55 p.m., indicating the incident was a "serious collision." The OPP have taken the lead in the police investigation, and announced that the collision was fatal in a press release on Monday, Sept. 18, 2023.
"With the assistance of Technical Collision Investigators and a Reconstructionist, the investigation continues. The highway was closed for a period of time and has been reopened," the Frontenac County Detachment of the OPP said.
"A 40-year-old driver from Kingston was pronounced deceased as a result."
While police have not identified the deceased, numerous people on social media have been circulating a GoFundMe campaign, which indicates Kathleen "Katie" Hogarth passed away following "an accident along a stretch of Highway 15, just outside of Kingston," on Sunday, Sept. 17, 2023. Organized by Ashley Crowder, sister-in-law to Hogarth, the GoFundMe states that Hogarth was with her husband, Michael, and their twin daughters, Lily and Ivy, in one of the two vehicles involved in the collision.
"Loved by so many, she had the biggest smile and an even bigger heart. An amazing mother, daughter, colleague and friend to so many. She loved deeply, and adored her twin girls," Crowder wrote on GoFundMe.
This information was corroborated in a Facebook post by Michael Crowder-Gard, posted on Monday, Sept. 18, 2023.
"This is the hardest thing I will ever have to do. Yesterday, the twins, Katie and I were involved in a fatal head on collision on highway 15," Crowder-Gard wrote on social media.
"Yesterday, I lost my best friend, my twin girls' mother and the love of my life. Katie meant the world to us and everyone who came across her. Our families are lost without her and this has hit harder than anything in my life I've ever experienced. Healing without her here will be extremely difficult. From the moment I was given the bad news, the one thing they assured me, Katie did not suffer," he continued.
"Going forward, I am stubborn on accepting help in my life. But I still need all the support for the girls while I heal as well from the impacts of the accident. We will miss her dearly. Her smile and presence will always be felt when looking at the twins. We love you, and always will Katie."
Kingstonist has inquired with the OPP about the circumstances of the collision. Further coverage will be provided if/when more information becomes available.