Opening for business when everything is closed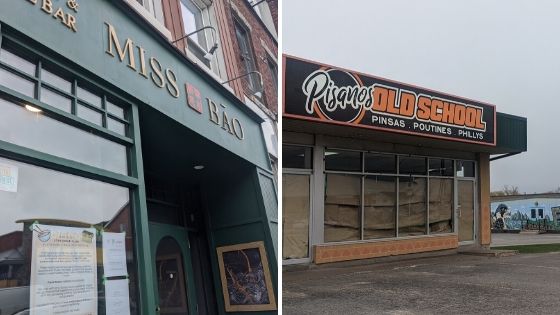 It is no secret that Kingston, Ontario, Canada and the rest of the world have taken a huge economic hit because of the COVID-19 pandemic.
The stock market has crashed and the unemployment rates have spiked to historical highs. Businesses that have been established for multiple decades are struggling to stay afloat, and are even shutting their doors for good. But what happens when a business's opening ceremony was supposed to be the week everything shut down? How do you navigate such a changing scene before you have a chance to establish yourself? The Kingstonist sat down with two new restaurant owners to discuss how they are managing in these unprecedented times.
Noele Murano owns Gino's pizza and has recently founded Pisanos: Old School, a restaurant that pays homage to old school recipes with a modern twist, with fare that mainly focuses on Philly Cheesesteaks, gourmet hamburgers and hotdogs, poutines and pinzas.
Zach Fang is new to Kingston and wanted to change up the food scene on Princess Street. His restaurant, Miss Bao, is an Asian Fusion restaurant that plays with traditional Asian cuisine and mixes it with more Western recipes (you can read more about their zero-waste model here).
Q&A — New business owners discuss operations during the pandemic
What was your original start date?
NM: My original start date was the first week of March.
ZF: We have the worst luck in the world, our Grand Opening was supposed to be the week everything shut down.
What was your business model before the pandemic?
NM: We are right next to Frontenac Secondary School and right off of Bath Road so we were relying on a pretty heavy lunch crowd of students and workers.
ZF: We wanted to create something Kingston has never seen before. We are both young generation restaurant owners. We want to create something Kingston has never seen from a culinary perspective and an operational perspective. We're focusing on the Asian fusion aspect. We are using Asian-inspired recipes to create dishes that are inspired by Italian and French cooking techniques. We want to make it nice and presentable. From the operational side we are very proud to be a minimal waste restaurant.Our fundamental want in starting a restaurant was tackling food waste.
How have you had to adapt your business model due to the pandemic?
NM: Right now we are focusing on all of the delivery services. Uber Eats, Skip the Dishes, Door Dash, all of those. I am using my own drivers (from Gino's) and starting contactless delivery. We have also had to totally rearrange the front lobby and stuff like that and make it safe to meet all the requirements. Right now to help, because rent doesn't stop, I have been selling all-purpose flour and yeast because you can't find them in the grocery store.
ZF: We don't believe in take out or delivery. The market is dominated by Uber Eats and Door dash and I am not afraid to say this, but they are leeches. They suck the money right out of the restaurant owner. Also the packaging and the fuel that take-out and delivery use is very unsustainable. Our theme also involves plating and delivery completely ruins that. So to combat this we have started Meal Boxes. Each week we prepare the ingredients and film tutorials on how to make our meals at home. This promotes creativity and sustainability. This also keeps our servers and kitchen staff employed because each server delivers or hands out the meal boxes and our kitchen staff prepares and tests them. We are trying to stay true to our soul. 
What has been the most difficult thing about trying to open?
NM: The most difficult thing is probably the supply chain trying to maintain value. At this time with shortages on products, I've had to bounce around from supplier to supplier because our menu here is quite unique. Our suppliers have been great, but sometimes they'll be short on something or they won't be exactly to our specs. It has been difficult, but we have gotten around it. But with the health regulations it's a whole different way of working. I'd rather carry on with a limited menu and slowly introduce things until it gets back to normal. Also, the week that we got our business license and started pushing through with fire inspections and all of that, everything got halted.
ZF: Before the pandemic, we always prided ourselves in being a locally-sourced restaurant. We are trying our best, but the demand is very high right now. We try our best to disclose the Meal Box ingredients, but it changes so often that we have to work with what we have. Another thing is that Kingston has so many hospitality groups and we haven't had a chance to fully open so we are at a distinct disadvantage. But this is the biggest part that I want to raise awareness to. As a new business, we are not eligible for any benefits. The subsidies are based on your 2019 revenue but we don't have any so we do not qualify. If we made $1 that is more than last year's revenue so all of a sudden we are not eligible for the nation's biggest loans.
What has been the most surprising thing through all of this? 
NM: The community support. Especially through social media. The people who I know on social media and the people that I don't know. The way that the community has supported us and shared the positive things that we are doing like going to the food bank and stuff, right down to wanting to buy the merchandise for the restaurant that hasn't even started yet. And how our community has been very good at staying home and following the rules for the most part.
ZF: I guess the supply chains have surprised me the most. I never expected the supply chain to see a shortage of certain items, to be honest. From the bottom of my heart, in Canada, our supply chain is so robust and so many rich natural resources and land.
What are your next steps?
NM: Keeping the value for everyone and creating jobs for team members and moving to open this location. I want to get this open and start serving the best food I can.
ZF: All we can do is stay hopeful and continue to make food for people to enjoy.
For more information on Miss Bao and their Miss Bao Stay Home Club Meal Box options, click here. For more information on Pisanos: Old School and their current offerings, click here.
---
Jemma Dooreleyers is a Kingstonian who is about to enter her fourth year at Ryerson School of Journalism. She has been a contributor for the Kingstonist in the past and is excited to be a full-time intern. She has written for a number of student publications such as the Ryersonian, Kaleidoscope, the Eyeopener, Her Campus and the White Wall Review. This year, she was the Arts Editor for Ryerson Folio, a general interest magazine. She is currently back in Kingston for the time being, social distancing with her mom, a dog, and two cats.