Ontario NDP Leader in Kingston to address school reopening plans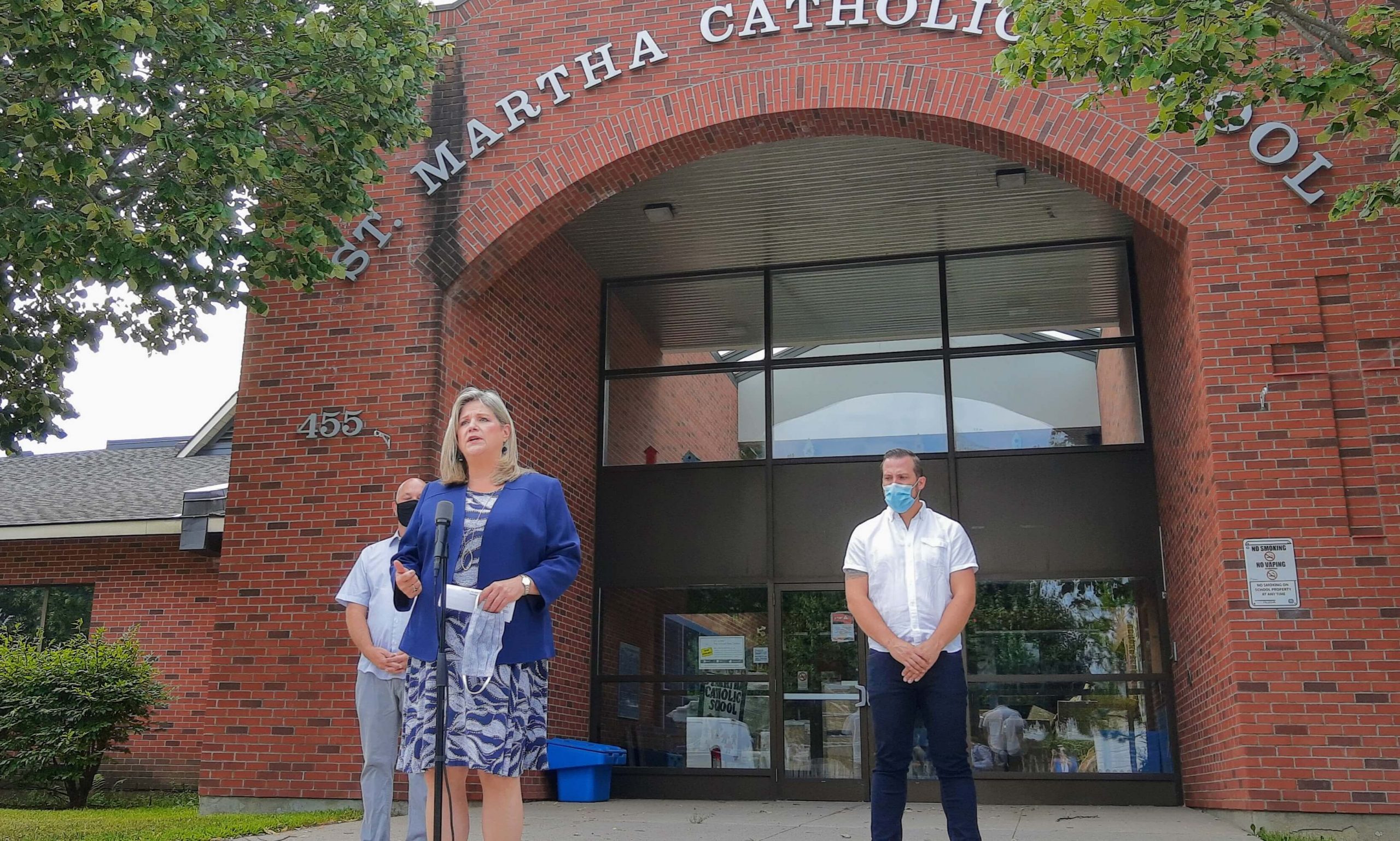 Ontario NDP and Official Opposition Leader Andrea Horwath says that school boards across the province should set the return-to-school budget, and the government should pay up.
Ontario schools are currently preparing to reopen as safely as possible in the middle of the COVID-19 pandemic. "All of the boards will know what it will take," Horwath said at a press conference in Kingston on Tuesday, Aug. 11, 2020. "They need to provide that info to the province."
"It's up to the school board to lay out the budget," she said "and it's up to the province to find the money."
Toronto Public Health and Sick Kids Hospital in Toronto have both raised concerns over the provincial government's school reopening plan since it was unveiled on Friday, Jul. 31. Under the current guidelines, Kingston-area classrooms will operate at full capacity in September, which Horwath said can sometimes mean 30 or 40 kids in a room. 
The current provincial regulations on Reopening Ontario, Stage 3 state that instructional spaces must enable students to maintain a physical distance of at least two metres from every other person, "except where necessary for teaching and instruction."
Kingston Frontenac Lennox & Addington (KFL&A) Public Health said this means that restrictions and enforcement around indoor capacity limits, which apply to other Ontario businesses, do not apply in schools.
However provincial reopening guidelines also recommend that students maintain consistent groups – or cohorts – of approximately 15. Smaller class sizes or significant uptake on remote learning would be critical to achieve this.
Horwath said the current plans provide approximately $16 thousand in additional funding per school. "You can't even hire one part-time person for $16 thousand per school," she said.
In contrast, Ontario Liberal Party leader, Steven Del Duca, suggested the Kingston region would need 270 more teaching positions to safely reopen at full capacity.
Arthur: 'Parents are terrified.'
Kingston and the Islands MPP Ian Arthur said his office is receiving hundreds of emails per week from constituents concerned about schools reopening. "Parents are terrified," he said, noting that class size is their number one concern. 
"Parents want to know that the students can be physically distanced in a classroom," he said.
"For families who have the luxury of figuring out alternatives, that's great for them," he said. "But too many families don't have that luxury. They need to be able to send their kids back to school, and to feel safe doing that."
Arthur said he fears the provincial government won't respond to criticism until an outbreak occurs at a school.
"It would be unfortunate if it takes an incident like that for them to adjust plans," he said. "They should be doing this proactively."
Kingston elementary school teacher, parent and former City councillor, Steve Garrison, spoke alongside Horwath Tuesday morning.
"We need adequate physical distancing requirements," he said "The way to do that is through small classes."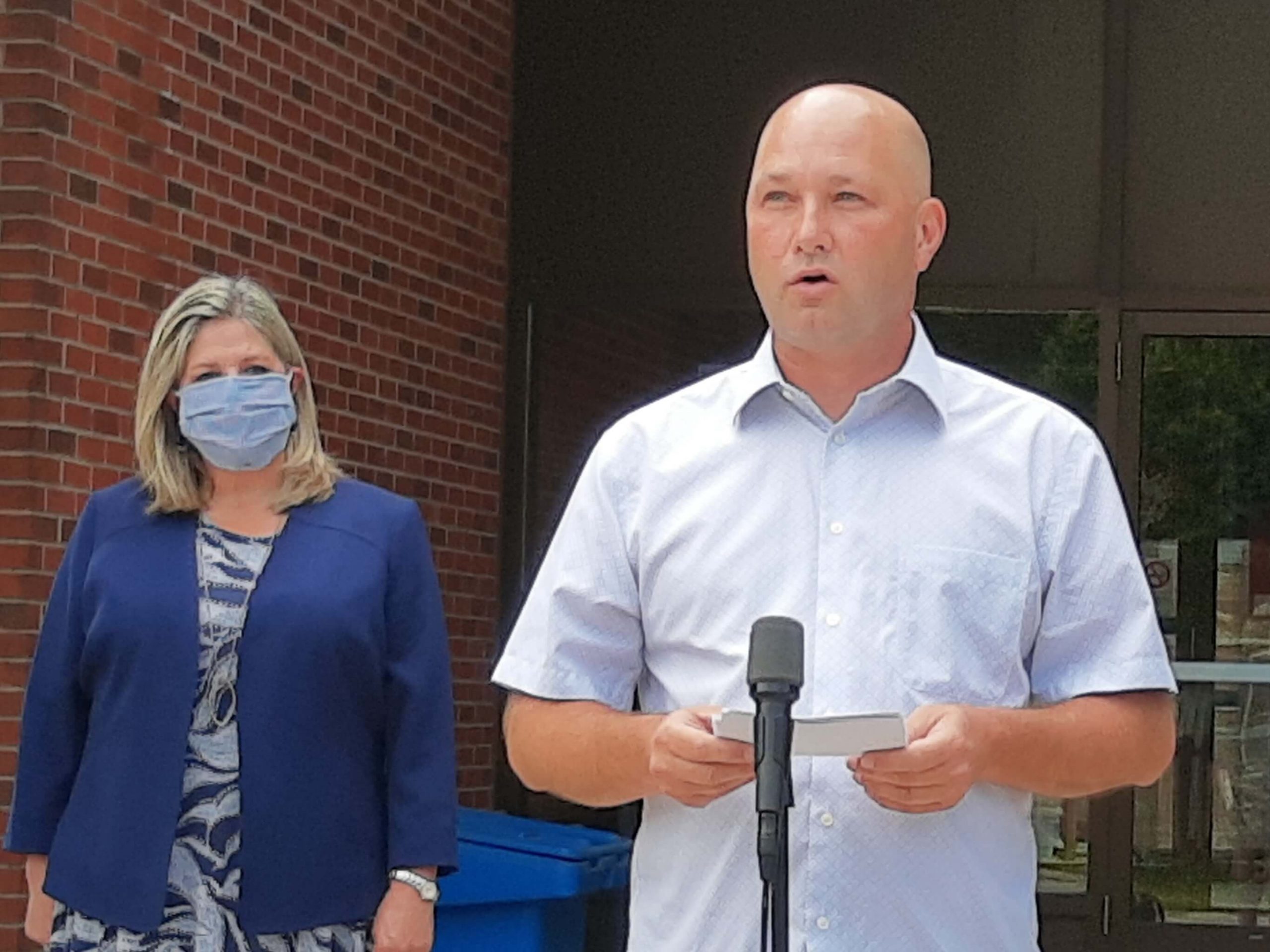 "Students and staff in schools deserve at least the same protections as people who go to the grocery store or the mall," Garrison said.
Horwath said the Ontario PCs can also make schools safer by working through the $15.9 billion backlog in school repairs. Upgrading ventilation systems and adding touchless washrooms fixtures, she said, would be two pandemic-appropriate examples.
Public Health prepared to close schools
Kingston's Medical Officer of Health Dr. Kieran Moore says that he will not hesitate to order closure of a school in the event of a COVID-19 outbreak.
"Under the Health Protection and Promotion Act, Section 2, where there's a health hazard in the community, particularly related to an infectious disease, we have the authority to write an order to take actions to reduce the risk," Dr. Moore said in public video posted Wednesday, Aug. 5, 2020.
"If there is an outbreak in a school, in multiple classrooms, we could use [that authority] to close a school for a defined period of time, so that they take particular actions to reduce the risk," he said.
"We hope that through prevention we won't have to… But families and communities should be aware that this Act has been written to enable us to protect the health of our community and we're prepared to use it if necessary."
Kingston parents, students, and school staff are still trying to get a good understanding of what the return to class in September will look like. Limestone District School Board has indicated that parents will be surveyed in mid-August to help them determine how many students to expect in-class, or learning online. 
"Moms and dads are also workers," Horwath noted. "They need to get back to work and our economy needs to get back to work. But they're being put in an untenable position of having to choose between going back to work or staying home so that their kids are safe. No parent should be put in that position."