Officer recalls the summer of '72 Millhaven escape
This article is Part 2 of a two-part series looking back on the Millhaven prison break of 1972 on the 50th anniversary of Canada's largest prison break and manhunt to date. Part 1 is available here.
---
Fifty years have passed since 14 men escaped from Millhaven Institution on the evening of Jul. 10, 1972, culminating in the largest manhunt in Canadian history. P.J. McCaffrey remembers it all. Working in the July heat, slogging through swamps and woodlands, partners both human and canine searched hundreds of square kilometres, without the benefit of computers and smartphones, to recapture the fugitives one at a time.
30 years old and in his fourth year with the Ontario Provincial Police (OPP), McCaffrey was asleep when he got the call from the Napanee detachment about the escape of 14 inmates. "[The other officers] had been pulling pranks a lot, so I said, 'What the hell? Yeah, right.'" He hung up, but a few minutes later the phone rang again: "I said, 'Geez, I told you not to bother me,'" but this time it was his Commander. "He said, 'Get your ass in here now!' I said 'OK,'" McCaffrey laughs as he recalls the experience 50 years ago.
McCaffrey goes on, "Well, I was [doing motorcycle duty] at the time, so I go in there with my bloody bike uniform on… leathers and all… and the next thing I know, I'm going through swamps. Holy… this isn't fun at all."
"Four o'clock in the morning… this guy pulls in… Ray Carson with Cloud [Cloud II, the OPP K9 tracking dog and the second of three tracking dogs named Cloud]. He says, 'I'm gonna need somebody with me.'… They said 'You go with them' … I grabbed the shotgun… I got a car and I went with Ray," McCaffrey explains, "because he was from North Bay and didn't know the area."
McCaffrey, Carson, and Cloud became a team for the summer, and McCaffrey barely got home again until late July.
As the days wore on, 200 OPP officers searching for the escapees were soon joined by hundreds of Canadian Armed Forces troops. Locals were warned not to pick up hitchhikers and to lock their car doors. Armed officers manned checkpoints around the search area, stopping all passing vehicles in an effort to keep the escapees contained. Highway 401 was even roadblocked, as unlikely as that seems today.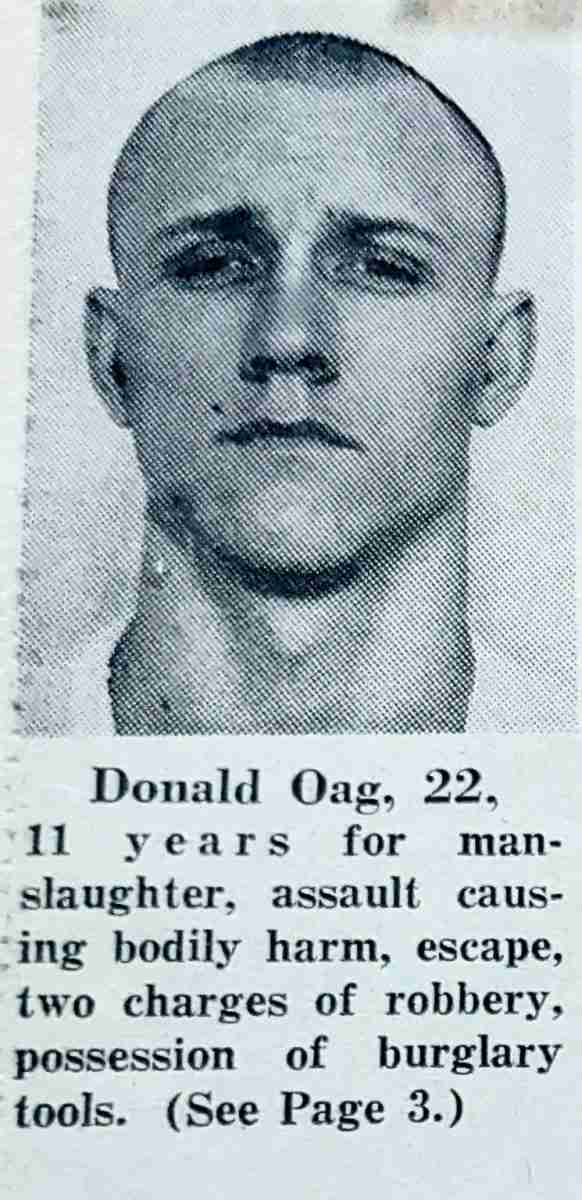 This was McCaffrey's first time working with dogs. There was no air conditioning in the cruiser, and the seven search dogs needed to cool down after hard tracking sessions. A motel on Highway 41, one of the few that had some air-conditioned rooms, became their new base.
The team clocked lot of miles together, says McCaffrey. "We'd be way up by Denbigh… we'd be over on Amherst Island, Wolfe Island… we put on almost 10,000 miles in a couple months. We're just giving it. And most of those miles, we drove 100 miles an hour. So you're just flying."
McCaffrey's team was involved in the recapture of nine of the escaped men. Some captures were simple, with Cloud and other dogs tracking and the team driving a man through the bush to waiting officers on the perimeter. Others were more dangerous, with innocent bystanders involved.
McCaffrey tells how the team recaptured Donald Oag, who was considered the most dangerous man to have escaped.
That night, Jul. 17, after 40 hours without sleep, the three had parked at one of the roadblocks, in a cool spot next to Lake Ontario. McCaffrey told the checkpoint team to wake them if they were needed.
McCaffrey and Carson were wearing jeans, combat boots, and OPP shirts, because by this time their uniform gear had been done in. As was normal, they had taken their equipment off in order to be a bit more comfortable. McCaffrey hung his handcuffs on the gear shift and nodded off.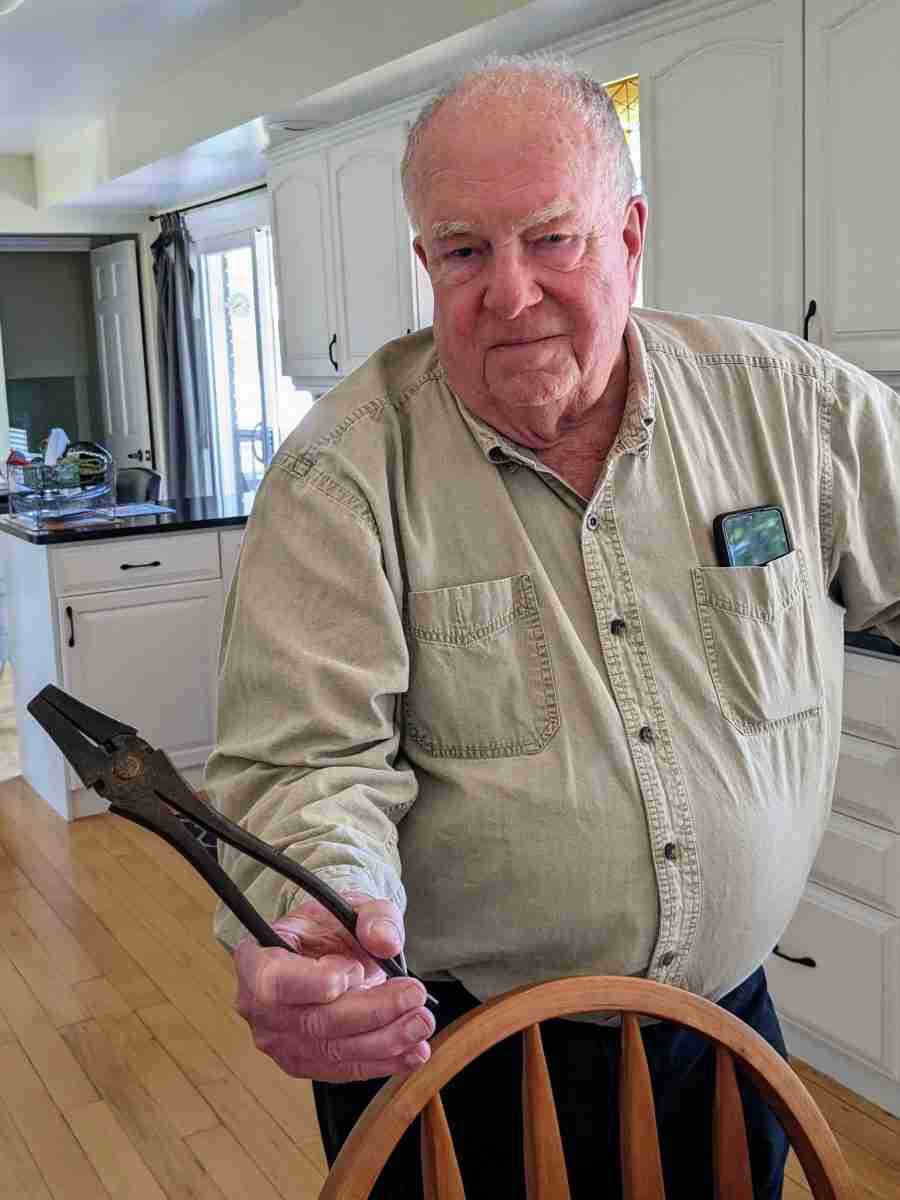 Around this time a citizen called the Napanee OPP saying a strange man was banging on his door. Upon the Napanee constable's arrival, however, the man had made his getaway down the nearby train tracks.
Then the call came to the sleeping officers for backup, says McCaffrey. "I knew the area, so we went [and] parked the car along the tracks… I grab the two-way radio – like holy jeez that sucker weighed about 15 pounds – so I won't take the shotgun this time; it's likely just a hobo wandering the tracks."
"We started going along the tracks and Cloud's just pulling," McCaffrey recalls, explaining how they followed the trail for a long time, crossing a Highway 401 overpass. Suddenly Cloud darted into the ditch. The officers followed, with the dog tugging all the harder at his long tracking lead.
They reached a fence, which Cloud leapt deftly; the men clambered after him, keeping silent in the dark.
Cloud made a beeline for an area of scrub and began to growl ferociously. McCaffrey put his hand on his gun, but he says, "There [was] nothing. You couldn't see anything there." This made no difference to the big dog, who pulled and growled more intensely.
There beneath a bush, "secreted in there, wrapped right around down at the very bottom," was Oag. McCaffrey marvels, "We would have missed him — but Cloud didn't miss him."
McCaffrey got down and put his gun against Oag's ear while Carson praised Cloud, holding the excited dog back from his prey. "I said 'You move and I'll blow your… head off.' And [Oag] says, 'Don't let the dog bite me' – he was more afraid of the dog than the gun in his ear."
Oag got up slowly, and McCaffrey reached for his cuffs… which were still on the gear shift of the squad car. The two officers exchanged a glance – Carson too had forgotten his cuffs in the car. "So," laughs McCaffrey, "I said, 'I'm not going to cuff you because we have to climb over that fence to get out of here.'"
They marched Oag to the 401 at gunpoint, where they rendezvoused with officers who took him from their custody and back to prison.
It was a long summer, but eventually all but one man (who had made it back to his home in the former Yugoslavia) were recaptured. "It was intense," says McCaffrey, "but it had its funny moments too."