New bone-anchored hearing implant helps patients traditional aid models can't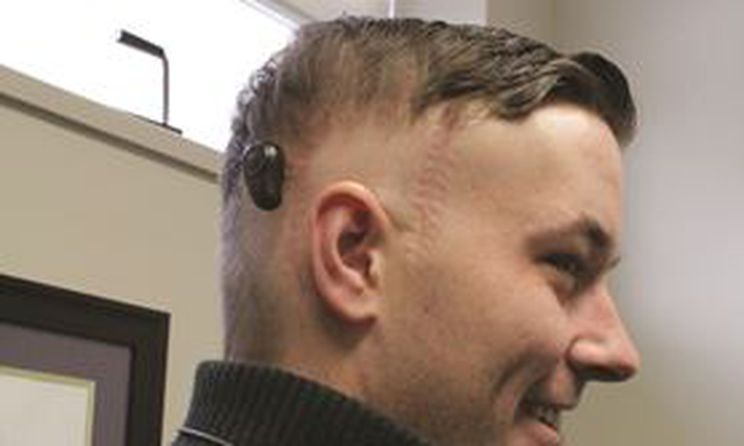 Six months ago, Adam Pennock couldn't hear what his two stepsons were saying when they spoke to him from the backseat while he was driving. A cancerous brain tumour had cost him his right ear canal, and also compromised what hearing capabilities he had left.
Now, Pennock can hear both of the boys vividly, and will also be able to hear the cries of his brand new baby girl due in mid-January.
Pennock is the first patient in Kingston to receive a bone-anchored hearing aid (BAHA) – a hearing aid connected to a titanium implant in the skull. Unlike traditional hearing aids, which transmit sound through the eardrum and middle ear into the inner ear, a BAHA sends sound directly to the inner ear.
While the concept originated in the late 1970s, the first BAHA implant took place in North America in late 2015, and advancements in technology and medicine have made way for the method to restore or allow for full hearing in those patients who cannot be treated with regular hearing aids. This includes patients like Pennock, who experienced hearing loss resulting from a tumour, as well as children born without ear canals.
For Pennock, deciding to undergo the transplant was an easy decision. Having been in the care of Hotel Dieu Hospital's Dr. Jason Beyea since his cancer diagnosis in September of 2015, Pennock already trusted Beyea's judgement and ability when he began looking into BAHAs, he explained. And he's very happy with the results.
"[Before the implant] when someone was talking to me from behind me… I could hear them a little bit, but it was muffled," Pennock said at the Ear, Nose and Throat Clinic at Hotel Dieu on Monday, Jan. 9.
"Now, I can hear them completely clear, I have two working ears, so it's absolutely a huge difference and it's been amazing."
Pennock pointed out the implant surgery, which is relatively non-invasive, was a quick and easy procedure, followed by a three-month waiting period to allow the implant to heal and set, Beyea explained. Once healed, Pennock received his processor – a small, black hearing aid that looks similar to a small Bluetooth ear piece which connects to the node of the implant just behind Pennock's right ear. The restoration of his hearing was instantaneous, Pennock said, with only a one- or two-day learning curve, learning to filter out background noises and how to place where sounds come from. In fact, Pennock's hearing is now better than ever before, he said.
"It was unbelievable. It was like night and day," Pennock said of the moment his BAHA processor was turned on, adding that there was no real adjustment period.
"Things that I had never heard before I could hear now… like my bare footsteps on the hardwood floor, I could never hear that before and now I can, so it is really cool."
What's more are the capabilities the BAHA has to offer thanks to its Bluetooth technology, Pennock said. He wears a transmitter around his neck, which is equipped with a microphone and allows him to connect with his smartphone. With the push of a button, Pennock can now answer phone calls, listen to music and adjust his processor.
Since Pennock received the implant, the Ear, Nose and Throat Clinic has seen a few more patients looking into BAHAs, Beyea said, and he expects more patients will show interest now that Pennock's procedure has been made public.
While the government covers the implant surgery, the actual device is not covered, Beyea explained. And with each processor costing between $6,000 to $8,000, Hotel Dieu Hospital is hoping the new BAHA program will be able to find donors to help potential patients obtain full hearing as Pennock has.
"Other locations that actually do this on a regular basis, they rely on donors to give money to this program," Beyea said.
"For sure, part of the hope for us with this program is that we'll be able to identify donors in the future that will be interested in giving money to this so that many more patients like Adam can benefit in the future."
Pennock may find himself stopped by strangers and explaining the BAHA to people often, but he doesn't mind. He enjoys telling his stepsons' classmates about the BAHA, and hopes to help others understand the device and those that it could potentially help. Doing so is a small price to pay for the benefits the BAHA has given him, not the least of which is enjoying the small, everyday moments he used to struggle with, he expressed.
"If we're having a big dinner or something like that, and I'm sitting at one end of the table, I could never hear the person at the other end of the table," Pennock said of the difficulties he used to have in enjoying time with his large family.
"Honestly, just any sort of dinner conversations… it's nice to be able to join in those conversations again."
This article was originally published on January 14, 2017 in The Kingston Heritage.