National Aerial Surveillance Program airplane visits Kingston area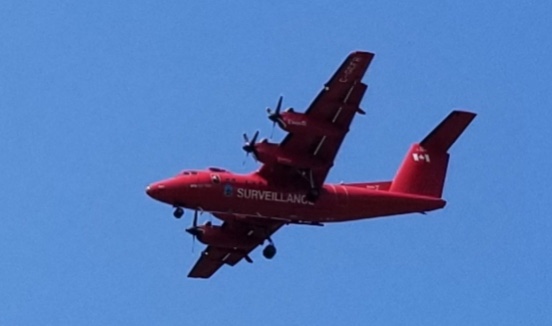 From time to time, residents of Kingston and area may periodically spot a bright red airplane flying overhead, with the conspicuous word "Surveillance" painted on its side.
The eye-catching red airplanes of Canada's National Aerial Surveillance Program (NASP) have been flying since 1991 and are used to detect and prevent pollution in Canadian waters, measure growing or receding ice levels, survey the Canadian marine environment, observe endangered marine life, and ensure a safe and efficient transportation industry along Canadian waterways such as Lake Ontario.
The NASP fleet includes a Dash 7 based in Ottawa, serving the North during the July to November Arctic shipping season; a Dash 8 also based in Ottawa, serving Central and Eastern Canada; a Dash 8 based in Moncton, serving Central and Eastern Canada; and a Dash 8 based in Vancouver, serving Western Canada and Western Arctic.
Surveillance done through NASP plays a significant part in reducing the frequency of pollution in Canada, such as oil spills, and in maintaining the safety of marine shipping by providing evidence for the investigation of shipping incidents.
NASP airplanes are equipped with a large array of equipment, including side-looking airborne radars, infrared/ultraviolet line scanners, electro-optical infrared camera systems, automatic identification systems, satellite communications systems, and geo-coded digital camera systems.
Along Canada's coastline and during seasonal whale migration periods, NASP also plays a role in helping protect endangered whales. Because of NASP surveillance, vessels are advised when marine mammals have been detected in the water, enabling them to slow down or avoid those areas. NASP surveillance prevents net entanglement and leads to fewer collisions between vessels and endangered species like the North Atlantic right whale and the Southern Resident killer whale. Since 2018, Canada has also used drone technology to help with the surveillance and protection of whales, mapping, and surveying ice and oil spills in Canada's Arctic.
Beyond whale and pollution detection, NASP crews also support national security events, police investigations, search and rescue incidents, humanitarian efforts, and civil emergencies.
NASP operations are led by Transport Canada, in partnership with other federal departments like Fisheries and Oceans Canada, the Canadian Coast Guard, and Environment and Climate Change Canada, as well as provincial governments and the private sector. NASP patrols fly about 4,000 flight hours a year.