My mother, the YMCA West, and the way she raised us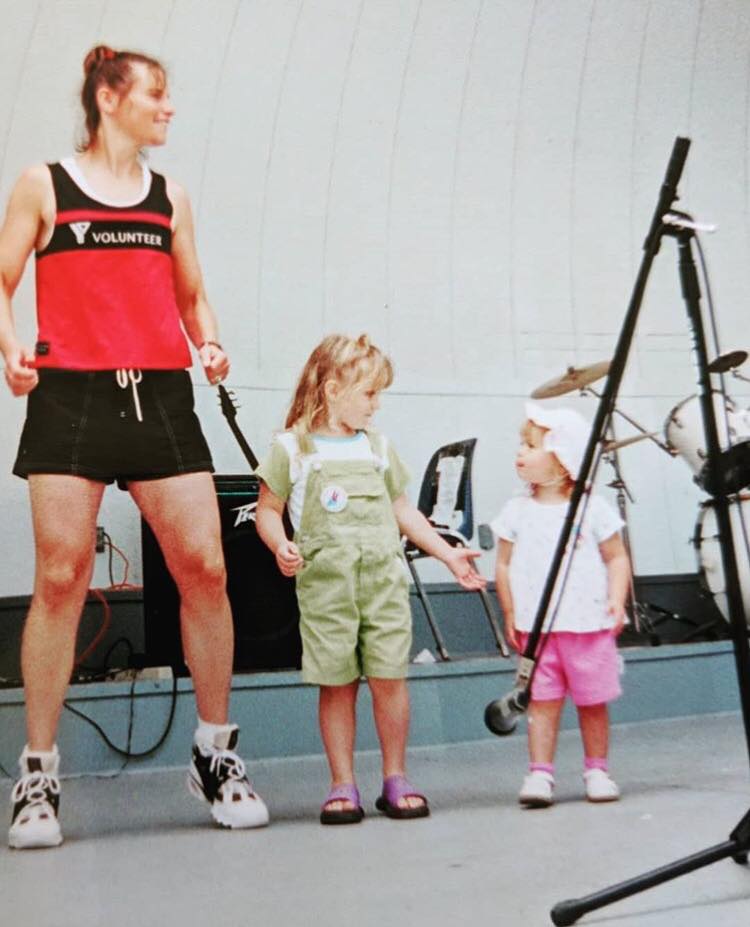 If you have ever been crazy enough to get yourself out of bed on a cold, dark, dead morning in the middle of winter on a Monday, Tuesday or Thursday and dragged yourself to the YMCA West on Progress in the heart of Kingston's suburbia at 6 o'clock in the morning, you will have probably heard and seen something quite extraordinary.
While you're kicking off your winter boots, with too many items in your hand, trying not to step in other people's melted snow and hanging up your winter coat; a manufactured drum beat remix will enter your ears. You waddle over to the front desk in the lobby, slightly out of breath from the dance of winter boots, and fish your gym membership out of the nether region of your gym bag to prove, yes, it is in fact you who is crazy enough to be here at this ungodly hour. The machine beeps, letting you in, and you yawn. Suddenly, you are snapped out of your pre-coffee stupor by a voice bellowing over the manufactured drum beat. It tells you to move, move, MOVE your legs, and your heart begins pounding.
I know this. And I know the terror you are filled with at that moment as you are rushed into reality. I know this, because that voice, that person bellowing, is my mother, Heather Robinson-Dooreleyers.
You turn the corner and you are surprised. The person that noise came from has pigtails. And she has a smile on her face. And she's actually quite small. You wonder how those lungs made that noise while those legs are going so quickly. But what you don't realize is: That noise, those lungs, those legs, are 29 years in the making.
By the time you have read this article, my mother will have woken up, (always before sunrise no matter the season), eaten her breakfast (of various different bran flakes), walked the dog (no matter what the weather), flipped the laundry (or anything else that needed doing), and worked out for half an hour, then taught the last spin class she would ever teach for the YMCA – something that has been a part of her life before I was even thought of.
She started like all humble beginnings, with the emergence of aerobics in 1981. She was 15 and she took her first aerobic class at the community centre in Greenwood, a little military town in central Nova Scotia. After two years of that, her mother began teaching a work out class for seniors. She was uncertified to teach, but she helped her mother by leading seniors through seated exercises, telling them where to place their arms for optimal results. She went on to Dalhousie University for a degree in recreation.
In 1990, with no job prospects in the entire province of Nova Scotia or the East end of Canada for that matter, and with her sister who was newly married, my mother moved to Ontario to try and find a life. She was 24, unemployed and living in her sister's basement in Belleville. And she liked to work out. So, she followed her mother's footsteps and got certified as a fitness instructor.
She started with Aerobics in 1990 and began working at a gym in Trenton, Ontario. I'm not entirely sure why, but my dad also began working there, also as an aerobics instructor. That is how they met. My dad was a firefighter, had a mullet, and enjoyed teaching his adoring ladies in his class the Grapevine. My mom worked the front desk and had a perm and would kick anyone's ass in her aerobics class no matter how cute of a mullet they had. They were friends first.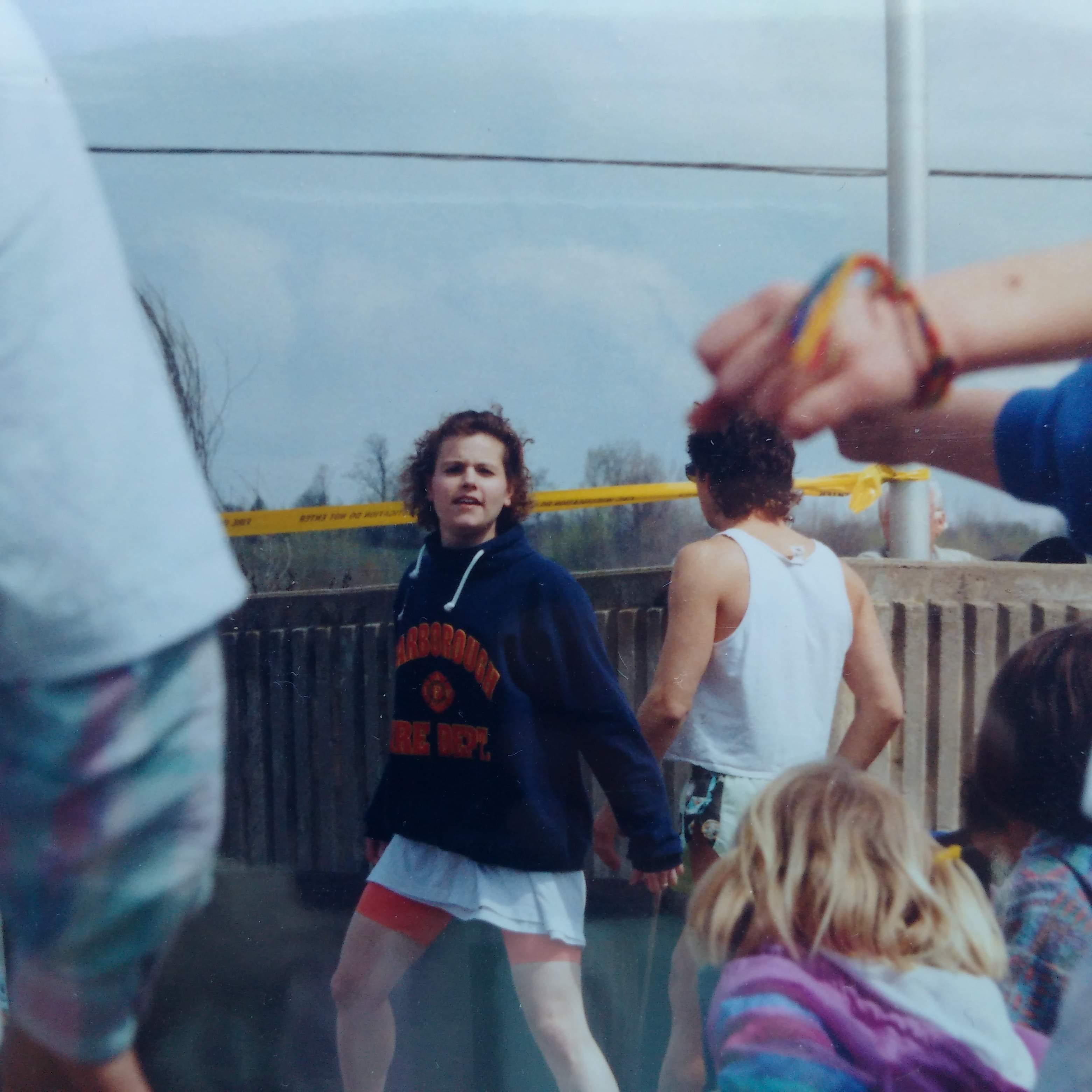 The trends of fitness changed with the seasons of my mom's life. Between the five years of my parents meeting and their marriage, she moved to Cobourg, started at the YMCA there, and became certified and taught High and Low Aerobics, the Step, Funk, the Slide, Boxing Aerobics, Stretch and Strength and Power Hour.
In 1997, the tides shifted once more and Spin class – or Cycle Fit, as coined by the YMCA – took the spotlight. My mom was eight months pregnant with my sister when she became a certified spin instructor. In a classic case of chicken or the egg, I'm not sure what came first: the voice or motherhood. I just know that the voice helped in both settings. In telling her class to move, move, MOVE… and in raising her daughters.
I came along in 1999, and by then she had a well-established spin career at the YMCA in Cobourg while working full time at her social work job. Many of my first memories smell like over-chlorinated pools and taste like the snacks she would pack for us made up of half water half grape juice, Bulk Barn teddy grahams, and dried apricots. I had my first gym membership when I was old enough to walk into the gym by myself, and strangers would come up to me claiming that they knew me when I was just a tiny baby from taking care of me at the play centre while my mom worked out and taught her classes.
Whenever she dropped us off there, I was never nervous or upset. I knew that if I strained my ears, or the door to the play centre opened for just a second, I would hear the manufactured drum beat and my mother bellowing over the music to move, move, MOVE.
My mother ended her 15 year career with the YMCA in Cobourg in 2007. We moved to Kingston in 2008 due to a career change after my mom and dad separated. This is where she began working for Premier Fitness (located where the Boys and Girls club is now, next to the Value Village). We liked the pool and the kid's area, but the people who worked out there did not appreciate my mother's enthusiasm and often told her to turn down her music – something that had never happened to her in the 18 years she had been teaching already. Besides, Premier went bankrupt.
This was the catalyst for her next and final move to Progress Fitness in 2011, which then turned into the YMCA West in 2015.
I went to my first spin class when I was 17 years old. I had just completed my 14 year dance career, and I wanted to maintain my fitness for prom and graduation. This is when my perspective of my mother changed. I knew she was fit my whole life and I knew her class was going to kick my ass no matter how cute I looked. But I wasn't expecting the level of fitness that my mother was at. I had taken her morning absences for granted and figured we would be on the same playing field, especially because, like I said, I had just completed my dance career. However, watching her work and yell and interact with her class while maintaining the highest tension on the bike, I knew that my playing field and her playing field were miles away. She became an inspiration for me in that moment. She had been working at this her whole life, and when she had kids, she did not let that stop her, but rather she fit it in and worked around it. Watching her and listening to her, I noticed some parallels in her teaching and her parenting.
The yelling was always to encourage us to do better, to be our best selves. She did not shame us or make us feel embarrassed for not being able to be the fastest in the class or maintain speed for as long as she could. She did not make us feel guilty for our mistakes, instead she showed us the right way to do it so that we wouldn't hurt ourselves. She told us to stay strong, take our shoulders away from our ears. Engage our core. Be confident. And when ABBA came on, we sang along, just like in the car. And most importantly, after all was said and done and I was throwing up in the parking lot because I could not handle it, my mother was there, rubbing my back and telling me "I'm so proud of you baby, you did such a great job."
Now, I am turning 20 years old in a month and my sister is 22. We don't live at home anymore and are both on our way to being grown up. And today was my mom's last spin class. An end of an era. It feels like there should be more than a big YES at the end of her class and a newly installed stationary bike in our basement to show for it. But my mother never asked for much. However, I do have to say: I'm so proud of you mama, you did such a great job.
Editorial note: The YMCA West officially closed its doors today, Friday, Aug. 16, 2019, after announcing it would close in early June of this year. The YMCA of Eastern Ontario launched the annual Strong Kids campaign yesterday, raising funds to continue to offer access and opportunities for children that would otherwise go without. All contributions to the campaign will be matched dollar for dollar up to $35,000 by Homestead Land Holdings Ltd and the Larry Gibson estate, with all funds helping give access to YMCA programming for children right here in Kingston. To find out more or donate, click here.
Jemma Dooreleyers is a former Kingstonian and journalism student at Ryerson University. She is currently on her summer break, and continues to contribute to the Kingstonist whenever she finds the opportunity. She has written for Her Campus Ryerson, The Eyeopener at Ryerson, ReFINEd Kingston, and shedid a brief stint as an intern with Station 14 Kingston. She currently lives in Toronto with her boyfriend and six snakes.