MP Gerretsen celebrates new Canadians at constituency office reception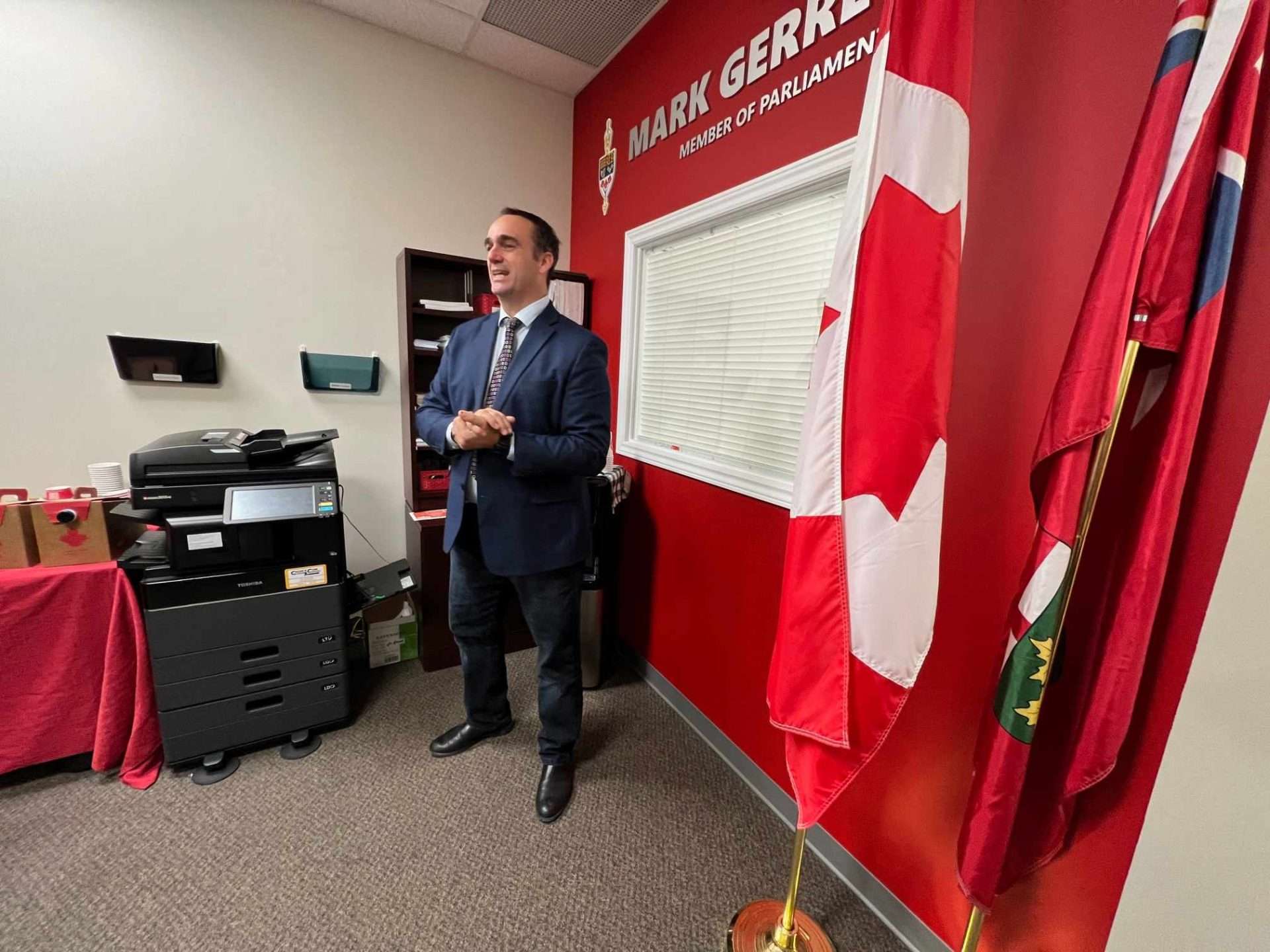 The path to full Canadian citizenship can be a long and winding road for most people who attempt to immigrate to Canada. The process involves years of waiting and a lengthy list of requirements before candidates can take their citizenship test. Once an applicant has satisfied all the requirements and passed their test, the final step is a citizenship ceremony where the Oath of Citizenship is administered and the applicant officially becomes a new Canadian.
For most immigrants, the ceremony is an opportunity to celebrate the hard work and determination which led to them officially becoming Canadian citizens. Prior to the COVID-19 pandemic, in-person citizenship ceremonies were a standard occurrence, allowing new Canadians to gather with friends and family and celebrate the achievement. But like many in-person gatherings, the ceremonies transitioned to the virtual world back in early 2020, as events over Zoom became the norm.
While in-person ceremonies have returned in a limited capacity in cities like Ottawa and Toronto, for most new Canadians the Oath of Citizenship is often still performed over Zoom, even as the world moves on from pandemic-era restrictions. Holding the events over Zoom is easier and more cost-effective for the government, which no longer has to rent large event spaces for people to gather in person. But while most new Canadians are just happy to officially secure their citizenship, the entire process can feel somewhat lacklustre when not done in person.
With this in mind, Kingston and the Islands Member of Parliament (MP) Mark Gerretsen recently began hosting citizenship receptions at his constituency office, allowing new Canadians to come together and celebrate their accomplishments and also see firsthand the work of their elected representative. On Wednesday, Nov. 15, 2023, dozens of new Canadians gathered at the office on Princess Street for the second such event.
"The vast majority, if not everybody — unless they're willing to travel to Ottawa or Toronto — are doing their citizenship ceremonies online. And that really takes away from a certain personal element," Gerretsen said of what inspired him to start hosting receptions at his constituency office.
"This is our second [reception]," Gerretsen continued. "We have… an hour and a half where we invite people to come in and welcome them and let them know what we can do in terms of offering them support and [other] services." During Wednesday's event, Gerretsen posed for photos with many of the new Canadians and their families, while some of his staff informed those in attendance of all the services available at the constituency office.
For Fabio Carvajal, who recently immigrated to Canada from Colombia, Wednesday's event served as a "confirmation" of his years of hard work. "It feels good because it's a formal event that is like a confirmation of the process. Now you have time to see a Member of Parliament and talk to him and be around other people that experienced the same process," he said.
After first travelling to Vancouver for a brief trip, Carvajal decided to attend college in the city before he met his now wife and the two fell in love. After enrolling at Queen's University to study Global Development, Carvajal and his partner moved to Kingston in September of 2022. This past March, Carvajal officially became a Canadian citizen.
He remarked, "The citizenship [ceremony] was online this year in March. It was a good experience, not too complicated." As for the biggest difference since moving to Canada, Carvajal noted the weather has been a bit of an adjustment from the temperatures he's used to in Colombia, "Here in Canada, I have to learn to adapt to the winter and the dark seasons," he said.
According to Gerretsen, his office is the only one he's aware of offering these sorts of events for new Canadians. "I know some will do something more official in a hall where they invite more people, but I'm unaware of anybody else doing it in their office," he said.
While the receptions serve as a celebration, Gerretsen noted it is important for immigrants to be aware of who their MP is and the work that person does to represent constituents in Ottawa. "It's incredibly important… In order to be part of the Canadian democratic process, you have to know who your representative is and where they are in the event you need to access any of the services we offer."
As the son of two immigrants — his father is from the Netherlands while his mother originally hails from Italy — Gerretsen remarked on the important role immigrants play in shaping the Canadian fabric. "Unless you're of Indigenous descent, [Canada] is a country of immigrants and a country where people from throughout the world have come together over the last 100 years and chose to live together, and that's how our country has evolved into what it is," he said.
Gerretsen added, "It's incredibly important for me to make sure that people in our area feel that they're part of the community and that being a Canadian citizen is an important part of that community-building process. I just want to let as many people know that as possible and share my congratulations with them."
For Wendy Coppens and Nico Barbe, originally from Belgium, events like Wednesday's reception help them feel like members of a community. "We want to become real members of the community, and it's nice to get that acknowledgement to actually be citizens now of Canada and be part of this community in Kingston. I think it's a very nice gesture," remarked Coppens.
As for why the couple decided on Kingston, Barbe cited the city's close proximity to bigger urban centres like Toronto and Montreal. "I think Kingston is one of the best choices we could have made," he said. "It's very central in Ontario: it's close to Toronto, Montreal, and Ottawa. It actually helped us to find jobs in a central place and see all the wonderful things that Ontario and Quebec have to offer, within a short distance."
Aside from the celebratory nature of Wednesday's reception, the event also gave an opportunity for new Canadians to share their experiences with the immigration system and reflect on some of the difficulties that come with the process. Of her and Barbe's journey to becoming citizens, Coppens said, "We were both plus 40 when we were moving here, and it's a whole scoring system; the older you are, the more points you need. So it wasn't easy to get all the points. You need to get all your degrees certified. You need to get all your references. [There's] language testing. We really needed to [make] a lot of effort to get our permanent residency."
Despite the challenges, Coppens and Barbe are proud to be living what they call the "Canadian dream" in their new home of Kingston. "We like the idea of raising our children in a country which is very open, very diverse, and that's basically why we came to Canada," Barbe said. "We're very happy to be here in Kingston," added Coppens.