Loyalist Medical Centre closed after collision causes structural damage
A busy healthcare hub in Amherstview is closed to the public after a driver crashed into the building on the afternoon of Thursday, Oct. 6, 2022.
At approximately 3:05 p.m., Loyalist Fire Department, the Lennox and Addington (L&A) County Ontario Provincial Police (OPP), and Frontenac Paramedic Services all responded to the plaza located at 200 Speers Boulevard in Amherstview after reports of a single vehicle collision. On scene, emergency responders found that the lone vehicle had driven into the west side of the plaza building, which is home to Loyalist Medical Centre (Loyalist Family Health Team) and Pharmasave Loyalist Pharmacy, among others.
"There were no injuries, but there was a concern about the stability of the building. The Emergency Services department requested that Loyalist Township Building officials attend the scene to determine the severity of the damage," relayed Fred Stephenson, Fire Chief and Director of Emergency Services for Loyalist Township.
"After an inspection was completed, it was determined that, for safety of the occupants, the building was not to be occupied until the west wall could be stabilized."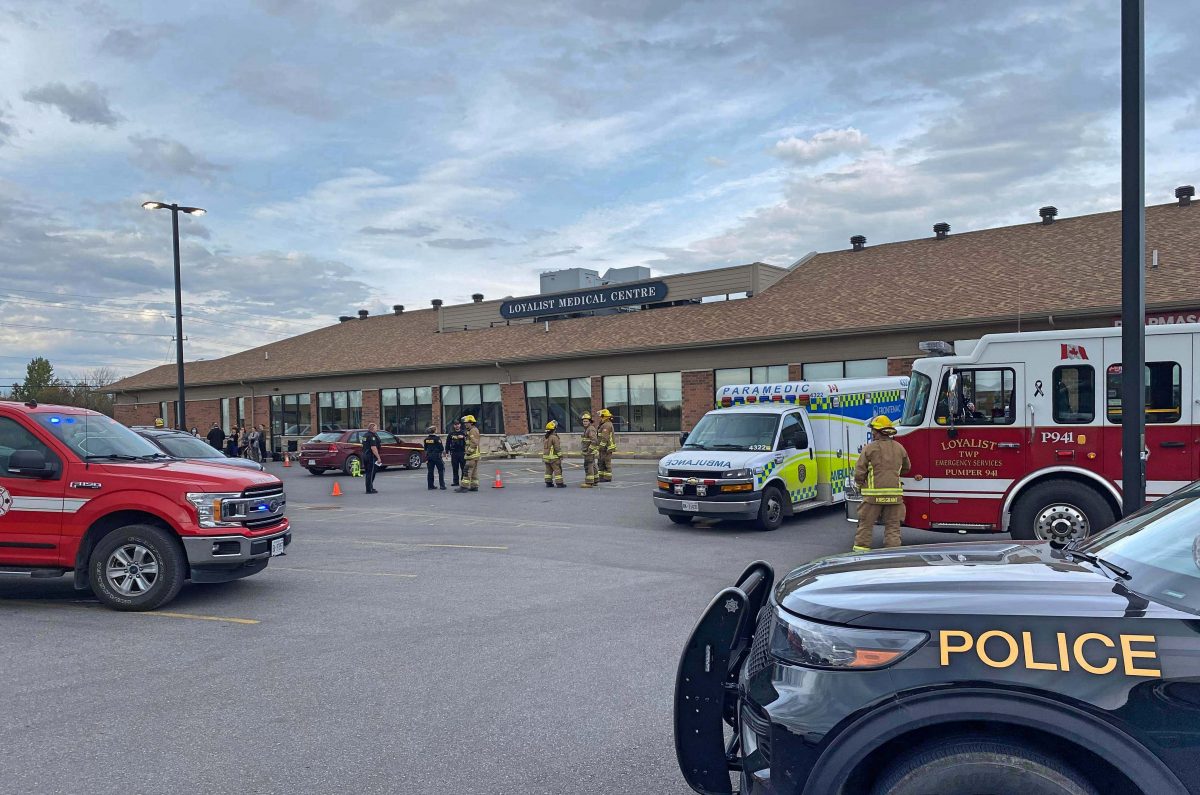 During that time, some of those who work in or were attending the building at the time of the collision were allowed back into the building to retrieve their belongings, however, not all were able to do so before the decision to close the building entirely was made. The building remains closed today, Friday, Oct. 7, 2022, and will continue to be closed until the property owner has the damaged wall assessed and fixed, explained Mark Parkinson, Chief Building Official for Loyalist Township.
"Until such time as a building permit is applied for, cost estimates are not available," he said, indicating that a building permit had not yet been applied for.
"Since the building is private property, the only information we're able to disclose is if a building permit has/has not been issued."
It is not known when the building will reopen at this time.
According to the OPP, the driver of the vehicle actually did sustain minor injuries as a result of the collision, and was transported to hospital by paramedics. However, witnesses on the scene reported that the vehicle which had collided into the building was driven from the scene. While it is unclear who drove the vehicle from the scene, the OPP confirmed that the vehicle was "in driveable condition."
In response to inquiries regarding whether any charges were laid as a result of the incident, Acting Sgt. Erin Cranton, Media Relations Coordinator for the OPP East Region, said "the investigation is ongoing."
This is a developing story. Kingstonist will provide further coverage if/when more information becomes available.