Local mom's viral video sparks controversy between coterminous boards
Monica Buchan didn't know she would go viral when she took to Facebook to express her frustration over the application process for a local school program on Wednesday, Feb.15, 2023. However, a week later, the video has over 24,000 views.
"Obviously, I didn't really expect the video to blow up like it did," she said, "but it clearly was a conversation that needed to be happening."
That conversation begins with the fact that the Limestone District School Board (LDSB) offers enrichment programming that is open to all students in the area, even those who currently attend school in the Algonquin and Lakeshore Catholic District School Board (ALCDSB), or any other schools in the region.
The problem arose when Buchan found out that her ALCDSB school had decided not to assist her children in applying to the program and then failed to inform her of this decision.
In the video, Buchan shares her frustration that ALCDSB chose not to complete forms that would help two of her children apply to the Choices at 7 programs run by the Limestone Board. Not only this, but she was never informed of this decision by her school until after the date the forms were meant to be completed.
Buchan explained, "When you apply, [LDSB] give you the checklist saying what you need to do … [LDSB said] we will submit the applications to your school … and then once you have report card in hand, submit your report card. "
She knew the forms were being submitted to her children's school, so she and her children went about completing the rest of the application process. The process is different depending on which Choices at 7 program the child wishes to access, but the one her daughter hoped to enroll in involved making a video application, which Buchan said her daughter "put her whole heart and soul" into.
However, after all that work, she was notified by LDSB that her school had not sent back the required forms.
"Here I am thinking all this is a go," said Buchan, noting that the frustration she felt was exacerbated by the lack of transparency on the part of ALCDSB. "No one even bothered to tell me they wouldn't fill out the forms they had received."
In fact, when Buchan contacted her children's school to find out why the forms hadn't been filled out, she was told by multiple school representatives that ALCDSB Director of Education David DeSantis had expressly directed his staff not to fill out Choices at 7 applications on students' behalf. Yet no one had bothered to tell her of this decision and direction.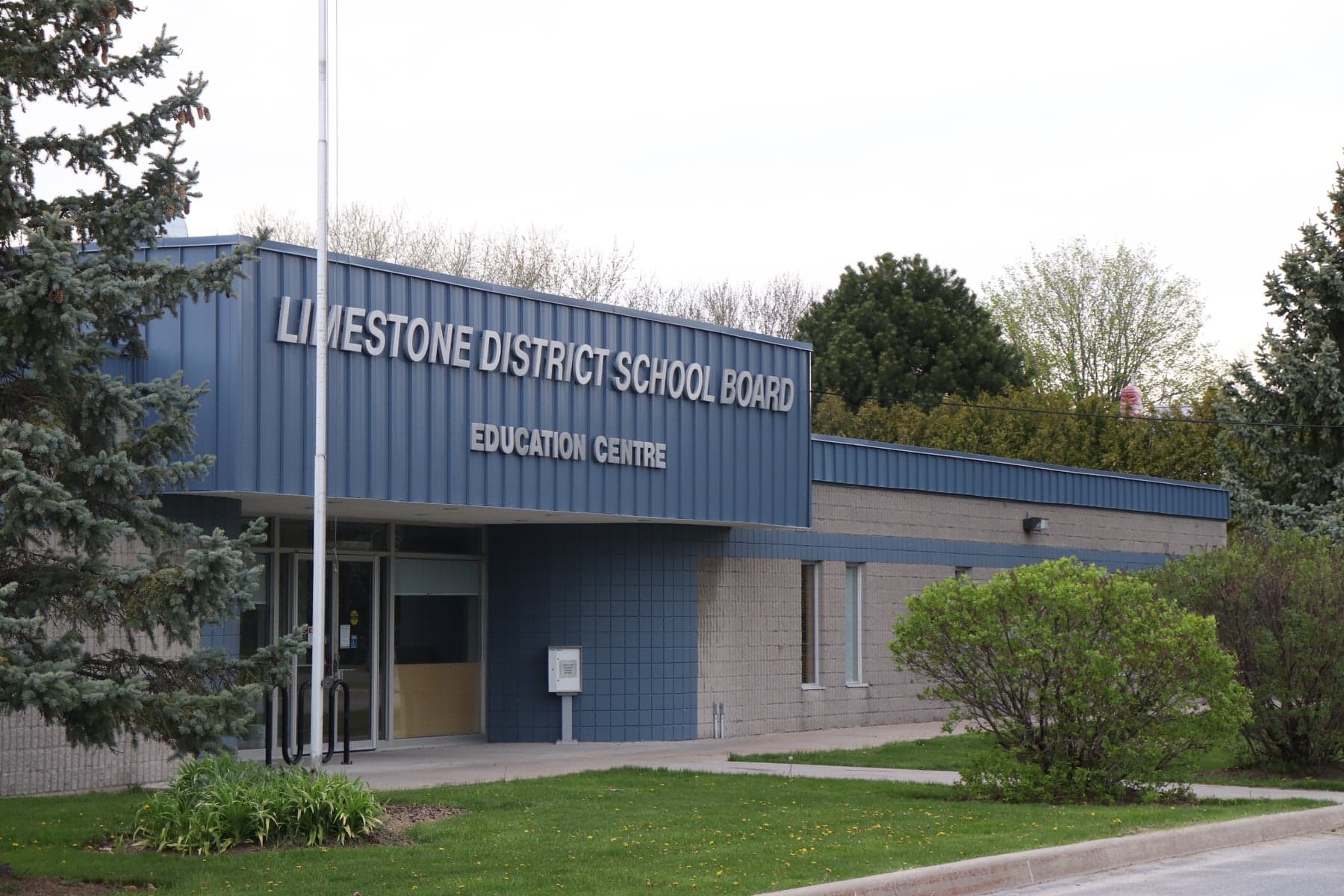 Luckily, when she contacted the LDSB, she was told that her children's applications would still be considered without the forms. "They said they will work with whatever information we can get our hands on, [including] the [Individual Education Plan], the report cards, and the video that my daughter made."
But Buchan still had many concerns. She felt that the LDSB weren't "getting the full story here with these students [who are] pouring their heart and soul into it. The [kids are supposedly] gonna have a fair chance… but the [admissions officers are] not getting the full picture when they're reviewing those applications."
In frustration, Buchan took to Facebook to voice her concerns and get advice from friends and family, never expecting that over 24,000 people would view the video.
Following some thought and conversation with others, Buchan wrote to Director David DeSantis and her school board Trustee Terry Shea to express her frustration with what she still feels was an intentional lack of transparency, because of a "business decision to keep kids — and the funding that goes with them — from leaving ALCDSB."
She notes that she is now aware of at least nine other students in her school alone who sought to apply to Choices at 7 in her school, and they all faced the same "resistance" without any notification by ALCDSB staff.
It should be noted that that students have been leaving coterminous boards to attend Choices at 7 for some time. The LDSB has offered its Choices at 7 Programs — Atlas, Challenge, and LEAP — for over two decades without any apparent problem like this.
According to LDSB's Stephanie Sartor, Associate Superintendent of School Effectiveness and Assessment, who supervises Choices at 7 programs, "Teacher reference forms have been part of the application process for Choices at 7 for many years; in fact, this is the first year this has been an issue."
Sartor explained in a comment provided by the LDSB communications team that, going forward, "for those few applications that do not have a teacher reference form completed, we will adjust the criteria proportionally to support their application. For future years, the Choices at 7 team have discussed a slight adjustment to the process to better meet the needs of students and families who would like to access one of its programs, but are unable to get the reference forms from their teacher and/or school."
"We believe choices for students and families to make the best decision for their path forward are important to honour, and we do not want to prevent anyone from applying to these programs," continued Sartor. "All students, whether they attend Limestone, ALCDSB, private schools, homeschool, or other school boards, have always been welcome to apply."
Director DeSantis responded to Buchan's concerns in an email, which he encouraged her to share with her friends "to make our position clear."
"As a parent," DeSantis wrote to Buchan on Thursday, Feb. 16, 2023, "I felt your deep sense of disappointment with the news that our staff did not complete the appropriate documentation as part of the application process for one of Limestone's specialty programs. I need to illuminate how this process should work and how coterminous boards interact with one another through the lens of the Education Act."
"As a school board," he stated, "we are under no obligation to assist another school board in completing documents that would permit what you are expecting to happen with respect to this application process. Limestone has never involved us in this process or asked for input… I can assure you that if the shoe was on the other foot, Limestone would not have their staff complete paperwork for a specialty program that would allow students to leave one of their schools for one of our schools. In fact, this wouldn't happen across the Province of Ontario."
DeSantis's email continued, "I have discussed with Limestone's Director of Education, Krishna Burra, about changing their application process so that our staff is not put in the predicament of completing documents that may put them in a precarious situation where, for example, they are forced to provide a negative reference."
"I'm entering my 5th year as Director and I believe the Limestone Director is in his 2nd or 3rd year," DeSantis went on in the email. "The change in practice regarding your situation was put in place last year officially. You can imagine with the pandemic and the many other priorities articulated in our Multi-Year Strategic Plan, messages sometimes get lost in the shuffle and finally it appears this year that our Principals and staff are following this direction."
The email concluded, "Director Burra has experienced the same lag in direction, as he promised that our staff wouldn't be subjected to completing documentation on behalf of his board. He promises that this will be fully rectified next school year."
The note, unfortunately, left Buchan with many questions and frustrations, especially given the LDSB insistence that "this is the first year this has been an issue." She pointed out that DeSantis touted a new program offered in ALCDSB called C3 (Curiosity, Creates, Change).
"The school that your children attend currently would have access to this," he said in his communications to Buchan. "The difference is that it includes ALL students and doesn't preclude a select group from ever having access to such learning. It is an inquiry-based learning approach with a foundation in STEM. The issue is that all our schools are not fully certified as a 'C3 school' yet and this will take sometime as the pandemic has slowed our implementation process. I invite you to go to twitter and do a search on the hashtag #C3ALCDSB  Here are a few examples.  https://twitter.com/CareyDewey1/status/1572630949015293954."
However, Buchan notes, not all children learn the same way and not all children need or want STEM as a focus for enrichment. Choices at 7 at LDSB allows for that distinction: Challenge is a Gifted and Academic Enrichment Program, LEAP (Limestone Education through the Arts) Program focuses on the arts, and ATLAS (Applying Technology for Learning, Aptitude and Success) Program offers focussed, structured learning opportunities for students who are experiencing difficulties with executive functioning skills.
"If they (the ALCDSB) were truly supportive, even if they didn't want [teachers and principals] to fill out the forms, shouldn't they have at least told [me and other parents who had forms sent to their school]?" she asked. "It's about being transparent and letting me decide. This just felt like they were [purposely holding back] telling us." She believes the bottom line is DeSantis doesn't want to lose the funding that each child brings with them to his board.
A Tuesday, Feb. 21 statement from ALCDSB communications to Kingstonist contradicted DeSantis's statement to Buchan. It said that, while "ALCDSB supports students and their families who look for alternative programming that best meets the needs of their children. The Limestone District School Board (LDSB) has not involved the Senior Team at the ALCDSB in their alternative education application process or asked for input," yet Director DeSantis's assertion on the 16th was that he had been in contact with Director Burra about this issue, possibly even last year, and they had both made directions to their staff that had yet to be observed by their staff this year.
Buchan is clear that "This is not just a question of Catholic versus public boards," and noted that students from private schools and students from other coterminous boards can and should be allowed to take a program if it is offered. Ontario has one Ministry of Education and one set of curricula that each board is to follow, Buchan asserted — if she makes a choice for her child, it should be honoured by all employees of that ministry.
Kingstonist reached out to the Ministry of Education for comment on this matter. On Thursday, Feb. 23, 2023, the ministry responded with "background information" which they stated was "not for attribution."
In short, that information indicated that the role of the Ministry of Education is to create direction and policy regarding the education, such as the policies which govern the allocation of funding to schools. While the Education Act sets out general policies, school boards – which are legally considered statutory corporations under the Act – are responsible for delivering programming and the operations of the schools within their board. This includes the allocation of funding for each school or program, according to the Ministry of Education, which allows for more flexibility for boards to make staffing and programming decisions with the funding allocated to them.
The matter of students attending programming outside their current school board falls under the current school board's scope of responsibility, the Ministry explained, noting they encourage constituents (parents and/or caregivers) to speak with their school board and elected trustees to reach a resolution on such matters. Should that process be unacceptable for the constituent, that person take their concerns to the Ombudsman of Ontario. The Office of the Ombudsman of Ontario can be reached at 1-800-263-1830, or via email at [email protected]. More information on the complaint process can be found on the Office of the Ombudsman of Ontario website.