Leading doctors answer questions about Kingston's COVID-19 vaccine rollout
Following an announcement that Kingston Health Sciences Centre (KHSC) had administered its first doses of the Pfizer-BioNTech COVID-19 vaccine on Tuesday, Jan. 12, 2021, Kingstonist spoke with KHSC President & CEO Dr. David Pichora for more information on what to expect.
Kingston's Medical Officer of Health, Dr. Kieran Moore, also issued a statement as both the arrival of vaccines and a new provincial stay-at-home order were announced. His comments follow our interview with Dr. Pichora.
KHSC President and CEO Dr. David Pichora takes questions
Kingstonist (K): KHSC has announced that 1,900 doses of the vaccine will be administered in the coming days. What do we expect after that? Is it going to be a steady flow of vaccines now or are we just going week by week, delivery by delivery?
Dr. Pichora (P): We are certainly hoping for a steady flow so that we can manage our first and second dose strategy. We have been informed of the first three weeks, the first three shipments. The next two weeks we're expecting the same as what we received today. I'm waiting to hear about the weeks after that.
K: Are we conserving half of the shipment for second doses?
P: This week we're not. We're going to try to give out every dose we've got. If we get in to next week and haven't heard about subsequent to that, then we'll have to start thinking about what we might hold back to cover some second doses. But I'm really hoping we won't have to hold back anything.
K: There has been criticism of the vaccine rollout in Ontario, at the higher level, people concerned that it happened slowly. Do you have any line of sight into that process, or can you speculate on what the bottlenecks might have been?
P: I think we've gone from having too much vaccine in the freezer to freezers that are getting emptied. Everybody has really picked up the pace, they feel more confident about the process.
And don't forget, initially the process was hold back half so by definition, you get 50 per cent of the doses sitting in the freezer. We're trying not to do that now
If we had absolute clarity, many weeks in advance, then I would give out everything we've got knowing that more first and second doses are on their way at the right time. We still have to get a bit cautious that way.
K: I know in some jurisdictions they've talked about mixing which vaccine individuals get. For some people the first dose will be Pfizer and the next dose will be Moderna. Do we know which brand of vaccine we're getting consistently?
P: So far there's been no indication of us receiving Moderna in the foreseeable future. I know that there is some Moderna in the province, its limited quantities. My understanding is that we're not expecting to see large volumes of Moderna until later March. So I'm not really staying awake at night waiting for Moderna here in the new few weeks. We're still going to get more Pfizer.
K: Did you watch the first vaccination take place?
P: I did.
K: What was that moment like?
P: Everybody was very, very pleased, thrilled. I think the healthcare worker from the longterm care home was pleased, a little nervous about being in the spotlight, but we were all glad she was there. Everybody who has put a ton of work into getting ready for this was, I think, very rewarded by it and optimistic about doing a lot more.
K: I know we still have a long way to go with these new restrictions announced today for at least 28 days. Do you get any sense of relief, or is it a weight off knowing the vaccine has arrived?
P: You know, it's going to make a huge difference, but it will take time. I don't really think the vaccine is going to make a dent on wave two in the next few weeks. That's why they've gone into the lockdown. But I think come spring as we get more vaccine, get more people vaccinated and the weather starts to warm up, I think all of those things will be positive for us so hopefully there won't be a wave three next fall. That's my hope.
The next few weeks are not going to be easy. We do want to get longterm care folks vaccinated as quickly and extensively as possible so that we can start moving patients back into LTC when they're ready to go there, so that we've got the hospital capacity we need to deal with the [new measures] you heard about today.
A message from Medical Officer of Health, Dr. Kieran Moore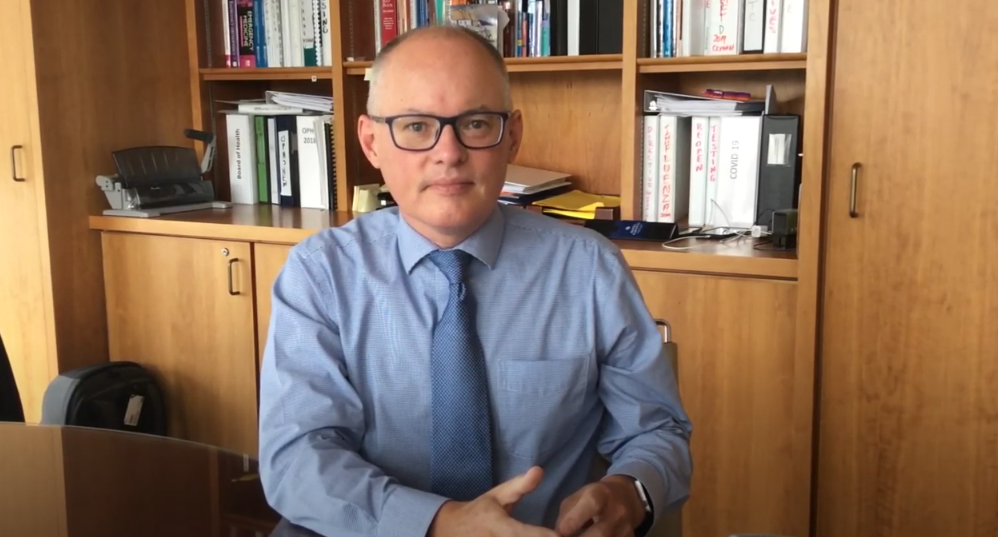 Medical Officer of Health for Kingston Frontenac Lennox & Addington (KFL&A) Public Health, Dr. Kieran Moore, also issued a statement on the heels of the local vaccine rollout, on Wednesday, Jan. 13, 2021.
"I know you have had enough of the pandemic and we are all hopeful that 2021 will restore some sense of normalcy to our day to day lives," he said. "With yesterday's announcement that vaccines have arrived at Kingston Health Sciences Centre (KHSC), hope is around the corner."
Dr. Moore said the first shipment of vaccines to KHSC marks the beginning of Phase 1 of the three-phased provincial vaccine rollout in our region.
"Widespread vaccination is essential to improve community immunity and end the pandemic. However, we must ask for your patience as vaccines are prioritized to those who need them most, and to the regions with the highest rates of COVID-19," he added.
By vaccinating and protecting people in priority groups as soon as possible, Dr. Moore said the risk of COVID-19 outbreaks among those at greatest risk will decrease.
"We expect that Phase 1 will take place gradually in our region throughout the winter months. We currently expect that Phase 2 will begin in our region in April. Phase 2 will prioritize vaccination for essential workers and older adults, beginning with those aged 70 years of age and over. By early fall, we expect the vaccine will be available to the general public," he said.
"This process will take time, and we appreciate your patience, and we will continue to communicate to our community about the vaccine and its distribution."
His comments came the day after the Ontario government issued a new stay-at-home order and declared a State of Emergency, taking effect Thursday, Jan. 15, 2021.
"Despite the lockdown that was implemented on December 26, cases of COVID-19 have continued to climb across the province," Dr. Moore said.
"Please stay home as much as possible, with exceptions for going to the grocery store or pharmacy, accessing health care, going to essential work, or enjoying physical activity. Additional information regarding this [stay-at-home] order is forthcoming from the provincial government."
He noted that some families may feel discouraged following the extension of at-home learning for local elementary students. "Please know that this is a temporary, preventative measure put in place by the province to ensure that schools can open as safely as possible this year and stay open for the remainder of the year."
He noted that the province will reassess the return to in-person learning for KFL&A area schools on Wednesday, Jan. 20, 2021.
"Even as we begin distribution of the COVID-19 vaccine, I cannot stress enough, that until the majority of individuals, especially vulnerable individuals, have been vaccinated, we all must continue to do everything we can to protect one another from the spread of illness, and to continue practicing public health measures," he said.
"I ask you to respect current restrictions by avoiding close contact with anyone outside your household as this significantly reduces the risk of spreading illness to others. In addition, please continue to wear face coverings, physically distance from others, wash hands frequently, and monitor for symptoms of COVID-19 and get tested if you feel unwell, even if your symptoms are mild."
He extended his thanks to constituents for making "responsible choices."
"The continued efforts of individuals and families will help keep the number of positive cases low in our area and help our community stay safe until vaccines are available to all," he said.