Large crowd comes out in solidarity with Black Lives Matter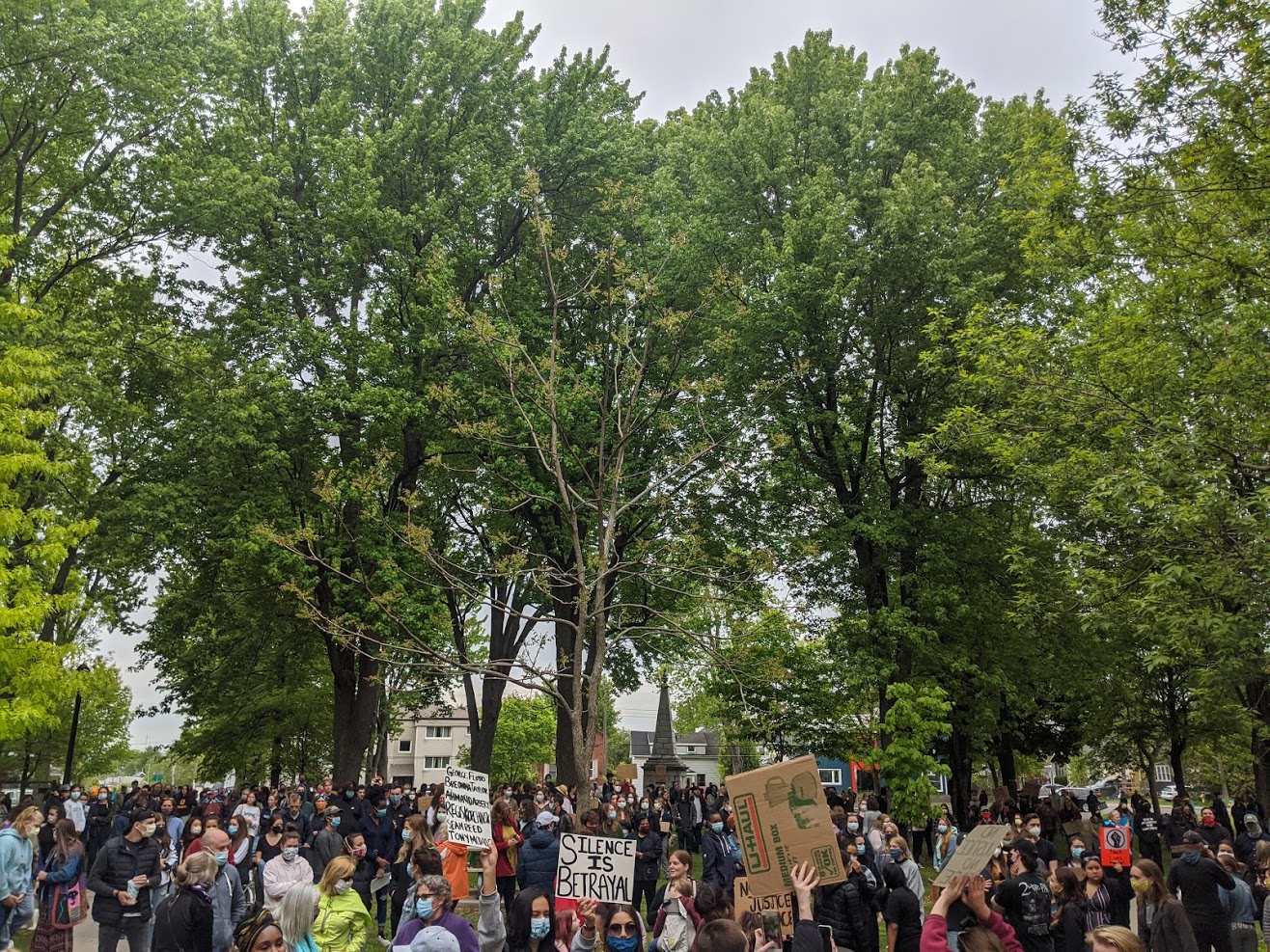 Around 800 Kingstonians gathered in McBurney Park on the evening of Tuesday, Jun. 2, 2020 in solidarity with the Black, Indigenous, and People of Colour (BIPOC) who have died by the hands of police in Canada and the United States.
According to Black Luck Collective's Facebook page, the vigil was a "gathering to mourn the lives lost to anti-Black Racism in Canada and the lives that continue to be impacted by anti-Black Racism in Canada."
"We are here to mourn the lives lost to police brutality and white-supremacy," said the speaker addressing the crowd in the park. "We are here to take up space in our grieving."
For the next three minutes, organizers recited a list of BIPOC people who have been killed by police brutality in Canada, with "Not One More" echoing through the crowd after every name said. There was then a moment of silence to reflect on the lives that have been lost recently, and in the past.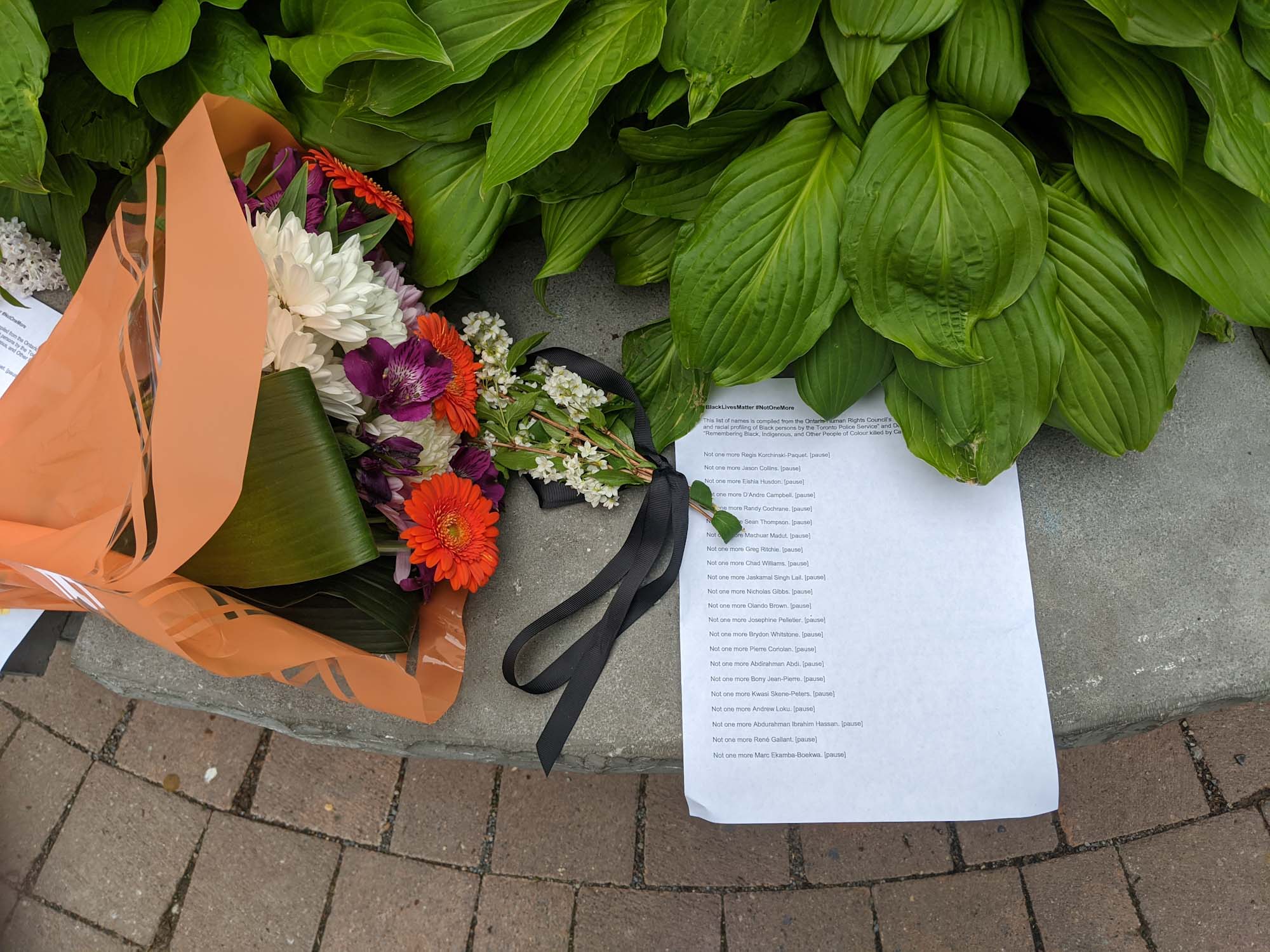 The vigil came in response to the recent deaths of George Floyd, a Black man who was killed in Minneapolis, Minnesota by a police officer as four others stood by, and of Regis Korchiniski-Paquet, a Black woman who died in Toronto after police entered her apartment to respond to a mental health call from her family. Because of these cases and the historic killing of Black people by police in North America, public outcry and protests have swept across the world.
Iku Nwosu, a Black medical student at Queen's University, said that after an "overwhelming couple of days," it was reassuring to see the amount of people that came out in support of the cause.
"It reminds me that there are people in my circle," she said. "I have seen a lot of my classmates from Queen's and it was nice to see that so many of them decided that it was worthwhile."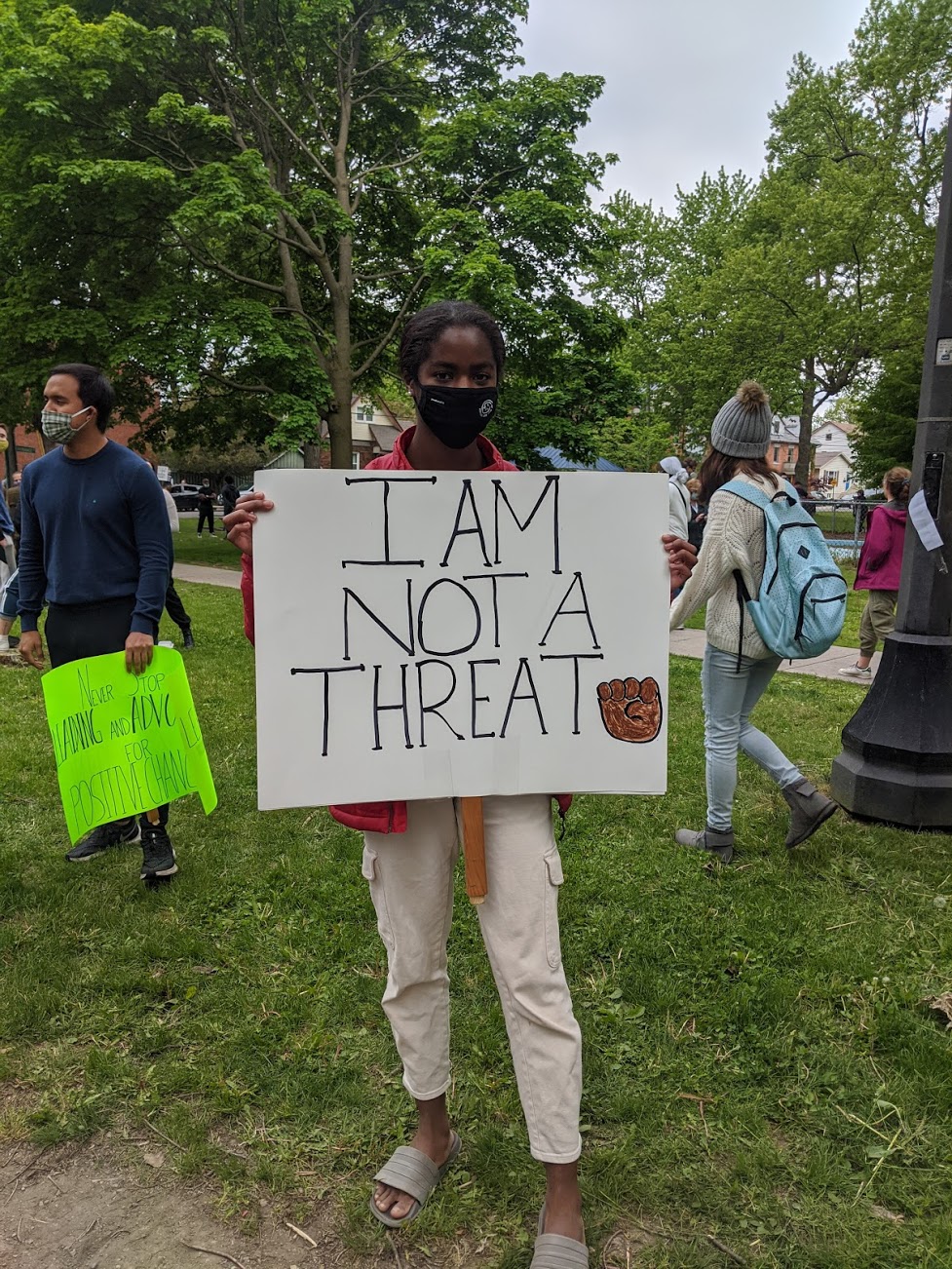 Zelda, also a Black woman in Kingston and a social worker who preferred not to give her last name, said that she hopes that more awareness comes from the vigil.
"This is not just a show, this is not just a party," she said. "Let's make a serious commitment to be self-aware and to not turn a blind eye and pretend there's nothing going on."
Zelda held a sign that had a dandelion drawn on it with words that read "Commit Today to Stop Killing my People with Your Indifference" and referred to the dandelion with a metaphor.
"When you pick a dandelion's stem, the root remains and then the seeds spread," she said. "That's why it's important to take charge of your own dandelion. Get to the bottom of it, take the roots out and stop the nonsense."
17-year-old Taylor Auger-Wood attended the vigil with her mother and young brother. She said that she believes everyone should be treated fairly, no matter the colour of their skin, and that it was important that her young brother was there for a number of reasons.
"It is important that he is here because learning things at a young age instills things into your beliefs easier," she said. "It is harder to unlearn something than learn something the right way in the first place."
She also said that she hopes this vigil will continue to bring awareness.
"The first step to fixing a problem is admitting there is one," she said.
Chants of "Black Lives Matter" could be heard through-out the park at various times and Zelda lead the crowd through a round of "Lean on Me" by Bill Withers.
The organizers handed out masks to people who did not have one and there were pylons set out on the grass to maintain social distancing and safe public health practices.
According to the Black Luck Collective, $2868.35 was raised through donated dollars at the vigil, which will be spilt evenly and donated to the Toronto Protestor bail fund and the Montreal bail fund (Standing Committee for the Support of Demonstrators).
---
Jemma Dooreleyers is a Kingstonian who is about to enter her fourth year at Ryerson School of Journalism. She has been a contributor for the Kingstonist in the past and is excited to be a full-time intern. She has written for a number of student publications such as the Ryersonian, Kaleidoscope, the Eyeopener, Her Campus and the White Wall Review. This year, she was the Arts Editor for Ryerson Folio, a general interest magazine. She is currently back in Kingston for the time being, social distancing with her mom, a dog, and two cats.