Kittens abandoned in Kingston dumpster prompt advice from local experts: keep cats sterilized and safe
Editorial note: this article contains graphic photos that may be disturbing to some readers.
A litter of kittens discarded like rubbish in a Kingston dumpster has prompted local animal rescuers to shake their collective heads. Their message is clear: cats are not trash, and there are multiple ways the suffering of these babies could have been avoided if the owner had bothered to seek help.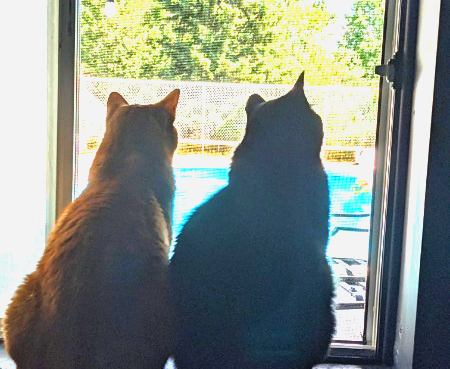 It was gut-wrenching for Nancy Clark, Executive Director of Napanee Community Kitten Rescue (NCKR), when she picked up a litter of kittens that had been brought to Sandy Pines Wildlife Centre in Napanee. All but two of the kittens had died, covered in maggots. She called it "appalling" and "upsetting to the nth degree."
The kittens' opened eyes indicated that they were between seven and 10 days old, Clark said. "Who decides, after your cat gives birth, a week later to dump the kittens in a dumpster?"
Optimistically, she gave the two tiny tortured souls names: Pele and Striker.
Pele, an all grey male, was barely alive, "with hundreds and hundreds of maggots boiling out of every orifice… They were literally eating him alive…" she observed. He soon died, which Clark considered a mercy.
Striker, too, had maggots crawling on him, but not as bad, Clark said. "He was smeared with his brother's blood, and that's where he was attacked… We thought we had a chance with him… combed off anything moving we could see, and I drove him to foster care for food, love, and more treatment."
Striker urgently slurped kitten formula. This was when it was discovered that one tiny ear flap was filled with maggots that were eating the baby alive. "At Striker's age, the [ear] canals are still closed, so these chewing, writhing things had chomped their way in," Clark explained.
The rescuers did their best to rid him of the parasites, and then it was "off to the emergency vet" for Striker. "It seems, apart from being seriously underweight, and his temperature being a bit low still, he got a relatively clean bill of health." At time of publication, Striker is alive and on antibiotics.
"Little Striker suffered unbearably. His siblings suffered unimaginably," according to Clark. "Away from their mother… their cries unheard. The maggots moving and chewing on [them]. The muscle spasms and cramps. The suffering these kittens went through is absolutely horrific… The person who threw living, sentient beings into the trash to die slowly and painfully is a monster. I can think of many things to call him or her, but monster will do."
Even worse, said Clark, this was a completely preventable tragedy. "We specialize in bottle babies. If the person had called, we would have helped," she lamented.
Gord Hunter, Executive Director of the Kingston Humane Society (KHS), couldn't agree more. He called the incident "stomach-turning" and emphasized the importance of preventing unwanted pregnancies in pet cats: "Spay and neuter your pet. I cannot say that enough."
Hunter acknowledged that there is a cost factor to veterinary care that some people can't or won't abide, but "[KHS] firmly believes cats are not outdoor animals. And that's something that animal welfare has said time and time again," he said, hinting at new and necessary low-cost spay/neuter services for the Kingston area in the near future.
"Somebody with a three-year-old golden retriever would not open the door of their downtown house and allow that dog to wander the neighbourhood," Hunter pointed out. "People do that with cats because, I believe, we don't value cats as much as we value dogs."
He said this plays out in terms of the number of lost pets KHS is able to return to owners: "If we get a stray dog in here, 60 per cent of the time that dog is returned to the owner." Conversely, he said, the return rate for lost cats is less than five per cent. "We get more cats in, and their return rate is so small. And so again, it speaks to the value that people place on cats, sadly."
Cat owners can follow simple steps to stop these types of tragic ends, Hunter said. "Spay and neuter the cat first of all, and keep them inside. If you take them outside on a harness, that's fine; that's actually great for them to get outside, and they get used to it fairly quickly if they haven't done it before. But don't just let them wander. If they're not spayed or neutered, they will soon be making more kittens."
Finally, said Hunter, despite KHS being over capacity, "when someone brings us a basket full of kittens, we're not going to turn them away, because we understand that sometimes people are desperate."
---
For more information on what those with unwanted kittens (or other unwanted pets or animals) can and should do in that situation, the following local service providers are the place to turn:
Napanee Community Kitten Rescue
The Forgotten Ferals Cat Rescue (Kingston)
Sandy Pines Wildlife Centre (Napanee — wild animals only)
For those looking to support these local animal welfare service providers, all of the above organizations accept and depend on donations from the public.