Kingston woman raising funds and awareness for rare, silent syndrome
For the first 16 years of her life, Ashley Clark was unaware she had a congenital disorder. She loved to sing and play the ukulele, and admits to being a Disney geek and Broadway devotee. Clark's mother only had one concern that warranted a doctor's visit: the absence of menstruation.
"My mom was getting concerned I hadn't gotten a period," said Clark, 25, who works as a banquet director in Kingston. Over a period of three months, she was sent for blood work and an ultrasound, and was eventually diagnosed with Mayer-Rokitansky-Kuster-Hauser (MRKH) syndrome, a rare disorder occurring during fetal development affecting one in 5,000 females at birth. 
"There are still many doctors who don't know it exists," explained Clark. "[The doctors] found that my uterus was underdeveloped. I wouldn't be able to carry a child or get a period. It was a lot to take in—I had to rethink my entire future based on assumptions [I'd] had about becoming a mother."
Clark admitted to crying for three days until she "physically couldn't cry anymore". She felt left out, isolated, and ashamed of her diagnosis—especially when she would walk down the halls of her high school, listening to other girls "talking about periods and sex," she explained.
People with MRKH have normal ovaries and fallopian tubes, but often the uterus is absent or tiny, according to the MRKH website. The vaginal canal is typically shorter and narrower than usual, or it may be absent. Sometimes, there may be one kidney instead of two.
About three per cent of people diagnosed with MRKH will have a minor hearing loss and some may have spinal problems, such as scoliosis (curvature of the spine). People with MRKH have normal external genitalia, which means everything on the outside of the vagina is not affected, the website further stated. 
"It was the infertility that was the hardest for me to come to terms with. It's taken years to come to terms with that," Clark expressed.
With a strong support system, and the knowledge that she can still have a biological child—through in vitro fertilization (IVF)—Clark has accepted her diagnosis.
"Because people with MRKH are born with ovaries—we're just missing everything else—we can still produce eggs. We can go through IVF. The only thing is that we often can't carry (the child), so we need a gestational carrier. We can still have biological children."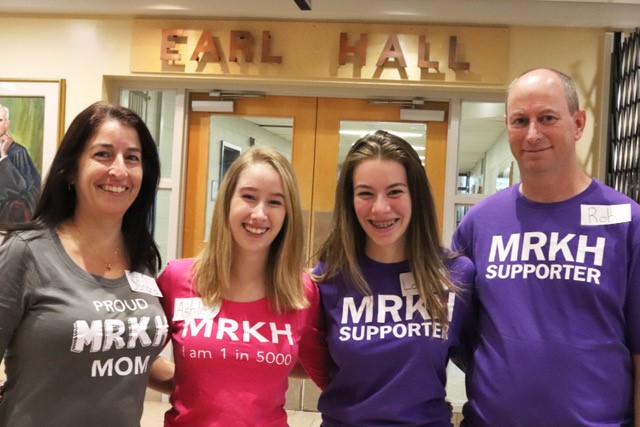 After graduating from Loyalist College's Public Relations and Event Management program, Clark started social media accounts for MRKH which includes a TikTok account, a Facebook group, and a website. She has also established a not-for-profit organization, and hosted an inaugural MRKH medical conference in 2018 in Kingston.
Clark said that meeting people with MRKH online was a turning point.
"I realized how much strength could come from connecting with them and knowing that we were there for each other. On a day-to-day basis, it feels isolating because no one around you understands. As much as they try to, they're not walking in your shoes," she said.
There were no resources in Canada to connect with people, so Clark's doctor suggested she connect with a group in Boston, Massachusetts. With annual conferences and monthly online chats, Clark found a support group model she wanted to replicate in Canada, and it all began right here in Kingston.
Now, Clark is hosting a five-kilometre fundraiser walk here in the city where her work to form the Canadian MRKH Foundation started. At 10 a.m. on Saturday, Oct. 16, 2021 at Cloverdale Park, located at 1030 Sunnyside Road in Kingston's west end, the event will take place with a fundraiser goal of $5,000.
And for Clark, it's all about providing a support network that didn't exist when she was diagnosed with the silent syndrome, MRKH.
"We're hoping to make a bigger impact in Canada," she said.
To join the fundraiser, learn more, or to donate, visit www.canadianmrkhfoundation.com.